Do you know what Searchdimension.com is?
While Searchdimension.com looks like a promising alternative to the boring, minimalistic search engines of today, you should know that it does not have its own search algorithm. Its creators designed it to make use of third-party search engines to provide you with search results. However, the main reason we advocate for removing it is the fact that its developers use rather deceptive tactics to distribute it around the web. Hence, it can enter your browser and replace its homepage address without your knowledge. Furthermore, it shows ad-supported search results, and our malware researchers say that some of the promoted links can potentially redirect you to malicious websites. So this search engine can potentially jeopardize your computer's security.
Searchdimension.com comes with a dedicated browser extension called Search Control. This extension is compatible with Google Chrome only and is set to manage your browser's search engine settings and replace its homepage and new tab page address. Apart from that Search Control is a good for nothing browser extension.
Searchdimension.com, on the other hand, looks quite attractive with its unique design. However, apart from that, there is not much it can offer you. It does not have its own search algorithm, so its developers have incorporated Google.com, Yahoo.com, and Bing.com into the main page and you can select whichever you want and then enter your search query. Its main page features a digital clock, your current location and features a symbol indicating the weather conditions.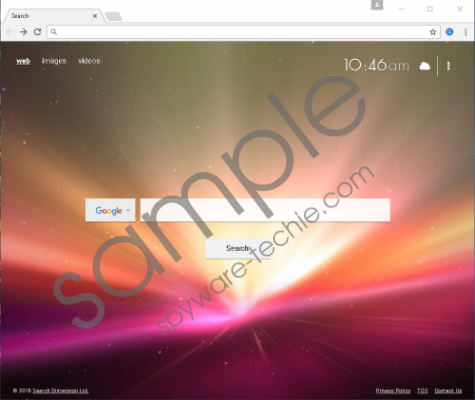 Searchdimension.com screenshot
Scroll down for full removal instructions
Regardless of which search engine you select, Searchdimension.com is set to modify the search results to include promoted links and advertisements among the search results. Thus, you will not get the best search results, and if that was not enough, then you should know that this search engine might feature rather questionable promotional links. The fact of the matter is that there is no information about the advertisers that use this search engine as an adverting platform.
You may be interested to know that this search engine can gather some information about you and this information can include your IP address (and, thus, your approximate location,) browser type, language preferences, browser-related information, search history, search results clicked, search queries, and so on. This search engine uses web beacons and browser cookies to obtain all this information. Collecting of this kind of anonymous user information is permissible and, for the most part, it is used to present you with personalized search results and, thus, promoted links. So make no mistake, this search engine is all about generating advertising income, so do not expect it to provide you with a reliable service.
Now let us talk about where this search engine comes from. Our cyber security experts say that Searchdimension.com was published by a company known as Search Dimensions, which does not look like a real company. Searchdimension.com does not provide the users with sufficient information about the developer, and there is nothing on the Internet that could provide reliable information about it.
As far as this search engine's distribution is concerned, we want to point out that you can get it in two ways. You can get it from the Chrome Web Store and download Search Control, or you can get it when installing a software bundle. Now, you may get it on your PC accidentally because those software bundles might not fully disclose their contents. So remember always to select advanced or custom installation settings to see what a software installer is hiding.
In closing, Searchdimension.com is not a malicious search engine, but you should take into account that the promoted links featured in its search results come from unknown advertisers. Furthermore, it is undesirable because its developers distribute it in a deceptive manner that involves using bundled software installers. So, if you got this search engine unintentionally and want to remove if but do not know how, please consult the guide provided below.
How to remove this search engine

Open Google Chrome.
Press Alt+F and select More tools.
Click Extensions.
Find Search Control.
Click Remove.
In non-techie terms:
Searchdimension.com is a questionable search engine that is featured on the Chrome Web Store and also on third-party software bundles that can install it on your browser without your knowledge. Its purpose is to replace your browser's homepage and new tab page addresses and show promotional links in its search results that come from unknown sources. So you might want to remove it to ensure it does not subject you to malicious content.