Do you know what Searchdefence.com is?
Searchdefence.com is a browser hijacker that can change your Google Chrome settings without permission. According to our malware researchers, the chances are high that it will install a browser extension on this browser to be able to alter its settings. It does not really matter how it has done that because this does not change the fact that your browser has been hijacked if you see Searchdefence.com set as your new homepage/default search tool. If we were you, we would remove it right away despite the fact that it looks like a legitimate search provider because trustworthy search tools never change browsers' settings without permission. Luckily, the Searchdefence.com browser hijacker does not make any other modifications on users' computers, so it should not be a very challenging task to remove it. Before we tell you how to remove it, we will explain to you why this search tool cannot be considered trustworthy, so you should read the next paragraph carefully if you still cannot understand why you need to remove it from your browsers.
Although Searchdefence.com looks quite a reliable search tool, it is not safe to use it, so you should go to replace it with Google, Yahoo!, or another legitimate tool for searching the web. The first symptom showing that it is not a trustworthy search tool is the fact that it can change Google Chrome settings without permission. Second, it has been noticed that it displays some sponsored search results. They are separated from the rest of the search results, but less attentive users might still click on them. Clicking on these sponsored search results might result in a number of problems, our experienced specialists say. They will redirect straight to third-party pages. Pages promoting untrustworthy software might be promoted too, so we cannot confirm that it is very safe to use Searchdefence.com as a default search provider. Although this search tool promises not to track "search history in any user identifiable way," keep any logs connected to personally-identifiable information, or share the information about users with anyone, we would still not keep Searchdefence.com when there are so many reputable search providers out there. Be careful with Searchincognito.com, Discretesearch.com, and Searchencrypted.com because they do not differ much from Searchdefence.com and might bring you problems to you too.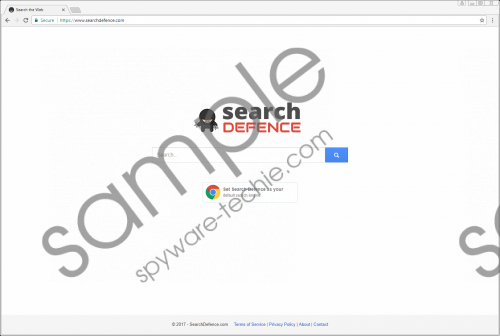 Searchdefence.com screenshot
Scroll down for full removal instructions
No doubt you have not set Searchdefence.com on your web browsers willingly because it is a typical browser hijacker, meaning that it has changed your Google Chrome settings without your knowledge. It is not easy to say how it has arrived on your computer because browser hijackers might be spread using a bunch of different methods, but, according to our specialists, the chances are high that it has arrived on your computer in a software bundle next to third-party applications. Do not let a similar infection to enter your computer ever again – install a security tool to make sure bad software cannot enter your system and apply the unauthorized changes to your browsers. It cannot be the first tool you find available for download on the web because only a reputable security application could protect you from nasty malware.
Resetting Google Chrome to its default settings is the easiest way to remove Searchdefence.com without special software. It is not a huge problem if you have never done that before – our manual removal guide will help you. We cannot promise that the manual removal of this browser hijacker will be quick and easy, so if you are looking for an easy way to erase it, use an antimalware tool. Only a trustworthy scanner could help you, so install a scanner you know is 100% trustworthy.
Remove Searchdefence.com
Google Chrome
Open Google Chrome.
Press Alt+F.
Click Settings.
Click Advanced.
Click Reset.
In non-techie terms:
Searchdefence.com is not a legitimate search provider, so no matter it has been set on your browser without your consent or you have done that willingly, delete it without mercy. This search tool has fallen into the category of bad search engines because it acts as a browser hijacker, i.e., it can change users' browsers settings without permission. Also, it has been noticed that some of the search results it returns are sponsored links, meaning that users who use it as a default search tool might be exposed to potential threats one day. Do not be one of them – remove Searchdefence.com as soon as possible.