Do you know what Searchatomic.com is?
If you have launched your Internet Explorer, Google Chrome, or Mozilla Firefox and immediately noticed Searchatomic.com search engine in the place of your homepage, there is no doubt that a browser hijacker has entered your system. Unfortunately, hijackers do not travel alone, so it is very likely that a bunch of other unwanted programs have been installed on your computer. You might not even know that they are there, but you might notice ads on your screen and other symptoms. Even though Searchatomic.com itself does not seem to be a harmful search provider, we still believe that it would be best that you remove it together with the programs it travels with. We will provide all the reasons why you should get rid of Searchatomic.com in this article. In addition, we promise to explain you how to get rid of this hijacker, so you should continue reading this article.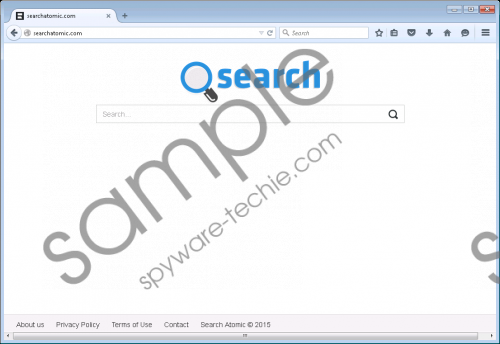 Searchatomic.com screenshot
Scroll down for full removal instructions
We cannot say that Searchatomic.com is a very dangerous search engine; however, we do not think that search providers that are set without a user's permission can be trusted 100%. In addition, research carried out by our specialists has shown that this search engine might provide users with sponsored ads and links. It seems that they will be put under the category of Ads; however, they look exactly like ordinary search results, so many users click on them. We do not think that it is the best idea to do that because you might end up on the websites that contain malicious software. Of course, we cannot say that all these links and ads will lead you to dangerous web pages, but nobody knows whether a harmful link will not appear among decent ones. If you care about your system's safety, you should not use questionable search engines. You will find out how to get rid of Searchatomic.com in the last paragraph of this article.
There are hundreds of different browser hijackers on the web and they might easily enter your system if you do not take care of its safety. If you wonder what you can do in order to prevent this from happening, you should know that you can simply install a security tool on the system. Security specialists also suggest that you stop clicking on unknown links and downloading suspicious programs. Specialists also emphasize that it is very important to keep the system clean because malicious applications that hide on your system might download other undesirable programs on your PC without your permission.
You will not be able to remove Searchatomic.com via Control Panel but, luckily, it is not so difficult to do that. Our security specialists say that this threat can be removed by resetting the settings of Internet Explorer, Google Chrome, and Mozilla Firefox. You will find the instructions that will help you to do that below the article.
Delete Searchatomic.com browser hijacker from your PC
Internet Explorer
Open your browser and open the Tools menu.
Select Internet Options and click on the Advanced tab.
Click Reset and mark the box alongside Delete personal settings.
Click the Reset button.
Google Chrome
Open your browser and open the menu (Alt+F).
Select Settings and then scroll down.
Click Show advanced settings.
Click Reset settings and then click the Reset button.
Mozilla Firefox
Launch your browser.
Access the Help menu and then select Troubleshooting information from it.
Click Refresh Firefox.
Click on this button once again when you see the dialog box.
In non-techie terms:
Our security specialists believe that it would be best if you scan your system after the manual removal of this browser hijacker. It is advisable to do that because other unwanted programs might be installed on your system and it is a must to erase them as soon as possible. We have tested many security tools but we still believe that SpyHunter is the best choice – it will remove all kinds of threats very quickly.