Do you know what SearchAssistant.co is?
You might have downloaded SearchAssistant.co yourself, but that does not mean that this search tool can be trusted. Those users who do not acquire it along with the Search Assistant add-on available from the Chrome web store might install it via a software bundle introduced to them via suspicious pop-ups. Whether it is installed silently or with your notice, you should recognize it as a browser hijacker because, in most cases, it forces itself upon users. For example, if you download the Search Assistant add-on onto your Chrome browser, you will have no other option but to accept the suspicious search tool. According to our research, it can modify the New Tab page and replace your regular default search provider. Although it looks like a harmless search provider, our research team recommends deleting SearchAssistant.co as soon as possible. Keep reading to learn why this is recommended.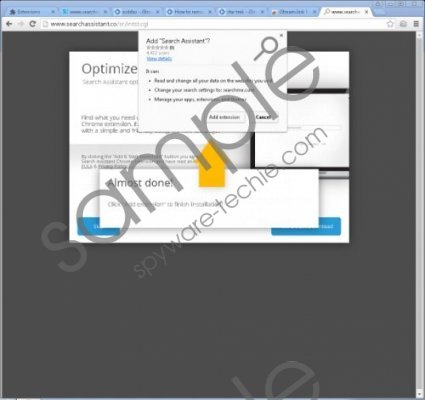 SearchAssistant.co screenshot
Scroll down for full removal instructions
Although SearchAssistant.co looks like a harmless, normal search provider, it is just an act. In reality, this browser hijacker performs redirecting to a third-party search engine where search results are modified. According to our research team, this hijacker redirects to bing.com, google.com, search.yahoo.com, or duckduckgo.com search engines, which makes things even more complicated. These search engines are considered trustworthy, and so users might see no harm in trusting the search results shown via them. Unfortunately, the hijacker could inject sponsored links representing the websites of unknown partners, and we cannot guarantee that they are trustworthy. In fact, we cannot advise interacting with any of the search results represented via SearchAssistant.co. Needless to say, this browser hijacker loses any value if you take away its web search services because it does not offer anything else. Of course, you can choose a background for your New Tab page and add time and date tools, but that does not serve you in any way.
SearchAssistant.co is truly suspicious, and you might discover this right when downloading Search Assistant, unless, of course, it was installed without your permission. The download link on the Chrome web store shows a pop-up that informs every user about the default search provider modifications. The problem is that searchme.com is introduced as the replacement. This search provider is not a clone of SearchAssistant.co, but your search queries are redirected via it. Nevertheless, you should be surprised to discover this hijacker instead of searchme.com. Also, Privacy Policy and EULA represent contradictory statements. In general, it does not look like this information is trustworthy. Overall, the fact that the hijacker can invade without your permission and redirect your search queries is enough to recognize it as potentially unreliable, and this is why we advise removing SearchAssistant.co ASAP.
The removal guide below is very simple, and you will successfully remove SearchAssistant.co using it. What we cannot guarantee is that you will be able to delete all other threats manually. In fact, we do not even know if other threats are active. The best thing you can do is inspect your operating system with a malware scanner that is up-to-date to identify even the most recent infections. If threats are detected, think carefully if you can eliminate them manually. If you cannot guarantee this – and you should waste no time if threats are active – use anti-malware software that will erase malware automatically. Keep this software updated, and malicious threats will not attack again.
How to delete SearchAssistant.co
Launch Explorer (tap Win+E keys at the same time).
Enter %LOCALAPPDATA%\Google\Chrome\User Data\ into the bar at the top of Explorer (if you use Windows XP, enter %UserProfile%\Local Settings\Application Data\Google\Chrome\User Data\).
Open the Default folder (might be named after your Profile name).
Open the Extensions folder.
Right-click and Delete the folder named fafnilhpmeffadmbdlepblmgfakbgfdp.
In non-techie terms:
SearchAssistant.co is a browser hijacker, and we recommend removing it from your Google Chrome browser as soon as possible. Luckily, all you need to do is remove the undesirable Search Assistant extension to get rid of this hijacker, and you can achieve this by using the guide above. Once you eliminate this hijacker from your operating system, make sure your PC and browsers are clean. Install a malware scanner to inspect your PC, and if threats are detected, erase them quickly. We recommend using automated malware removal software to eliminate malicious infections, but you can also use our database of removal guides to learn how to erase all unwanted programs and dangerous threats.