Do you know what search2016-ping.com is?
You are probably reading this article because you have found search2016-ping.com set on your browsers. If it is true, you need to remove this search engine as soon as possible despite the fact that it looks like a reputable search engine. It is because this search tool is a browser hijacker that has hijacked all your browsers, including Internet Explorer, Google Chrome, and Mozilla Firefox without permission. After the successful attack, it alters the settings of browsers by setting search2016-ping.com as a default search engine, homepage, and a New Tab page. It is not safe to use this search tool. Also, it is very likely that you will notice one day that it does not even work the way it should, i.e. it does not return any search results and seems to be dead. Of course, the developer of this search engine might fix it one day too; however, it does not mean that you could then use it freely for searching the information.
Remove search2016-ping.com no matter you have a working version or not because this search tool is not trustworthy at all. As our specialists say, it is very likely that it gathers information about users. It is hard to say what information it mainly collects because it does not have a Privacy Policy document, but it should be interested in details about users' Internet browsing activity mainly. On top of that, it might collect technical information, e.g. IP address, version of Windows OS, type of browser, date and time, etc. Even though this information might seem to be completely unimportant, you should not let search2016-ping.com record it because it might still reveal important information about you.
Furthermore, users who have a fixed version of search2016-ping.com might also quickly notice that this questionable search tool promotes particular websites by placing ads among trustworthy search results on the search results page. Not all these domains are reliable. Some of them might even offer to download an untrustworthy application that has been made to look reliable. You might also find bad external links on these websites. As you can see, it is not safe to use search2016-ping.com as a default search tool, so you should replace it with a more reliable search engine.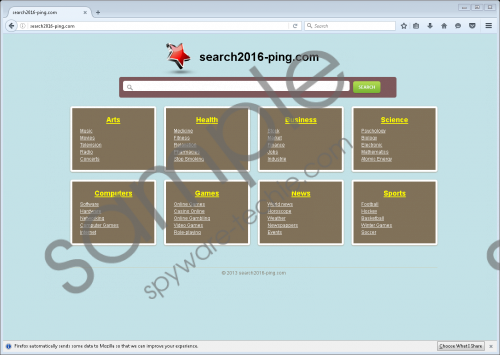 search2016-ping.com screenshot
Scroll down for full removal instructions
Researchers have also revealed that the search2016-ping.com browser hijacker makes modifications in the system registry once it enters the system. On top of that, it modifies files that belong to browsers to appear on all of them. In the case of Internet Explorer, the Start Page value data (this value is located in HKEY_CURRENT_USER\Software\Microsoft\Internet Explorer\Main) is changed by placing http://search2016-ping.com in the data box. To appear on Mozilla Firefox and Google Chrome, search2016-ping.com does not make changes in the system registry, but, instead, it changes code inside their files. It has been found that modifications will be applied inside the prefs.js file that belongs to Mozilla Firefox and three files Web Data, Secure Preferences, and Preferences that belong to Google Chrome.
It seems that a new family of browser hijackers has emerged because search2016-ping.com is only one of many undesirable search engines having the interface you see. Fortunately, we know how hijackers from this family are usually spread, so it is very likely that you will prevent them from entering your PC rather easily. What you need to do is to stop downloading software from questionable websites. In addition, it would not be worse if you install a security tool too. Use SpyHunter if you want to be sure that you use good and effective software.
There are two ways to remove search2016-ping.com from browsers, i.e. an automatic and manual, so it is up to you which one of these two methods to use. Of course, if you have never removed a computer infection before, it will be easier for you to erase this browser hijacker automatically. Before you take action, you will have to install a reputable scanner on your computer first.
Delete search2016-ping.com
Internet Explorer
Double-click on the shortcut of Internet Explorer.
Open the Tools menu.
Click Internet Options.
Open the Advanced tab by clicking on it once.
Click Reset.
In the box you see, click Reset again.
Mozilla Firefox
Open your browser.
Tap Alt and H on your keyboard.
Click Troubleshooting information.
Find the Refresh Firefox button and click on it.
Click Refresh Firefox again in the box.
Google Chrome
Launch your browser and then go to open the menu (click on the button in the top-right corner).
Click Settings.
Scroll down and then click to open Show advanced settings.
Click Reset settings.
In the confirmation box, click Reset.
In non-techie terms:
In some cases, infections already existing on the computer help undesirable software to enter systems. There is a tiny possibility that you see search2016-ping.com set just because of that too, so our security specialists suggest scanning the computer with a good tool. It will find and erase all those other threats for you to make the system clean. The maximum protection of your computer will be ensured too if you install security software.