Do you know what Search2.searchlson.com is?
If you noticed Search2.searchlson.com on the browser, it might be not your only problem. We researched the search engine and learned that it could be spread with adware applications. The software settles on user's browser after clicking suspicious third-party ads that suggest you to install a browser extension. The site might promise useful features, but actually, the extension only sets Search2.searchlson.com as the default homepage, search engine or new tab page. Accordingly, the application is classified as a browser hijacker. If you want to alter these preferences, you will need to erase it. For instance, users could take a look at the removal guide below and delete the application manually. However, if you have adware on the system, you may want to use a trustworthy security tool that would help you get rid of both threats at the same time.
You may have already noticed that the search engine can redirect you to yahoo.com. However, we have to warn users that the results they might get could be injected with third-party ads. We are almost completely sure that all of the ads should be clickable, which means they might redirect you to other web pages. Since the ads should belong to the third-party, there is a change that users could land on malicious web pages that distribute malware. Needless to say that if you enter such site, you could accidentally infect your system with Trojans, viruses, ransomware, and other threats. For example, the website could ask the user to install an update that would allow you to see videos on the site, but in reality, you would get an infected file. Also, users should know that some of the web pages might try to gather their personal data. Thus, it is important to read the site's Privacy Policy statements before submitting your private information.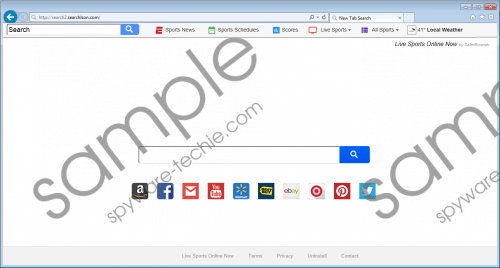 Search2.searchlson.com screenshot
Scroll down for full removal instructions
Furthermore, we should also explain to you how this threat is distributed. Search2.searchlson.com might hijack the user's homepage or new tab page after installing a browser extension from livesportsonlinenow.com and other unreliable web pages. The pop-up on this web page claims that by downloading the suggested extension users should be able to access "Football, Baseball, Basketball, Golf, Auto Racing & More – right from your browser." However, all you get is this browser hijacker and a few links to Sports News, Live Sports, and so on. Of course, you can put these links on the bookmarks bar without installing any unnecessary software.
Moreover, there might be other unreliable web pages that distribute Search2.searchlson.com. According to our researchers users could get redirected to such websites while clicking pop-ups with third-party ads. These advertisements could be displayed by adware applications known as TermTrident, Swift Search, and others. Therefore, if you have the browser hijacker, it might be possible that you also have adware installed. To locate this possible threat on your computer, you could check the Control Panel for recently installed software. If you find any adware, we would advise you to uninstall it.
Removing the software that advertised the browser hijacker is important, but since Search2.searchlson.com might cause users trouble it is advisable to get rid of it too. Our researchers prepared a removal guide that should help you erase the threat manually. On the other hand, there is also a way to eliminate the browser hijacker and other possible threats on your system at the same time. Users should simply install a trustworthy antimalware tool and do a full system scan. During the process, the security tool should locate all threats on the system and display a list to the user. There should be a deletion button too that would allow you to erase all the threats automatically.
Delete Search2.searchlson.com from the Internet Explorer
Windows 8 & Windows 10
Press Windows Key+R.
Type Control Panel and press OK.
Select Uninstall a program, mark the application and click Uninstall.
Windows Vista & Windows 7
Go to the Start menu.
Launch Control Panel.
Click Uninstall a program, select the browser hijacker and press Uninstall.
Windows XP
Navigate to Start.
Open Control Panel.
Choose Add or Remove Programs, mark the application and select Uninstall.
Erase Search2.searchlson.com from other browsers
Mozilla Firefox
Press CTRL+SHIFT+A.
Click on Extensions.
Select the browser hijacker and click Remove.
Google Chrome
Press ALT+F and click Settings.
Select More tools and click on Extensions.
Press the trash bin button near the unwanted extension and select Remove.
In non-techie terms:
Search2.searchlson.com is a clone of other similar browser hijackers, such as Search.yourmapscenter.com, Search.yourpackagesnow.com, etc. The applications show third-party ads in the search results and the software's creators probably receive advertising revenue for each user's click. The problem is that by clicking these ads, users might get redirected to malicious web pages that could infect the system with malware or invade your privacy. If you want to avoid such risks, it would be better to get rid of the browser hijacker. Users can erase it by following the removal guide above or downloading a trustworthy security tool.