Do you know what Search.yourtelevisionnow.com is?
Search.yourtelevisionnow.com is a browser hijacker that is part of a browser plug-in's setup. Users often install this program on their computers themselves, even if they are not aware of that. Since the browser hijacker changes your browser settings without your permission, you should not tolerate this application. Remove Search.yourtelevisionnow.com immediately by following the instructions provided below, and then do everything you can to terminate all the other unwanted programs from your system. We are sure that you have multiple unwanted applications on-board because browser hijackers seldom travel on their own. If you cannot tell which programs might be malicious, scan your PC with the SpyHunter free scanner.
The reason such programs often travel in groups is because cyber criminals tend to employ software bundling for the distribution. It means that there are several applications bundled in one third-party installer, and users often do not understand just how dangerous it could be to download and install freeware on their computers. For instance, it is very common that users download programs from third-party file-sharing websites. When this happens, they often allow other unwanted applications enter their systems as well, especially if the users do not read all the installation steps on the setup wizard. Security experts always emphasize how important it is to check every single installation step because sometimes you are given the chance to avoid installing the likes of Search.yourtelevisionnow.com.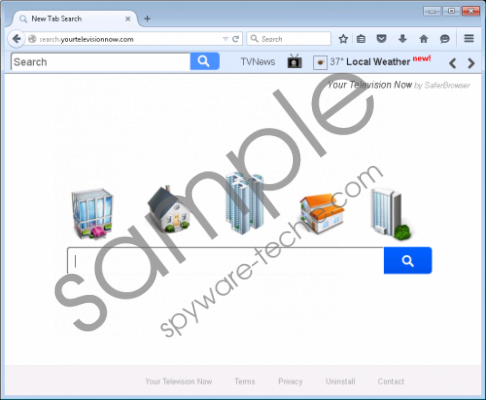 Search.yourtelevisionnow.com screenshot
Scroll down for full removal instructions
What's more, bundled software packages are not the only distribution method employed by the application. It is also possible to download the program from yourtelevisionnow.com. This website says that the browser extension is a "must-have app for TV streaming." It should help you "watch TV online with easy access to your favorite TV streaming sites." You should "Access Hulu, Netflix, and more – straight from your browser new tab page." And, most importantly, "Your Television Now is FREE, No Registration required. It sure sounds like a decent application, but when something is free, there is always a catch to it.
In the Your Television Now's case, it is the Search.yourtelevisionnow.com hijacker. When you install this browser plug-in, Search.yourtelevisionnow.com will be set as your homepage, and all of your searches will be redirected via extsearch.maxwebsearch.com to Yahoo! Search. Surely enough, Yahoo! Search has nothing to do with this browser hijacker, it is only being used by the program to display modified search results. It will seem as though these modified search results are related to your likes and preferences, and some of them will look relevant, BUT you should never click them!
Search.yourtelevisionnow.com cannot guarantee that you will land on a safe website when you click the modified search results. The hijacker only functions as a vehicle or a medium between you and the third-party content, so whenever you land on a new website via this browser hijacker, anything that happens is none of the program's concern.
Keeping in mind that browser hijackers can also be exploited for malware distribution, you should not take your chances anymore. Remove Search.yourtelevisionnow.com from your computer at once, and then delete all the other unfamiliar programs that might have arrived with it. Should you require any assistance with software removal, you can always ask for help, and our support team will be glad to assist you.
How to Delete Unwanted Programs
Windows 10 & Windows 8.1
Right-click the Windows icon on the left corner of your taskbar.
Click Control Panel and go to Uninstall a program.
Highlight unwanted apps and click Uninstall.
Windows Vista & Windows 7
Click the Start menu and go to Control Panel.
Select Uninstall a program and remove unwanted applications.
Windows XP
Open the Start menu and click Control Panel.
Go to Add or remove programs and uninstall unwanted applications.
How to Change Browser Settings
Internet Explorer
Press Alt+T and go to Internet options.
Select the Advanced tab and click Reset.
Mark Delete personal settings and press Reset.
Click Close.
Mozilla Firefox
Press Alt+H and go to Troubleshooting information.
When the new tab opens, click Refresh Firefox.
Press Refresh Firefox on the confirmation box.
Click Finish.
Chrome
Press Alt+F and select Settings.
Click Show advanced settings at the bottom of the page.
Scroll down and press Reset settings.
Click Reset to confirm.
In non-techie terms:
Your homepage must have changed to Search.yourtelevisionnow.com because you have the Your Television Now plug-in installed on your computer. This search engine is considered a browser hijacker because it changes your browser settings without your permission. Remove Search.yourtelevisionnow.com from your system at once; otherwise you may face severe infection consequences. Do all you can to secure your system against all the dangerous threats you might encounter while browsing the web.