Do you know what Search.yourspeedtestnow.com is?
It seems that more and more browser hijackers infect users every day, so if you notice Search.yourspeedtestnow.com when you launch your browser, you need to be careful what your next move is going to be. Many people do not even consider finding an unfamiliar or even a familiar-looking search engine in their browsers as a potential threat. Therefore, they may not even bother to take care of this unwanted invasion. What would you do if you knew that the appearance of this search engine is a privacy breach and thus illegal? Would that be enough for you to delete Search.yourspeedtestnow.com from your computer? Could you trust a tool that may have infiltrated your operating system without your permission? If you want to know why and how this browser hijacker may pose a threat to your virtual security, please continue reading our article.
According to our researchers who have tested this malware infection in our internal lab, there are an increasing number of browser hijacker clones coming from the same family. They have found that Search.yourspeedtestnow.com is actually identical to a number of other search engines that have hit the web lately, including Search.easysportsaccess.com, Search.myshoppingxp.com, and Search.mydailyversexp.com. Apart from the related easy-access links they display at the top of the page on a quasi-toolbar, there is no difference between them. They all use the extsearch.maxwebsearch.com server to send your web search keywords to, and then you will be redirected to a modified Yahoo! search results page. This way you will be presented with a legitimate-looking results page, but we would talk you out of trusting these links and ads. You can never know where you might end up by clicking on them.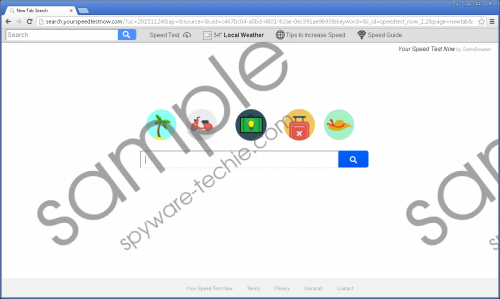 Search.yourspeedtestnow.com screenshot
Scroll down for full removal instructions
As a matter of fact, this browser hijacker can also gather information about you based on your online activities and even your search queries. This can be shared with unreviewed third parties and that is how you may find customized third-party ads and sponsored links when you use any of the third-party services this search engine provides you. Being exposed to potentially unreliable third-party content, either banner ads, pop-up ads, or links can be rather dangerous. If you click on anything that has a corrupted link, you may be redirected to a malicious website. That is how most malware infections and online scams start. You can easily download a bundle of malware threats, but, at the same time, you may also find yourself on a fake online webshop giving away your banking details to criminals. None of these scenarios would end well for you; that is why we believe it is important that you remove Search.yourspeedtestnow.com before you may cause more harm to your computer or your privacy, let alone your bank account.
When this browser hijacker is on board, it is worth running a full system check because it is quite possible that you will find a few other malware programs as well, including adware applications, other hijackers, and even potentially unwanted programs. If you do not want to use a free online malware scanner for some reason, you can still use manual techniques, although that will not be as effective, of course, since you will only find the least dangerous infections this way. One thing you can do is to check the installed programs list in Control Panel to see if you find any suspicious application there or something you do not recall installing. Another thing is to check the extensions in your browsers. These simple steps could help a lot if you intend to protect your computer. However, nothing really can compete with a professional automated malware remover.
Unfortunately, it is not a single click to eliminate Search.yourspeedtestnow.com from your PC. But it is still not too complicated even if you are not an expert user. If you follow our instructions step by step, you should be done in a few minutes. Remember to keep all your drivers and programs, including your browsers, up-to-date in order to make it more difficult for cyber criminals to gain access to your computer and the information you store on your hard drive.
Search.yourspeedtestnow.com Removal from Windows
Windows XP
Access the Start menu and pick Control Panel.
Open Add or Remove Programs.
Click on the application and click Remove.
Windows Vista and Windows 7
Press Win+R and enter Control Panel. Hit OK.
Choose Uninstall a program.
Click on the program and press Uninstall.
Windows 8, Windows 8.1, and Windows 10
Tap Win+Q and type in Uninstall a program.
Click on the application and click Uninstall.
How to reset your browsers
Google Chrome
Tap Alt+F and select Settings.
Scroll down and click Show advanced settings.
Scroll down and click Reset settings.
In the pop-up, click Reset.
Mozilla Firefox
Tap Alt+H and select Troubleshooting Information.
Click Refresh Firefox.
In the confirmation window, click Refresh Firefox.
Press Finish.
In non-techie terms:
Search.yourspeedtestnow.com is a potentially harmful search engine that is promoted by a browser hijacker. This hijacker comes from a long line of clones, so it is nothing new for us. You need to know that you cannot trust any service this search engine presents to you because you may be exposed to questionable web content, such as banner ads, pop-up ads, and links. Since this hijacker may have arrived with other malware infections, it is quite possible that your operating system is struggling with different attacks right now. That is why it is important to remove Search.yourspeedtestnow.com and every other threat that may be on your computer.