Do you know what Search.yoursocialhubnow.com is?
Search.yoursocialhubnow.com is not just a search engine. It is also considered a browser hijacker that you ought to remove as soon as you notice it on your system. In short, this browser hijacker is set to enter your computer using deceptive marketing and distribution tactics and change your browser's homepage to its own address. However, Search.yoursocialhubnow.com will not improve your browsing experience, but rather compromise it with its potentially malicious promotional links that can be found inside its search results. All in all, this search engine offers nothing of real value. However, we suggest reading this short article in its entirety in order to understand its purpose and how it works.
Let us start our analysis by taking a brief look at where this browser hijacker comes from and how it is distributed. This particular browser hijacker comes from the same developers that created Search.youronlinegameplay.com, another browser hijacker that can rightly be called Search.yoursocialhubnow.com's clone. The only noticeable difference between them is that Search.yoursocialhubnow.com features links of social networks on its main page, while Search.youronlinegameplay.com was more focused on computer games.
As far as this new hijacker's distribution methods are concerned, our researchers have found that it may be distributed using freeware bundles that are apt to contain potentially unwanted programs, adware, and bad toolbars. In addition, you can also get it from its dedicated website at Yoursocialhubnow.com/Social?#. This website claims that it will allow you to login to your social networks faster than before as if doing it the old fashioned way is very time consuming in the first place. This ability of logging into your social networks faster comes in the form of a link that is present in Search.yoursocialhubnow.com, truly an innovative function that you cannot do without. But in all seriousness, you do not need this extension and this search engine for accessing your social networks as you can just make bookmarks.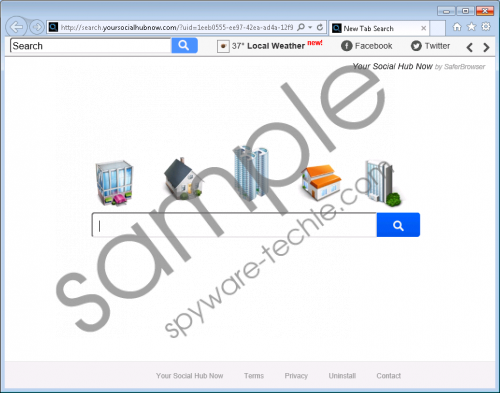 Search.yoursocialhubnow.com screenshot
Scroll down for full removal instructions
Once you install a software bundle that contains Search.yoursocialhubnow.com or its browser extension from its website it will change your browser's homepage to its own address. We believe that this is done for web monetization purposes, because redirecting web traffic to promoted websites generates advertising revenue. Not only does this hijacker do this without your approval but it also does the following: Search.yoursocialhubnow.com redirects all search queries to Extsearch.maxwebsearch.com, which in turn redirects them to Yahoo.com. Therefore, you actually use Yahoo.com. Nevertheless, we think that that its search results can contain promotional links that may be unreliable as this hijacker's secretive developers do not provide any information about their advertising partners.
All in all, Search.yoursocialhubnow.com is a useless search engine that can show modified search results from Yahoo.com. Its developers employ deceptive means to distribute it around the Web using software bundles and a very misleading dedicated website. This browser hijacker uses a dedicated browser extension to prevent you from changing the homepage, so you have to remove this extension from Firefox and Chrome and uninstall its program in order to delete it from Internet Explorer. Please consult our step-by-step removal guide
Uninstall Your Social Hub Now
Windows 10
Right-click on the Start menu.
Go to Control Panel and select Uninstall a program.
Identify the unwanted program.
Double-click on it.
Uninstall.
Windows 8 & 8.1
Open the Charm bar located on the right side of the screen.
Click Settings and select Control Panel.
Open Uninstall a program.
Identify the program.
Click the Uninstall button.
Windows Vista & 7
Click the Start menu button.
Open Control Panel.
Click Uninstall a program.
Identify the undesirable program and right-click on it.
Uninstall.
Windows XP
Open the Start menu.
Click Control Panel and select Add or Remove Programs.
Identify the application and click Uninstall.
Get rid of Your Social Hub Now browser extension
Mozilla Firefox
Press Ctrl+Shift+A and select Extensions.
Identify Your Social Hub Now and click Remove.
Google Chrome
Press Alt+F and click Settings, and then go to Extensions.
Identify Your Social Hub Now and click Remove from Chrome.
In non-techie terms:
Search.yoursocialhubnow.com is a not just a search engine. Our researchers have classified it as a browser hijacker, because it changes your browser's homepage and takes defensive measures in order to prevent you from changing the homepage address. Search.yoursocialhubnow.com may expose you to unreliable content and also compromise your computer's security. Therefore, you should delete it as soon as possible, because its search results are likely to be modified to include advertising.