Do you know what Search.yourradionow.com is?
Browser hijackers are getting increasingly popular among malware developers, and Search.yourradionow.com is one of the more recent infections our malware researchers have tested. A browser hijacker is a malicious search engine/program that modifies a browser's settings and forces users to use it for conducting online searches. And, this particular browser hijacker does exactly that, so in this article, we will describe the dangers this particular hijacker poses and how you can remove it. So if this browser hijacker infected your computer, then we invite you to read this article.
Search.yourradionow.com is the newest addition to a particular browser hijacker family which also includes Search.youremailcenter.com, Search.youronlinegameplay.com, and several other hijackers. All of these browser hijackers are disseminated using the same old methods. Like its counterparts, Search.yourradionow.com comes bundled with malicious installers that while installing the main program also secretly install additional software. When it comes bundled, this hijacker will be infected into your browser without your consent. Note that unlike many browser hijackers, this one comes with an accompanying browser extension or program (which depends on the browser used). This extension is called Your Radio Now, so you cannot confuse it with other extensions you might have. Also, this extension can be downloaded directly from its website at Yourradionow.com/Radio?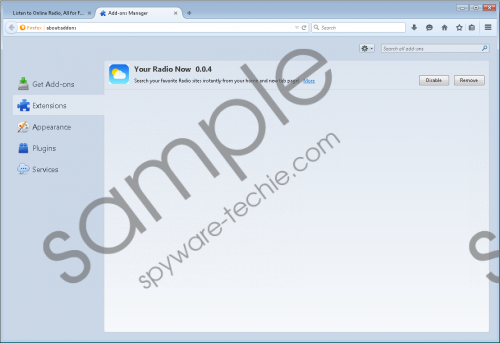 Search.yourradionow.com screenshot
Scroll down for full removal instructions
After Your Radio Now's installation is complete, it will change your browser's homepage and/or new tab page to Search.yourradionow.com. This search engine is untrustworthy because it redirects its search queries to a server at Extsearch.maxwebsearch.com that attaches commercial ads and promotions, and then redirects the searches to a custom Yahoo.com search engine. It is difficult to determine which ads are legitimate and which are connected to malicious servers without having specialized software. Since the primary purpose of this browser hijacker is to redirect web traffic and make money from online advertising, it is obvious that its developers have no regard for the security of the user.
This hijacker's Terms of Service state that "by Using the Your Radio Now Software, you may encounter Third-Party Software that may be deemed offensive, indecent or objectionable. Nevertheless, you agree to use the Your Radio Now Software at your risk and that Your Radio Now shall not have any liability to you with respect to such content." So there are no guarantees that your computer will not be subjected to malicious software if you choose to use this browser hijacker to conduct all of your online searches. However, inexperienced users may be tempted to use it since it features links to legitimate websites. This hijacker features a toolbar on its main page. Its toolbar has links to Tunein.com, Soundcloud.com, Spotify.com, Pandora.com, Iheart.com, and Espn.com. All of these websites are legitimate but are in no way associated with the secretive developers of Search.yourradionow.com.
If you want to remove Search.yourradionow.com completely, then you should use a anti-malwre tool, such as our recommend program — SpyHunter. This is necessary to delete all of the hidden junk files and registry values that remain after you uninstall it via Control Panel. We have included a manual removal guide via Control Panel and browser options. And, even though we always recommend using specialized software to eradicate a malicious program in its entirety, the decision is yours to make.
Uninstall the Your Radio Now program
Windows XP
Open the Start menu.
Click Control Panel.
Select Add or Remove Programs.
Find the application and click Uninstall.
Windows 7 and Vista
Click Start.
Select Control Panel.
Click Uninstall a program.
Find the unwanted program.
Uninstall.
Windows 10/8.1/8
Tap Windows Key+R.
Enter Control Panel in the dialog box and click OK.
Select Uninstall a program.
Find the application and click the Uninstall button.
Remove Your Radio Now browser extension
Google Chrome
Press the Alt+F keys.
Click More tools.
Select Extensions.
Remove the add-on.
Mozilla Firefox
Press the Ctrl+Shift+A keys.
Click Extensions.
Remove the malicious extension.
In non-techie terms:
Search.yourradionow.com is a browser hijacker that is distributed using deceptive software bundling and thus gets on your computer without your permission. It changes the default browser homepage and new tab page to its promoted search engine that our researchers have concluded to be unreliable. They suggest that your PC can become infected with additional malware as a result of clicking a promotional ad supplied by this hijacker. So do yourself a favor and remove this infection as soon as possible.