Do you know what Search.youronlinegameplay.com is?
Search.youronlinegameplay.com is a browser hijacker that is related to the adware programs from the Mindspark family. This potential computer security threat looks like a useful search engine, and it is also possible that users install it willingly. However, it would not be a good idea to keep using this search provider because it might eventually result in severe computer security issues. Please remove Search.youronlinegameplay.com from your computer and do not forget to run a full system scan with a security program of your choice. For all it's worth, you might have many other unwanted applications running in your system right now.
This browser hijacker looks very much like Search.yourcurrentnewsnow.com. MindSpark browser hijackers are slightly different from your average browser hijacker because they are rather explicit about their distribution. For example, you can install Search.youronlinegameplay.com on your computer if you visit youronlinegamesplay.com. This official website informs out about the biggest benefits of having this program on your computer, and you can actually choose whether you want this program installed or not. We do not think that users come across this website by themselves just like that. It is far more likely that they get redirected when they click outgoing links on various pop-ups and commercial advertisements. What's more, Search.youronlinegameplay.com may also enter your system bundled with freeware, so the official website clearly is not the only distribution source.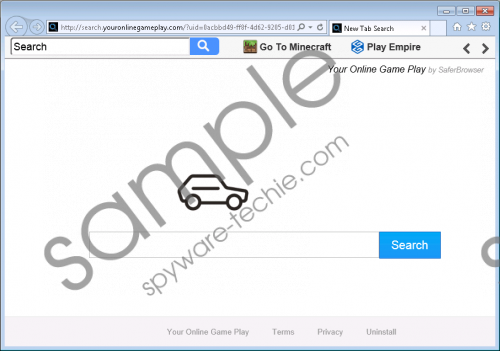 Search.youronlinegameplay.com screenshot
Scroll down for full removal instructions
If you were to take a closer look at the official homepage, perhaps you would feel like you want to try out this program, especially if you are an avid online gamer. The few promotional taglines say that with this search engine added to your browser, you will be able to play "FREE, fun and exciting games," including "FREE Sports & Action, Board & Puzzle, Arcade Games & More." However, take note at the number of the word "FREE" in that promotion. Surely enough nothing comes for free these days, and you can expect to pay for using Search.youronlinegameplay.com in some other way.
The other way in question is a complete takeover of your browser and the constant monitoring of your web browsing habits. This hijacker affects Google Chrome, Mozilla Firefox, and Internet Explorer. Some specific features of the infection may differ from one browser to the other. For example, Search.youronlinegameplay.com is also known to install a browser extension, but the extension appears only on Google Chrome and Mozilla Firefox. The hijacker also changes your default homepage and search engine. The less experienced computer users may think that Search.youronlinegameplay.com is reliable enough to perform extensive web searches, but you will soon see that this program makes use of the customized version of the Yahoo! Search engine.
There is nothing reliable about the program. When a browser hijacker enters your system without your permission, it goes without saying that you should not tolerate it any longer. Please follow the instructions below to get rid of Search.youronlinegameplay.com. If something does not go according to the plan, please let us know by leaving a comment in the comment box.
Also, you have to ensure your system's stability by investing in a legitimate antispyware tool. It is not just about the current threats that might be too intrusive to take care of on your own. You also need to think about other potential security issues you might face in the future.
How to Remove Search.youronlinegameplay.com
Windows 10, Windows 8.1 & Windows 8
Press Win+R and the Run command prompt will open.
Type "control panel" and press Enter.
Select Uninstall a program under Programs.
Highlight all the unwanted programs and click Uninstall.
Windows Vista & Windows 7
Open the Start menu and select Control Panel.
Go to Uninstall a program and remove unwanted programs.
Windows XP
Click the Start menu and go to Control Panel.
Access Add or remove programs and uninstall unwanted applications.
Change Your Browser Settings
Internet Explorer
Press Alt+T and open Internet options.
Change your homepage address under the General tab and press OK.
Press Alt+T again and select Manage add-ons.
Click Search providers on the left pane.
Set a new default search engine and delete Search.
Restart your browser.
Mozilla Firefox
Press Alt+T and select Options.
Change your homepage address under the General section.
Click Search button on the left pane.
Choose a new default search engine.
Delete Search from the list and press Ctrl+Shift+A.
Disable and remove Your Online Gameplay from Extensions.
Restart your browser for the changes to take effect.
Google Chrome
Press Alt+F and open More tools.
Click Extensions and remove Your Online Gameplay.
Click Settings on the left pane.
Select Open a specific page or set of pages.
Click Set pages and change your homepage address. Press OK.
Click the Manage search engines button under Search.
Set a new default search engine and remove Search. Click Done.
In non-techie terms:
Search.youronlinegameplay.com will appear on your web browser when you get infected with a browser hijacker program. It is very likely that you installed this program on your computer accidentally. There is no need to panic as you can remove Search.youronlinegameplay.com following our removal instructions above or below. Nevertheless, you would do yourself a favor if you invested in a computer security tool that would protect your system from similar intruders later on. The cyber danger is always right next to you!