Do you know what Search.youronlinegamecenter.com is?
Search.youronlinegamecenter.com is not an application that you want to find running on your personal computer. This is important to note this since the program in question is yet another intrusive search engine that does not hold any valuable features. In fact, it will only cause major disruption and will make your overall online experience into an annoying and invasive one, to put it mildly. This is caused by intrusive changes made by it within your web browser's default settings. It is important to highlight that in some instances the alterations made by this devious piece of software could even prove to be the reason other suspicious applications might be able to enter your operating system without a lot of trouble. If you are keen on keeping your personal computer safe and secure at all times, make sure to delete every single bit of Search.youronlinegamecenter.com as soon as it is found up and running on your personal computer. You can do so by using the detailed instructions that we present below.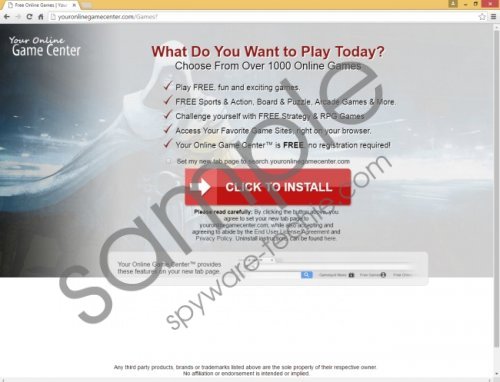 Search.youronlinegamecenter.com screenshot
Scroll down for full removal instructions
The overall functionality of Search.youronlinegamecenter.com is intrusive, to say the least, as it triggers changes to web browsers such as Google Chrome, Mozilla Firefox, and Internet Explorer as soon as it enters your personal computer. It modifies your default search engine and homepage without any warning. Once the changes are in place, your experience of the Internet will be affected in a negative way because you will have no choice but to start all of your online session on a homepage that is not of your preference. Also, using the desired search engine will be impossible since your every single online search will go through a newly appointed engine whether you like it or not. While such functionality of this devious search engine is bothersome, you must know that in some instances it could prove to be quite malicious as well. After a deeper investigation, malware experts at Spyware-Techie.com have discovered that in at times the devious search engine might present you with results embedded with redirect links. This means that in certain instances by simply clicking on a search result you could be taken to suspicious and even potentially harmful websites. For example, you could be taken to sites that could turn out to be hosting malicious software and in some cases just entering them could turn out to be more than enough to get your PC infected with some unknown malicious application. It goes without saying that Search.youronlinegamecenter.com is a major virtual threat that should be removed at the very same time that it is discovered running on your PC.
It is important to note that Search.youronlinegamecenter.com is up for download on its official websites. Thus, users usually obtain it due to deceiving marketing strategies employed by its developers. On its official websites, it is advertised as a tool that should allow you to play over 1000 online games. This is a popular technique used by quite a few malware developers to trick unsuspecting users into downloading an application without understanding how it works. To safeguard your PC from Search.youronlinegamecenter.com and other devious programs, you must take a few preventative steps. Firstly, you should learn about the program that you wish to install on your PC as much as possible before even downloading it. This is critical since misleading marketing gimmicks are quite popular nowadays. Additionally, you should execute each installation procedure with extra caution since you might be presented with an opportunity to cancel the setup of some unwanted program. Lastly, but most importantly, you need to install a professional antimalware tool on your personal computer since it can detect and warn you about any suspicious content on your PC or online in advance. By taking these few precautionary steps, you will be able to maintain a fully secure operating system at all times.
The complete removal of Search.youronlinegamecenter.com must not be delayed since running this devious search engine could prove to be quite detrimental to your operating system. Once you are done with the manual removal, you need to execute a detailed analysis of your personal computer for potential leftovers associated with this devious program. If you happen to come across any, make sure to delete them as they could still be used in an intrusive manner. In some cases, traces of Search.youronlinegamecenter.com could be used to trigger a silent restoration procedure and in other instances, just a few registry entries or files could be more than enough for this devious program to continue its intrusive functionality.
How to remove Search.youronlinegamecenter.com from your browser
Google Chrome
Start your web browser.
Click the Chrome Menu button.
Select Settings.
Click Extensions.
Click the Recycle Bin icon next to the devious extension.
Click Remove to confirm your choice.
Mozilla Firefox
Open your web browser.
Click the Menu button and select Add-ons.
Select Extensions and click Remove next to the suspicious extension.
Internet Explorer
Launch your web browser.
Click the Menu button.
Select Manage add-ons.
Click Toolbars and Extensions.
Select the unwanted extension and click Remove.
How to remove Search.youronlinegamecenter.com from your PC
Windows 10
Right-click the Windows button.
Select Control Panel and click Uninstall a program.
Select the unwanted program.
Click the Uninstall button.
Windows 8 and 8.1
Right-click your Task Bar and select Control Panel.
Click Uninstall a program.
Right-click the intrusive program.
Confirm that you want to remove it.
Windows 7
Tap the Windows button on your keyboard.
Select Control Panel.
Click Uninstall a program.
Double-click the malicious application.
Confirm your choice.
Windows XP
Click Start.
Select Control Panel.
Click Add or remove programs.
Select the unwanted application.
Click the Remove button.
In non-techie terms:
If you happen to be a user that finds manual removal and analysis of your computer too complicated as you lack advanced computer knowledge, do not worry. Malware researchers working at our internal labs have crafted an alternative removal guide that will allow you to delete Search.youronlinegamecenter.com in an automatic way.