Do you know what Search.yourmovietime.com is?
Search.yourmovietime.com is a search engine that might be set on your browsers (Internet Explorer, Google Chrome, and Mozilla Firefox) without permission. Our team of specialists has noticed that it usually replaces the default search engine and homepage. If you have opened your browser too and noticed Search.yourmovietime.com, it means that you have to go for its removal. We agree with you that this search engine looks quite decent; however, the truth is that it is not. First of all, it is known to be a part of a browser hijacker infection. Secondly, there is no doubt that this search engine might expose users to threats. We know that it might be quite difficult to remove Search.yourmovietime.com from browsers, so we have decided to help the readers of this report. We are sure that you try to find some help if you spend your free time reading the article about Search.yourmovietime.com.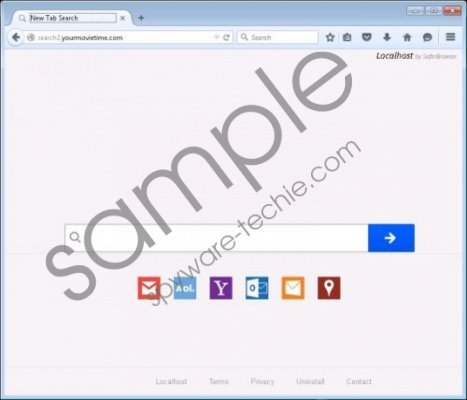 Search.yourmovietime.com screenshot
Scroll down for full removal instructions
The main symptom that you have become a victim of a browser hijacker is, of course, a different homepage and search engine. Experienced users might also notice several other changes. For example, it has been observed that Search.yourmovietime.com modifies the prefs.js file in order to appear on Mozilla Firefox and changes data inside Preferences, Secure Preferences, and Web Data files in order to set itself on Google Chrome. Finally, it modifies the Start Page value which can be found by following this path: HKEY_CURRENT_USER\Software\Microsoft\Internet Explorer\Main. It does that in order to set itself on Internet Explorer.
Users who find Search.yourmovietime.com set in the place of their homepages and search engines often decide to keep it because it does not look harmful at all. Others do not even notice that something has changed because Search.yourmovietime.com does not differ much from other search engines regarding its interface. Even though this search engine looks quite reliable at first glance, we suggest removing it immediately if you ever notice its presence. We will try to explain you why it is so important to do that. First of all, our researchers have managed to find out that Search.yourmovietime.com is going to redirect all the search queries to extsearch.maxwebsearch.com before displaying Yahoo! search results. It means that these search results might be modified on the way. We call search results "modified" when they are full of unreliable third-party links and advertisements. Unfortunately, an ordinary user will, most likely, not be able to say which of the search results are trustworthy and which are not. Therefore, it is better not to use this search engine to find the information on the web at all. If you still continue doing that, you might click on one of those links or ads and end up on the website promoting all kinds of infections. In other words, you risk infecting your system with malware by keeping Search.yourmovietime.com. There are hundreds of other search engines, e.g. search.mycouponsxp.com, search.myinterestsxp.com, and search.myspeedtestxp.com that might display unreliable search results, so our security specialists suggest using such a search engine that you know is 100% trustworthy.
Users do not set Search.yourmovietime.com willingly. It has been found that this search engine usually appears on their browsers after they download some kind of free application and install it carelessly. Secondly, it might be set after a user clicks on a pop-up advertisement. Pop-ups offering to set Search.yourmovietime.com are usually shown by SwiftSearch or TermTrident applications. Of course, other ones that promote it might exist as well. Browser hijackers are very prevalent these days, and they seek to enter systems silently. Luckily, there is one way to prevent this from happening – you need to install a security tool on your computer. After you do that, enable it and keep it active 24/7/365.
There are two ways to remove Search.yourmovietime.com from browsers. In most cases, this search engine will disappear if you reset your browsers one by one. Another way to delete this questionable search engine is to implement the full system scan with a trustworthy antimalware scanner, such as SpyHunter.
Delete Search.yourmovietime.com
Internet Explorer
Open your browser and access the Tools menu.
Select Internet Options.
Click on the Advanced tab and click Reset.
Put a tick in the box next to Delete personal settings.
Click Reset.
Mozilla Firefox
Open your browser and tap Alt+H.
Select Troubleshooting information.
Click Refresh Firefox.
Click on the Refresh Firefox button again.
Google Chrome
Open your browser and tap Alt+F.
Select Settings and scroll down.
Click Reset settings.
Click the Reset button.
In non-techie terms:
Unfortunately, there is a high chance that other infections are installed too. It is hard to detect them all manually, so we suggest scanning the system with an automatic scanner. Of course, you do not need to do that if you have erased Search.yourmovietime.com with the help of SpyHunter because this tool has already taken care of other untrustworthy programs.