Do you know what Search.yourinterestsnow.com is?
You must be surprised to discover Search.yourinterestsnow.com set as the home page and the default search provider instead of your regular search tools. If you are not surprised, you must have agreed to install this search tool; otherwise, it has entered as a browser hijacker. As you know, browser hijackers corrupt browsers and change settings to serve some of kind purpose. The purpose of this hijacker is to force you into using a search tool that represents sponsored links. The only way that the developers of Search.yourinterestsnow.com can earn money is if you click on these sponsored links, and, in order to introduce you to them, your browsers will be hijacked. We are sure you already understand that you need to delete Search.yourinterestsnow.com, and we are sure that our removal tips will help you.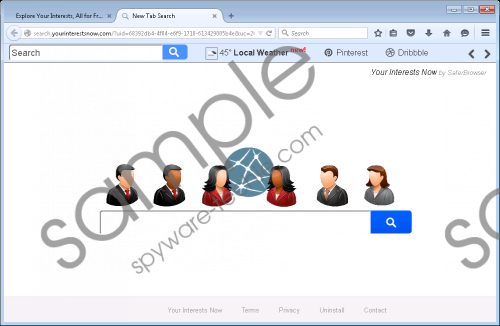 Search.yourinterestsnow.com screenshot
Scroll down for full removal instructions
Although the installer of Search.yourinterestsnow.com could be attached to malicious installers, our research team has found that this hijacker follows a browser extension called "Your Interests Now." This extension is represented by SaferBrowser (at yourinterestsnow.com/Interests?). Are you familiar with this company already? It is most likely that you are not; however, we talked about the removal of many of its products. Most browser extensions created by this company hide hijackers, including Search.myspeedtestxp.com and Search.easyclassifiedsaccess.com, and, of course, they must be deleted for the same reasons that you should remove Search.yourinterestsnow.com. Although you really do not need another reason to get rid of this hijacker besides its illegal infiltration, there are a few other things you need to consider. First of all, this search tool shows modified search results. When you enter a keyword, your request is processed via extsearch.maxwebsearch.com, and you are routed to Yahoo Search. Do not be deceived by this! The search results are NOT reliable. Secondly, it has the ability to spy on you, and we are can assure you that this will not benefit you.
You have to complete two removal steps to eliminate this hijacker. First, delete the extension linked to this hijacker. Next, remove Search.yourinterestsnow.com itself. If the process is not clear for you, you should trust our guidance. Complete the steps below, and then install a malware scanner. An authentic scanner will help you figure out if any other programs await removal. If they do, use an automatic remover, and, if they do not, move straight to the protection of your operating system. If you skip this important step, malware is likely to slither in sooner rather than later.
Delete Search.yourinterestsnow.com
Delete from Mozilla Firefox
Simultaneously tap Ctrl+Shift+A to access the Add-ons Manager.
In the Extensions menu Remove/Disable the unwanted add-on.
Tap Alt+T, select Options, and navigate to the General menu.
Overwrite/remove the Home Page URL.
Navigate to the Search menu and Remove the unwanted provider.
Delete from Internet Explorer
Simultaneously tap Alt+T on your keyboard for the Tools menu.
Select Manage Add-ons, go to Toolbars and Extensions, and find the unwanted add-on.
Disable the unwanted add-on and move to the Search Providers menu.
Remove the unwanted search provider after selecting the desired one and click Close.
Tap Alt+T one more time and choose Internet options.
Click the General tab on the left, remove/overwrite the Home Page URL, and click OK.
Delete from Google Chrome
Simultaneously tap Alt+F for a menu to appear on the right.
Move to More tools and click Extensions to open the chrome://extensions/ menu.
Find the unwanted add-on, click the recycle bin, and choose Remove.
Tap Alt+F one more time and choose Settings.
Go to On Startup, mark Open a specific page or set of pages, and click Set pages.
Overwrite/remove the URL of the undesirable provider and click OK.
Go to Appearance, mark Show Home button, and click Change.
Overwrite/remove the URL of the undesirable provider and click OK.
Go to Search, click Manage search engines, and select the desired provider.
Click X on the URL you wish to remove and click Done.
In non-techie terms:
How much experience with malware removal do you have? If you have no experience, you do not need to worry about the removal of Search.yourinterestsnow.com because the steps above will help you get rid of this hijacker. Why do you need to delete this infection? Well, it can attack without permission, its search services are unreliable, and it can jeopardize your virtual security. Hopefully, you realize that keeping this search tool installed is a bad idea. When discussing removal, you cannot forget that other threats could have slithered in along this hijacker, and you must eliminate them ASAP.