Do you know what Search.yourinstantweather.com is?
Search.yourinstantweather.com is a suspicious search engine that will replace your homepage, search engine, and your New Tab page after you install the Your Instant Weather extension. You can find out whether it is really installed by checking the Add-ons Manager. In case you use Google Chrome, you can easily recognize the extension responsible for the presence of Search.yourinstantweather.com by checking its ID (it will be visible after you enable the Developer Mode). If it has the gepbifgflblojmgiklcnamcmpmaefpgh ID, we are sure that you have Your Instant Weather installed. Researchers say that this extension might be installed without asking a direct permission; however, there are users who add it themselves to their browsers. The main reason why they do that is because they believe that they will be able to check the weather forecast easily and quickly. Users will really see the local weather forecast at the top of Search.yourinstantweather.com. In addition, they will be provided with links that lead to other websites associated with weather. Unfortunately, this is not the reason to keep Search.yourinstantweather.com because this search engine might expose you to potential threats during the time. We will explain you how to get rid of it further in this article, so continue reading.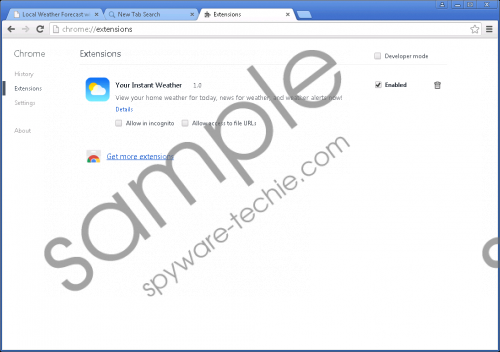 Search.yourinstantweather.com screenshot
Scroll down for full removal instructions
Search.yourinstantweather.com will undoubtedly change the settings of your browsers. In most cases, users are informed about that, but simply do not notice such information. It is stated in the Terms of Use that "you can reconfigure such settings at any time." Actually, we suggest doing that as soon as possible because we do not trust Search.yourinstantweather.com fully. The main reason is simple – we believe that this search engine might provide you with all kinds commercial ads and sponsored links. We are sure that not all of these links and ads are trustworthy, which means that you might infect your system with malicious software really quickly if you use the search box placed on the main page. Researchers have observed that all your search queries will be redirected to http://extsearch.maxwebsearch.com and only then to Yahoo!. Search results are usually modified at this stage, so it is not surprising at all that a legitimate search engine (Yahoo!) provides users with an unreliable content. Users who do not want to cause harm to their systems have to remove Search.yourinstantweather.com from browsers and set another search engine as soon as possible. It is also advisable to do that if you do not want to reveal information about yourself and activities you perform on the web. Yes, Search.yourinstantweather.com will gather non-personally identifiable information day after day.
Our team of specialists has found it really surprising that the Your Instant Weather extension requires the following permissions:
Read and change all your data on the websites you visit
Read and change browsing history
Manage Downloads,
Manage Apps, Extensions, and Themes
According to researchers, this suggests that this extension will not only set Search.yourinstantweather.com, but will also perform other activities. Of course, users might not know that because it might act behind their backs.
Even though the extension that sets Search.yourinstantweather.com can be downloaded from its official website yourinstantweather.com, it has been observed that it might come in a bundle with other applications too. Some users claim that they have seen a pop-up advertisement offering to install this extension on different websites as well. If you do not want to see unwanted changes applied to your browsers ever again, you have to take care of your system's safety in advance. In other words, you need to install a security tool and always keep it enabled. Security specialists also suggest that you do not download programs from third-party web pages and torrent sites because you might download software bundles and install these packages unknowingly.
If you prefer to set another homepage, search engine, and New Tab page, you need to remove Search.yourinstantweather.com from browsers. This search engine will disappear only if you delete the Your Instant Weather extension. Instructions which you will find below this article will help you to do that. In case the manual method is too complicated for you, use an automatic malware remover, such as SpyHunter for this matter. You will not see Search.yourinstantweather.com anymore after a single scan.
Delete Search.yourinstantweather.com
Mozilla Firefox
Open your browser.
Tap Ctrl+Shift+A simultaneously.
Click Extensions.
Find the unwanted extension and erase it.
Google Chrome
Open your browser.
Tap Alt+F.
Click More tools and then open Extensions.
Click on the extension and delete it by clicking the trash button.
Click Remove.
In non-techie terms:
If you have eliminated Search.yourinstantweather.com manually, you should still scan your system with an automatic scanner to find out whether or not other undesirable programs are installed on the system. In case your antimalware tool detects them, erase those unwanted applications as soon as possible and do not forget to take care of your system's safety in order not to allow them to enter your system ever again.