Do you know what Search.yourinstantfileconverter.com is?
Search.yourinstantfileconverter.com is a search tool that is officially promoted as an extension that is meant to help users convert files into PDF and DOC formats. In fact, the search tool is all that the extension represents, which, in part, is why we classify it as a browser hijacker. Did you expect to have your homepage on Firefox or Internet Explorer modified as you installed this extension? You probably did not. Even if you did, it is obvious that the extension is misleading and untrustworthy. If you wanted to use the hijacker, you could easily modify the homepage URL, and the fact that an extension was created to hijack your browsers is quite unnerving. Obviously, there is something fishy about this software, and that is why we have decided to thoroughly analyze it in our internal lab. Continue reading to familiarize with our findings and to learn how to remove Search.yourinstantfileconverter.com.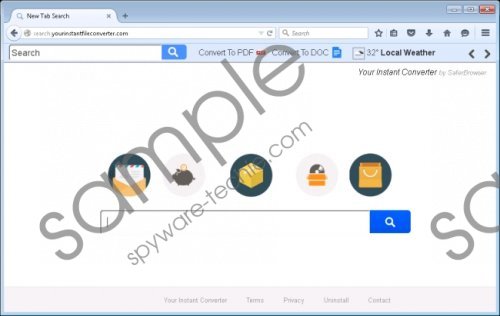 Search.yourinstantfileconverter.com screenshot
Scroll down for full removal instructions
Our research team is very knowledgeable about Search.yourinstantfileconverter.com because this hijacker comes from the SaferBrowser family. This family is very big, and we must have reviewed what seems like a hundred of different versions, some of which include Search.yourinstantsocialhub.com (the most recent one), Search.yourclassifiedscenter.com, and Search.yourinterestscenter.com. These hijackers are initially promoted as extensions, which suggests that they might have been created by the same company. Of course, it is also possible that different companies are using the same engine to produce identical-looking extensions/hijackers. Although the interfaces of these hijackers are almost identical, they have different themes. In the case of Search.yourinstantfileconverter.com, we see that it is all about converting files. Besides promoting online-convert.com services, the home page of this hijacker is also used to promote reference.com, translate.google.com, thesaurus.com, and dictionary.com. Links to these sites are attached at the top, and the hijacker's developer is likely to earn money for their advertising.
The "search" of the suspicious Search.yourinstantfileconverter.com is also an advertising tool. Although this hijacker redirects to search.yahoo.com – which is also a good reason to delete it – it can modify the results shown to you to include sponsored links. Obviously, if you click on these links, some kind of profit is made. Profit might be made by selling information about you as well. Have you checked the statement at search.yourinstantfileconverter.com/home/privacy? The Privacy Policy informs that personal information can be recorded. It is also stated that the information recorded can be shared with third parties. Needless to say, the statement does not disclose the parties that the creator of this hijacker works with. Is it possible that your virtual security is at risk because you are using this strange search tool? It seems that it is, and now is the time for you to figure out whether or not the services provided by the hijacker are worth it. If they are not, go ahead and delete the hijacker without further hesitation.
It seems that the hijacker is only affecting Internet Explorer and Mozilla Firefox browsers; at least, at this moment. If you need us to add instructions showing how to delete Search.yourinstantfileconverter.com from other browsers, let us know via the comments section below. The guide below shows how to uninstall unwanted programs, delete the Firefox extension, and replace homepage URLs. These steps are fairly easy to follow, and you do not need much experience. Now, if you have other infections running around, you should not waste any time. Install an automated malware remover, and it will clean your PC in no time. Keep this software installed and updated if you want to keep malware away in the future.
Remove Search.yourinstantfileconverter.com
Uninstall from Windows XP
Move to the Taskbar and click the Start button on the left.
Open Control Panel and then double-click Add or Remove Programs.
Remove the undesirable app.
Uninstall from Windows Vista/Windows 7/Windows 8/Windows 10
Tap Win+R keys on the keyboard to launch RUN.
Enter Control Panel into the address bar and tap Enter.
Move to the Uninstall a program menu.
Right-click the application you wish to get rid of and click Uninstall.
Clear Internet Explorer:
Open the browser, tap Alt+T, and select Internet options.
Click the General tab and move to the Home Page.
Change the URL, click OK, and restart the browser.
Install a trustworthy malware scanner.
Clear Mozilla Firefox:
Open the browser and tap Ctrl+Shift+A to access the Add-ons Manager.
In the Extensions menu Remove the unwanted extension.
Tap Alt+T again and select Options.
In the General menu change the URL in the Home Page section.
Restart your browser and install a reliable malware scanner.
In non-techie terms:
Although you can convert your files via Search.yourinstantfileconverter.com, you can also do that in many other ways. This search engine provides links to beneficial sites. Well, you can attach links to them to your bookmarks bar. You like that it redirects to Yahoo Search? You can set your homepage to search.yahoo.com, and by doing that you will also avoid sponsored links. Furthermore, if you delete this hijacker, you will not need to fear unknown parties spying on you. In general, there is no reason to postpone the removal of this hijacker, and we recommend that you get rid of it ASAP. Whether you proceed manually or you employ anti-malware software, do not forget about third-party threats as well.