Do you know what Search.youremailnow.com is?
Search.youremailnow.com offers you quick links to major e-mail providers on a fake toolbar and, of course, a search engine as well; but you should know that this browser extension can behave unreliably, which could put your virtual reality at risk. After careful testing in our internal lab, our researchers categorized this threat as a browser hijacker. Upon installation, this hijacker can alter your browser settings to promote this potentially unreliable search website. Most users do not even realize that they allow this infection to come on board even though they are given options to opt out. This is possible because this hijacker travels the web in malicious software packages and the installers are usually created to be misleading so that inexperienced users would let all content onto their system. It is quite likely that this is what has happened to you, too. Therefore, our researchers advise you to remove Search.youremailnow.com and all other related and unrelated infections as well.
As we have already mentioned, the most common way for this browser hijacker to appear on your computer is via freeware bundles. It is important that we talk about this distribution method in details because understanding what you are up against can help you avoid similar attacks in the future. The most vital piece of information about downloading malicious bundles is that it usually happens when you click on an unreliable third-party advertisement or link. There are three main sources for such ads. First, your computer may be infected with adware programs or any other threats that can display third-party commercials. Second, there is a browser hijacker on your system that can show you modified search results that contain such unreliable ads and links. Third, you visit a suspicious website, such as a torrent, freeware, or gaming site and you are presented with a corrupt ad there.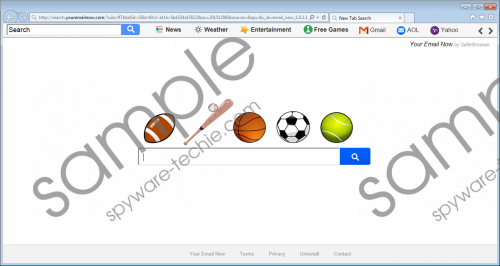 Search.youremailnow.com screenshot
Scroll down for full removal instructions
One single click is all you need to download a whole bunch of malware threats as you can see. Therefore, you should be very careful about clicking on any third-party content in the future. The problem with third-party ads is that if there is an adware program or a browser hijacker on your system, you can never feel safe because they can present you with unreliable ads and links even when you think you are on a reputable page. If you want to clear up your virtual world, you need to delete Search.youremailnow.com and all other potentially harmful applications as well. In order to detect the rest, you could use a free online malware scanner.
Apart from these alternative and rather questionable methods you can also install this browser hijacker through official channels. You can find the promotional webpage at youremailnow.com and this tool is also available through the Chrome web store at chrome.google.com/webstore/detail/your-email-now/cniclcmmmebdhhfldhdmmaplmcohnahc. But, if you want quick links to your mail providers, we suggest that you use the built-in bookmark function of your browsers; it is as simple as that and you do not need a separate application for it.
This browser hijacker uses the redirection technique for all your search requests. This is why you may find yourself on a Yahoo search results page every time you run a search through this useless extension. A lot of hijackers use redirection instead of displaying results through their own search engine, which they do not even have most of the time. The biggest problem with this is that this infection can manipulate the search results to include third-party ads and sponsored links that may not all be reliable. Unfortunately, crooks can take advantage of this browser extension to use it as bait and lure unsuspecting users onto their malicious websites. Clicking on corrupt content can open multiple new tabs with questionable and unreliable content, you could drop a bundle of threats onto your system, but you could also be scammed by criminals to reveal sensitive information, including your bank account details. If you do not want to cripple your system or lose your money, we recommend that you delete Search.youremailnow.com right away.
If you want to make sure that there are no leftovers after this threat, you should reset all affected browsers, including Google Chrome, Mozilla Firefox, and Internet Explorer as well. If you have never done this before, please use our instructions below as a guide. Do not forget that by resetting your browsers you are going to lose all your preferences and installed extensions as your browsers will go back to default. Also, you should remember to take care of all other threats if you want to protect your privacy, your files, and your system. It is possible to detect and eliminate most malware threats if you are an advanced computer user. However, if you are not and you want an effective method, we suggest that you employ a reliable malware removal tool, such as SpyHunter.
Remove Search.youremailnow.com from browsers
Google Chrome
Tap Alt+F and go to Settings.
At the bottom, click Show advanced settings.
At the bottom, click Reset settings.
Click Reset.
Mozilla Firefox
Tap Alt+H and choose Troubleshooting Information.
Click Refresh Firefox.
In the confirmation window, press Refresh Firefox.
Click Finish.
Internet Explorer
Tap Alt+T and go to Internet Options.
Select the Advanced tab and press Reset.
Tick the Delete personal settings checkbox and press Reset.
Click Close.
In non-techie terms:
Search.youremailnow.com is a worthless browser extension that promotes a potentially harmful search page. Our researchers have labeled this infection as a browser hijacker based on its capability to change certain browser settings. Not only are these changes annoying if you did not let them take place knowingly, but you may also be exposed to undesirable and risky third-party content. This browser hijacker can enter your system along with other malicious software installers that can further worsen your computer's state of security. If you do not want to end up with more infections or finding yourself in the center of an online scam, we advise you to remove Search.youremailnow.com as soon as possible and take care of the rest of the threats as well. If you do not feel ready to accomplish all this manually, we suggest that you install a reliable anti-malware program to safeguard your system.