Do you know what Search.youremailcenter.com is?
Search.youremailcenter.com is an application that should provide a quicker access to your email account. At least this is the statement that is up on its official website. Unfortunately, such marketing of this tool is rather misleading since in reality it is yet another browser hijacker that will serve you no good whatsoever. Such advertising techniques are mostly used to lure naive Internet users into downloading and installing this intrusive and at times even malicious application without realizing what it really is. If you are the unfortunate users that have it up and running on your PC, you should not waste any time and conduct the complete removal of Search.youremailcenter.com right now because it will only ruin your online experience in numerous ways. Below we provide a detailed removal guide that was crafted by our malware researchers. It is easy to use and will help you delete this browser hijacker in no time at all.
Just like any other browser hijacker that is active these days, Search.youremailcenter.com will affect popular web browsers such as Mozilla Firefox, Internet Explorer, and Google Chrome as soon as it successfully enters your operating system. It will alter, without any notification, the default settings of your browser such as search engine and homepage. This will happen whether you like it or not, which is irritating and frustrating, to put it mildly. The most annoying thing about these changes is that you will have no choice but to use the newly appointed third-party homepage and search engine. While these activities are the most prominent, there is something more about this hijacker than meets the eye. In some cases, the dubious search engine could present you with modified search results. This means that by clicking on a seemingly harmless search result you could expose your operating system to suspicious or even malicious web content, which in most cases results in a computer infection. Thus, it should be more than obvious why the removal of Search.youremailcenter.com is essential to your virtual security.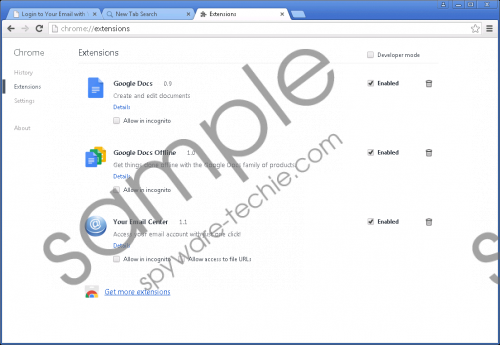 Search.youremailcenter.com screenshot
Scroll down for full removal instructions
Our malware experts advise you to take preventative measures to avoid getting your PC infected with Search.youremailcenter.com or any other suspicious program. One of the most important things that every security-conscious user should bypass all third-party download websites since they are infamous for hosting suspicious software bundles, which are often used to spread questionable programs. Another essential thing that is of utmost importance to your virtual security is a professional malware detection and removal tool. Such a tool is essential as it provides overall system security at all times, meaning that it would warn you about any questionable sites or downloads in advanced as well as it can identify any suspicious activity on your PC and terminate the questionable program responsible for that.
The removal of Search.youremailcenter.com should be executed without any hesitation as it will help you restore your web browser's default settings. Once you have executed the manual removal, it is important to analyze your operating system for potential leftover files and registry entries linked to Search.youremailcenter.com just to be sure that every single bit of it was removed from your operating system.
How to remove Search.youremailcenter.com from you browser
Google Chrome
Launch the browser and simultaneously tap Alt+F.
Select Settings and mark Open a specific page or set of pages and then click Set pages.
Change the unwanted URL address and click OK.
Click Appearance and mark Show Home button.
Click Change and immediately repeat step 4.
Go to Search and click Manage search engines.
Choose a new default search provider.
Click X on the URL you wish to remove and select Done.
Tap Alt+F again, move to Tools and click Extensions.
Click the recycle bin and select Remove.
Mozilla Firefox
Launch the browser and click the search provider icon on the search box.
Select Manage Search Engines and Remove the undesirable search provider. Click OK.
Simultaneously tap Ctrl+Shift+A.
Go to Extensions and Remove the unwanted plugin.
Simultaneously tap Alt+T and then select Options.
Click the General tab and and select Home page.
Now Remove the undesirable Home Page URL and select OK.
Internet Explorer
Launch the browser, simultaneously tap Alt+T and select Manage Add-ons.
Go to Search Providers and choose a new default search provider.
Remove the undesirable search provider.
In the menu on the left click Toolbars and Extensions.
Remove the undesirable plugin and click Close.
Simultaneously tap Alt+T and select Internet Options.
Click the General tab, remove the Home Page URL and click OK.
In non-techie terms:
If you believe that the manual removal and analysis of your PC is too complicated for you, you should not worry. Our research team has created an alternative removal guide that we provide below. Follow these instructions and delete this browser hijacker in an automatic way.