Do you know what Search.yourcurrentnewsnow.com is?
Search.yourcurrentnewsnow.com is a website that will be set as your homepage if you get infected with a browser hijacker from the Mindspark family. This group of potentially harmful applications is notorious for its toolbars. For example, users around the world have long been plagued by such potential threats as Citysearch Toolbar, Video Scavenger Toolbar, Zwinky Toolbar, and many others. Search.yourcurrentnewsnow.com, on the other hand, is yet another version of the Mindspark software that balances on the verge of being genuinely malicious. You should think of your system's security to remove this browser hijacker immediately.
Browser hijackers are dangerous security threats because they can monitor your web browsing activities, taking note of your habits, likes, and preferences. These days, almost all websites employs cookies to track your activity on the appropriate pages, but the problem with browser hijackers is that they monitor EVERYTHING. The same applies to Search.yourcurrentnewsnow.com as well. Although this program cannot steal your financial data, logins, and passwords, the information collected can be used for only marketing purposes. Most of the time, you will be flooded by annoying commercial ads that will look harmless, but that is only until you click on them. Please refrain from opening any pop-ups delivered to you via Search.yourcurrentnewsnow.com.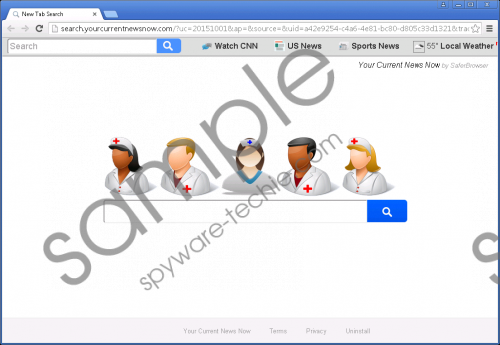 Search.yourcurrentnewsnow.com screenshot
Scroll down for full removal instructions
Since this browser hijacker belongs to the Mindspark family, it is possible to install it on your browser directly. That is, you would have to go to its official web page via yourcurrentnewsnow.com and click the Install button. We doubt whether users install this browser hijacker willingly, though. It might say that it can provide you with the latest news and what not, but no security-minded user would want to have an unfamiliar application on her computer. Thus, it is far more likely that Search.yourcurrentnewsnow.com enters your system in a software bundle.
In that case, you should seriously consider running a full system scan right now with the SpyHunter free scanner. Software bundling means that there are at least several potentially unwanted programs on your computer, and all of them could be working towards your ultimate demise. Naturally, potentially harmful programs usually aim for money and they try their best to make you click affiliated links. However, the good news is that the programs you have to deal with today cannot do much unless you help them to. It is definitely a relief to know that Search.yourcurrentnewsnow.com cannot redirect you to malicious websites unless you click the links embedded in the hijacker's search results and the pop-up ads. Nevertheless, you should not take your chances and keep the application on your system. Sometimes bundled freeware may come with a Trojan or a ransomware infection, too!
To remove Search.yourcurrentnewsnow.com from your computer, you will have to change your browser settings manually. Also, it would be a good idea to remove all the unfamiliar programs from your system, as to avoid further infection. There might be many other unfamiliar applications currently running and draining your system's resources.
Finally, for the finishing touches, get yourself a legitimate antispyware application to protect your PC from similar infections in the future. Always keep your security tool updated, so that it could block all the latest threats from entering your device.
How to Remove Search.yourcurrentnewsnow.com
Windows 10, Windows 8.1 & Windows 8
Press Win+R and open the Run command prompt.
Type "control panel" and press Enter.
Go to Uninstall a program and remove all the unwanted applications.
Windows Vista & Windows 7
Open the Start menu and select Control Panel.
Go to Uninstall a program and remove unwanted programs.
Windows XP
Click the Start menu button and open to Control Panel.
Access Add or remove programs and uninstall unwanted applications.
Modify Your Browser Settings
Internet Explorer
Press Alt+T and open Internet options.
Change your homepage address under the General tab and press OK.
Press Alt+T again and select Manage add-ons.
Remove Your Currentnews Now from Toolbars and Extensions.
Click Search providers on the left.
Set a new default search engine and delete Search from the list.
Restart your browser.
Mozilla Firefox
Press Alt+T and select Options.
Modify your homepage address under the General section.
Click the Search button on the left and choose a new default search engine.
Delete Search from the list and press Alt+T.
Disable and remove Your Currentnews Now from Extensions.
Restart your browser for the changes to take effect.
Google Chrome
Press Alt+F and select More tools.
Go to Extensions and remove Your Current News Now.
Click Settings on the left and select Open a specific page or set of pages.
Click Set pages and rewrite your homepage address. Press OK.
Select the Manage search engines button under Search.
Set a new default search engine and remove Search. Click Done.
In non-techie terms:
Your computer's security is your utmost priority so you should do everything you can to remove Search.yourcurrentnewsnow.com for good. This browser hijacker can easily be exploited by cyber criminals to proliferate malware, so do not give it such a chance. Protect your PC from similar intruders by investing in a powerful antispyware application. Also, for an alternative software removal method, you can refer to the secondary set of instructions below.