Do you know what Search.wondrousmoviessearch.com is?
Search.wondrousmoviessearch.com is a suspicious search engine that might seem to hijack your web browsers as you install the WondrousMovies extension. The suspicious search tool was developed by IMALI - N.I. MEDIA LTD (or Imalimedia), and it is most likely that this company also stands behind the extension. According to our research, this company is also responsible for Search.searchinsocial.com, Cooliosearch.com, Search.emaildefendsearch.com, and other suspicious search tools that are usually associated with specific browser extensions. If you need to remove Search.wondrousmoviessearch.com, the first thing you need to do is check for the suspicious WondrousMovies extension. If it exists, delete it from your browser, and the unwanted search tool should be eliminated simultaneously. Before you jump to the removal, read this report to learn more about this software.
According to our research, Search.wondrousmoviessearch.com has been active since November 19. This search provider is usually found on Mozilla Firefox and Google Chrome browsers. As mentioned already, most users encounter this suspicious search engine if they download the WondrousMovies extension. Chrome users are offered this extension at chrome.google.com/webstore/detail/wondrousmovies-extension/gjnbpgbdknhkgldpanndkpllkdplncmo (Chrome web store). It is also possible that computer users will attract this search tool when executing software bundles. The distribution of this tool could be handled by third-parties who might bundle it along with many other programs. What if malware was slipped in without your notice? Well, in that case, your virtual security would be in serious trouble, and you would have to delete more unwanted programs. It is also possible that Search.wondrousmoviessearch.com will be promoted using pop-ups that might show up on unreliable websites.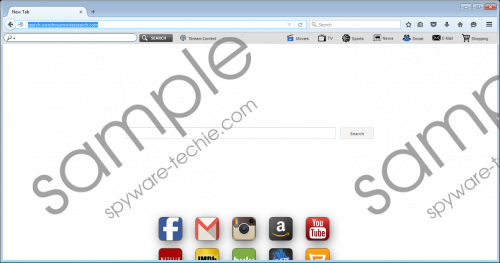 Search.wondrousmoviessearch.com screenshot
Scroll down for full removal instructions
WondrousMovies extension is a strange browser add-on. The only feature of this extension is to modify your new tab and default search tools to introduce wondrousmoviessearch.com. The ID number associated with the Chrome extension is gjnbpgbdknhkgldpanndkpllkdplncmo, and its files are under C:\Users\[your user name]\AppData\Local\Google\Chrome\User Data\Default\Extensions. We do not recommend removing the files from within this folder because this process is much longer from the one we will offer, and you might leave leftovers behind. Of course, if you postpone the removal of WondrousMovies extension, you will have to deal with a suspicious search provider every time you launch the "infected" browser. We have found that this search tool opens search.wondrousmoviessearch.com/?affilid=5yjYU8F1R6rM44ehRVxK7Z9TLpKI1g via the New Tab. This provider includes a toolbar that provides alternative links to sites related to movies, TV, sports channels, or shopping. If you interact with these links, cookies will be installed, and we have added instructions that will help you remove these cookies from your browsers.
Search.wondrousmoviessearch.com includes links to Netflix and Hulu, which indicates that this tool is targeted at the US region. Although this search tool looks like any other search provider on the web, it does not actually show original content. Instead, it redirects to us.search.yahoo.com (US targeted). Although Yahoo Search is a well known, popular search provider, the search results shown to you are likely to be modified, which is why we do not recommend interacting with Search.wondrousmoviessearch.com at all. Sure, it appears that the main function for this search provider is to introduce you to the services of Netflix, Hulu, Vudu, Amazon Instant Video, and similar streaming providers; however, you have to keep in mind that the creators of this search tool might have hidden agenda.
Even if you have no experience at removing undesirable software, you should not have any trouble deleting Search.wondrousmoviessearch.com. When removing this search tool from Chrome, make sure you get rid of the associated extension first. This extension locks the On startup and Search tools, and you are required to disable the extension first. Instead of disabling the extension, remove it via the Extensions menu as shown in the instructions below. These instructions also show how to remove Search.wondrousmoviessearch.com from Firefox, as well as how to delete Firefox and Chrome cookies. After getting rid of the search tool, employ an antimalware tool to eliminate the leftovers and protect your operating system.
Remove Search.wondrousmoviessearch.com
Remove from Google Chrome
Open Chrome and tap Alt+T.
Select More tools and move to Extensions.
Click the trash icon next to the unwanted extension and choose Remove.
In the menu on the left click Settings.
Go to Search and click Manage search engines…
Click X on the URL of the provider you want to delete.
Click Done and scroll down the menu.
Click Show advanced settings.
Under Privacy click Content settings.
Select Cookies and site data and click Remove all.
Remove from Mozilla Firefox
Open Firefox and tap Alt+T.
Select Add-ons and open the Extensions menu.
Remove the undesirable extension.
Tap Alt+T again and choose Options.
Open the Search menu and Remove the unwanted provider.
Tap Alt to open the Firefox menu at the top.
Select History and click Clear Recent History.
Select the time range and click Clear Now.
In non-techie terms:
Although Search.wondrousmoviessearch.com is not some malicious browser hijacker, it can change your browser settings to force you into using a completely worthless search tool. This search tool redirects to Yahoo, and although this search engine is reputable, the modified search results shown might be unreliable. On top of that, this strange search tool is likely to employ tracking cookies to spy on you. We strongly recommend removing this search tool along with the extension that it is likely to be installed with. Also, do not forget to remove leftover threats and enable full-time Windows protection.