Do you know what Search.whiteskyservices.com is?
Our research lab team says that Search.whiteskyservices.com is a search engine that can be set as default search provider on Chrome, Firefox, and Internet Explorer. Computer users are recommended to remove this infection from their systems because the search engine is associated with potential security issues. We provide instructions on how to delete this program manually, although it would be a good idea to invest in a licensed antispyware application to protect your computer from further infections in the future. Not to mention that you will also be able to get rid of any other malicious applications that could be running on your PC.
Although the main website for this program is indicated as search.whiteskyservices.com, and we know that you can download the application via downloads.whiteskyservices.com/fcpstest/fastconnect.exe, there is definitely more than just one way to get this search engine on your browser. It might come bundled with third-party installers, and it is possible to come across these installers when you open online gaming websites, file sharing sites, and other adware-related pages that thrive on the pay-per-click system. Keep in mind that when you download a freeware application from a third-party source, there is always a chance that additional programs will be installed on your computer, too, especially if you do not check all the steps on the installation wizard carefully.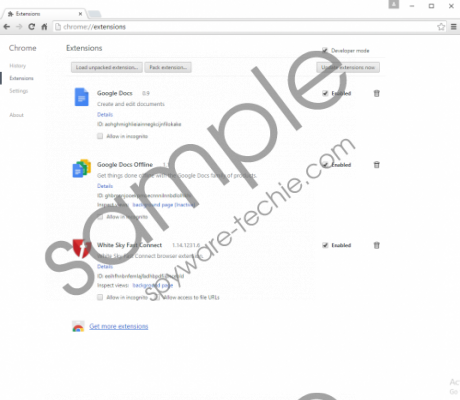 Search.whiteskyservices.com screenshot
Scroll down for full removal instructions
Aside from adding a new search engine to your default browser, the hijacker will also add an extension to Chrome and Firefox. The extension will be called White Sky Fast Connect, and it even gives you a link to its homepage via services.whiteskyservices.com. Like this, it makes an impression that the program is absolutely reliable, and it can help you improve your overall web browsing experience.
Truth be told, this search engine is part of the Fast Connect make-up. This application is not malicious, and it boasts of being able to store user logins and passwords, but there are user complaints about this application. Some users complained that the add-on interfered with users' attempts to list items for sale on eBay. According to the reports, the White Sky software displayed commercial advertisements that did not allow the affected users browse the web properly. That would not be surprising because when we check the program's files, there are a lot of files with the .js extension. This extension means that it is a Javascript file. Javascript runs on a webpage and usually causes a link to appear.
We cannot indicate what websites exactly are promoted by Search.whiteskyservices.com and the extension associated with the search engine, but it is clear that this program does not review the third party websites it promotes. What's more, it may collect information on your web browsing habits, and this claim can be supported by various files used by the program. For example, if you find chrome.idvault.messaging.exe running in the Windows Task Manager, you can be sure that you have this program or anything related to it installed on your computer. Sometimes it may take some time before users realize that their default search engine settings have been modified, but once you find that your browser has been compromised behind your back, you have to do something about it.
The biggest security concern associated with Search.whiteskyservices.com is the fact that this search engine displays modified search results. As mentioned, the program can track your web browsing habits via tracking cookies; therefore, it can display search results that are related to your likes and preferences. Why does it do it? To push you into clicking the modified links. If you do that, you will help the people behind this program make money via the pay-per-click system.
Most of the time, you will land on websites that simply offer you to do try out an online game or purchase something new. However, in the worst case scenario,the browser hijacker could be exploited by cyber criminals, and you could find yourself on a website that distributes malware or steals personal information.
In order to avoid that, you have to remove Search.whiteskyservices.com immediately. That is especially important if the search engine seems to have appeared on your browser out of nowhere. You will need to delete the default search engine via your browser's settings, and then get rid of the extension from Chrome and Firefox. This should be enough to terminate the program, but you have to remember that there might be more unwanted applications on-board.
Thus, scan your computer with the SpyHunter free scanner to locate all the unwanted files and applications. Remove them automatically if you must, and then invest in a legitimate antispyware tool. You have to protect your computer from similar intruders in the future.
How to Remove Search.whiteskyservices.com
Internet Explorer
Press Alt+T and go to Internet options.
Open the Advanced tab and click Reset.
Select Delete personal settings and press Reset.
Click Close.
Firefox
Press Alt+T and click Options.
Click the Search section.
Select a new default search engine and remove the infection.
Press Ctrl+Shift+A and the Add-ons Manager tab will open.
Remove White Sky Fast connect from Extensions.
Restart your browser.
Chrome
Press Alt+F and click More tools.
Open Extensions and remove White Sky Fast Connect.
Click Settings and scroll down to Search.
Click Manage search engines.
Set a new default search engine and delete unwanted search provider.
Click Done.
In non-techie terms:
Search.whiteskyservices.com may look like a reliable search provider, but if this search engine was set on your browser without your permission, you have to remove it. It must have entered your system accidentally when you downloaded and installed some freeware application. Scan your PC with a computer security tool of your choice and then make sure you terminate all the potential threats immediately. Should you encounter any problems while trying to protect your PC from harm, do not hesitate to leave us a comment.