Do you know what Search.vc-cmf.com is?
Search.vc-cmf.com is a browser hijacker, and it could be exploited by malevolent third parties to collect information about your web browsing habits. To put it simply, the level of danger strongly depends on who and how makes use of this program. Since you cannot know what third parties are behind the commercial content delivered via this hijacker, it is for the best to remove Search.vc-cmf.com right now. While you are at it, do not forget to check your system for other potential threats. You will be surprising to see just how many unwanted applications are installed on your computer.
Why are we talking about "other" threats all of a sudden, if our primary object is Search.vc-cmf.com? Well, the point is that such applications seldom travel alone. Although it is possible to get infected solely with this browser hijacker, in practice, this program does not really have a direct distribution source. In other words, users do not install it willingly. Most of the time, the program comes in a third-party installer that also carries several other applications. Perhaps you wanted to download a zip program or a file converter, and you decided to get one from a file-sharing website. That is a very risky choice because file-sharing websites host a lot of third-party installers that may carry unfamiliar and unwanted applications.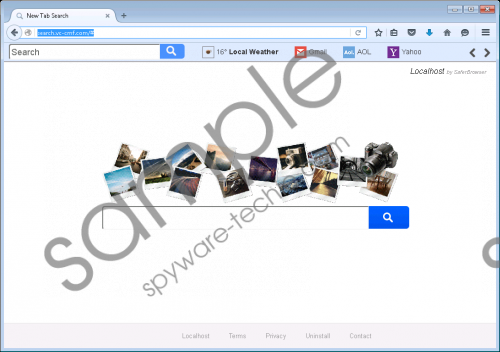 Search.vc-cmf.com screenshot
Scroll down for full removal instructions
The point with such installers is that you should be able to avoid unwanted programs if you were to go through the installation process carefully. Unfortunately, quite a few users breeze through the setup, thinking most of the steps are default. That is not exactly true. While most of the steps indeed are default, when it comes to third-party installers, you might also be presented with additional information that may allow you to either install a specific feature or a separate program. It is quite obvious that you will miss this offer if you do not pay attention to what the steps are telling you. Thus, please be responsible and check every single step of an installation wizard because that might help you avoid the likes of Search.vc-cmf.com.
The good news is that we know what to expect of this browser hijacker because we have seen multiple infections from this family already. This program is yet another clone of Search.youremailnow.com, Search.yourclassifiedscenter.com, Search.yourinterestscenter.com, and others. When it enters the target system with a bunch of other unwanted applications, it affects all the major browsers, including Chrome, Firefox, and Internet Explorer. It changes your homepage to Search.vc-cmf.com, and then expects you to use this search engine for all of your web queries.
Our concern is that some users may think this hijacker is a reliable search provider. However, you will soon see that all of your queries get redirected to unfamiliar websites and then straight to a custom version of a Yahoo! Search page. When a browser hijacker makes use of a legitimate search engine, it usually means that the search results you see on your screen are modified. They are customized according to your latest search history.
How can Search.vc-cmf.com do that? The answer is simple: the program employs cookies and other tracking techniques (like web beacons, etc.) to collect information on your web browsing history. It cannot collect personal identifier information (PII), but it can still log your visits to particular sites and the search keywords you enter. Thus, the hijacker can generate your profile that will allow it to target specific content to you.
You will feel more compelled to click the customized links, but you should know better than that. Although most of the links would lead you to some commercial websites, there might also be some that could expose you to malware-related pages. From there, it would only be a matter of time until you get infected with ransomware, Trojan, or some other dangerous threats.
Prevent this from happening by removing Search.vc-cmf.com today. We provide removal instructions right below this description, so you should be able to get rid of this hijacker without any difficulties. After that, be sure to run a full system scan with the SpyHunter free scanner just to track all the other unwanted applications you might have on your PC. If necessary, remove them too.
How to Remove Search.vc-cmf.com
Internet Explorer
Press Win+R and the Run prompt will open.
Type regedit and click OK.
Navigate to HKEY_CURRENT_USER\Software\Microsoft\Internet Explorer\Main.
On the right, right-click the Start Page value.
Choose Modify and change the homepage address.
Click OK.
Mozilla Firefox
Press Win+R and enter %AppData%. Press OK.
Navigate to Mozilla\Firefox\Profiles\[UNIQUE USER ID].
Open the prefs.js file.
Delete the following line: user_pref("browser.startup.homepage", "http://Search.vc-cmf.com");
Save changes.
Google Chrome
Press Win+R and enter %LocalAppData%. Click OK.
Navigate to Google\Chrome\User Data\Default.
Delete the Preferences, Secure Preferences, and Web Data files.
In non-techie terms:
When your default homepage changes to Search.vc-cmf.com, there is nothing good about it. It means that your computer's security has been breached and now you will need to remove Search.vc-cmf.com and other unwanted programs from your system. Luckily, the removal process is not complicated, and if you feel like you cannot do it on your own, you can always use a powerful antispyware tool. For any further questions, do not hesitate to contact us.