Do you know what Search.tv-cmf.com is?
There are two possible reasons why you may find Search.tv-cmf.com as you home page in your browsers upon opening them; first, you had no idea that this is an unreliable and potentially harmful search engine, and second, you do not even know how it has got there. In fact, it does not even matter how it appeared on your computer because what really counts is that this browser hijacker can put your virtual security at risk. How can it do that? This search engine may introduce you to unreliable web content through the services it provides to unsuspecting computer users. According to our researchers, you should remove Search.tv-cmf.com before you infect your computer with more malware infections or something worse happens. Actually, it is quite possible that this is not even the only threat right now on your PC. Until you eliminate all malware infections, you cannot consider your operating system safe and sound. We must emphasize that you would not have to fight these unnecessary battles against malware if you had a decent, up-to-date malware removal application installed.
Our researchers have noticed that this browser hijacker is nothing new in fact, but simply a new variation of a well-known group of hijackers, including Search.youremailnow.com, Search.yourclassifiedscenter.com, and Search.yourinterestscenter.com. Basically, these are identical search engines with the only difference of the provided easy-access buttons on the pseudo-toolbar they display at the top of the search page. This time it seems that those users are targeted with this tool who would like quick access to their e-mail accounts or some local weather information apart from the main search tool, of course. But you can find other quick links as well right below the search box. These thumbnails can supposedly take you to the most popular sites, such as Facebook, YouTube, and Pinterest. There is a reason why we say "supposedly." Unfortunately, not every thumbnail will take you to the promised site, but, instead, you may find yourself on a Yahoo search results page.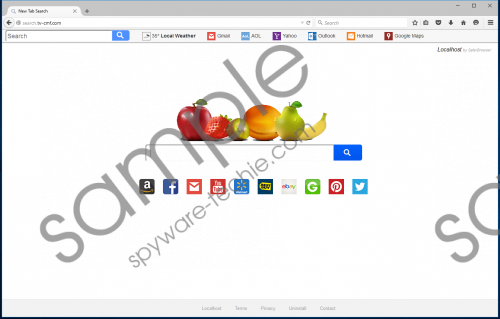 Search.tv-cmf.com screenshot
Scroll down for full removal instructions
As a matter of fact, our researchers say that you cannot fully trust any of the services and content you may encounter while using this search page. Clicking on any of these quick links, for example, may redirect you to pages where you will be presented with unreliable third-party ads injected by this hijacker. Similarly, if you use the search tool, your query will be redirected to a potentially manipulated Yahoo search results page. The only reason and intention behind this browser hijacker is to generate money through promoting affiliated third-party websites. Obviously, this tool will exploit every opportunity to do so. Therefore, you cannot trust the search results because they may contain potentially unsafe promoted advertisements and links. If you click on compromised links, you may end up on malicious websites and that does not usually end well. We advise you to delete Search.tv-cmf.com if you want to avoid the unfortunate consequences.
The most likely way for this annoying and useless browser hijacker to appear on your computer is via freeware bundles. Unfortunately, malware infections rarely travel all alone. These bundles are usually packed with a couple of "goodies." Most commonly they may contain adware applications, browser hijackers, Trojans, and potentially unwanted programs as well. If you allow such a package onto your PC, you can imagine how this may not be a healthy "spa" to your operating system – we would rather call it an "acid bath." You can download such malicious packages from suspicious file-sharing websites. It is not too difficult to end up on one if you are not experienced enough and are looking for free software to install. Keep in mind that the web is full of fake shareware and torrent sites that are filled with shady third-party ads. Clicking on these can easily drop such a bundle onto your machine. So the solution to avoid this kind of infection is obvious: Do not visit unfamiliar and questionable websites, and do not click on third-party advertisements. But it is quite possible that you have already let such a bundle on board and that is why this browser hijacker there in your browsers. Therefore, we advise you to delete Search.tv-cmf.com from your browsers and afterwards, run a full-system malware scan to see how many other threats are there.
In order to stop this source of virtual threats, you need to restore the home page settings in your browsers since this is the only setting this hijacker seems to affect. If you need help with changing your browser settings, please follow our guide below. Do not forget that there can be other infections on your computer as well. You cannot let them run amok on your system. Although you could try to manually fight each and every battle, if you want an easy solution, we suggest that you download and install a trustworthy malware remover.
Search.tv-cmf.com Removal from Browsers
Internet Explorer
Tap Alt+T and select Internet options.
On the General tab, click Use default or change the home page URL.
Click OK.
Google Chrome
Tap Alt+F and select Settings.
Under On Startup, click Open a specific page or set of pages.
Click Set pages.
Change the home page URL and remove the undesirable search engine URL.
Click OK.
Mozilla Firefox
Tap Alt+T and open Options.
Choose the General panel.
Press Restore to Default or change the home page URL.
In non-techie terms:
Search.tv-cmf.com can show up in your browsers when a browser hijacker sneaks onto your computer and makes changes to your settings. Although this search engine page may look like a useful tool in your browsers, you must know that it may also pose a threat to your system security. This hijacker may expose you to potentially unsafe third-party web content through the third-party services it offers you. We advise you against engaging with this search engine in any way. As a matter of fact, you should remove Search.tv-cmf.com as soon as you notice it in your browsers. Unfortunately, this hijacker can also arrive along with other malware infections. Therefore, it is vital that you take care of all the possibly harmful applications. If you are not the manual type and would like a powerful solution, we suggest that you install a reliable anti-malware tool in order to protect your PC.