Do you know what Search.top-arama.com is?
Search.top-arama.com is a browser hijacker that changes your default settings on the Google Chrome web browser. It is very likely that this browser hijacker comes with the TopArama browser, so you need to check whether you have this potentially unwanted program on your system. We believe that this infection travels bundled with other potential threats, and therefore, when you remove Search.top-arama.com from your computer, you have to terminate all the other unwanted applications. It is important that you protect your PC from uninvited intruders because you can never be sure where such situation would lead you.
In the worst case scenario, having Search.top-arama.com on your system might result in a severe malware infection that destroys your computer and steals your money. For example, you could get infected with a Trojan or a ransomware program. Needless to say, that does not happen too often, but browser hijackers like Search.top-arama.com could be easily taken advantage of. Thus, the sooner you get rid of this nuisance, the better. Search.top-arama.com and other similar browser hijackers can be used as vehicles for malware distribution, so you need to prevent that from happening. If you find that your browser settings have been modified without your permission, you need to revert that modification without further ado.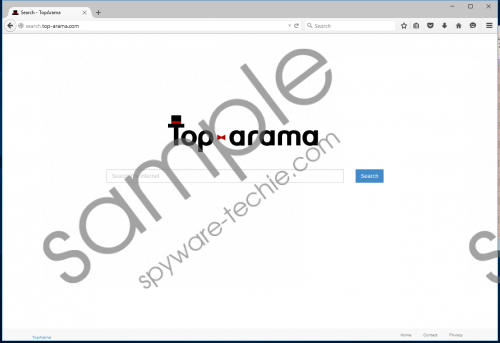 Search.top-arama.com screenshot
Scroll down for full removal instructions
The official website for this browser hijacker is obviously the search.top-arama.com. However, there is no direct download link there that would allow you to download and install the program on your computer. This only proves that the hijacker comes bundled with freeware. Consequently, it would be possible to avoid this infection if you read all the steps on an installation wizard when you set up some application you have downloaded from a file-sharing website. Although there is a possibility that the hijacker will not notify you about the oncoming installation, you might be able to avoid installing a number of other unwanted programs.
Now, with Search.top-arama.com set as your default homepage, you can expect the program to collect confidential information on your web browsing habits. It is very unlikely that the program will be able to gather data on your internet banking details, but it would not be surprising if Search.top-arama.com eventually knew what websites you frequent and what you usually search for online. This shows that the infection is highly intrusive, and it trespasses your privacy by monitoring your online activity.
Some users may think that Search.top-arama.com is a reliable search engine, and there is no need to delete it. However, if you were to run an online search via this domain, you would see that it uses a customized version of the Google search engine, and there is nothing original about the program itself. The customized version of the Google search engine allows this browser hijacker to embed affiliated links into the search results, most of which lead to commercial websites in order to increase their traffic.
Such redirection can eventually result in a personal data leak or even a malware infection, so you have to prevent that by terminating Search.top-arama.com today. Follow the instructions below to get rid of this browser hijacker, and then please invest in a computer security tool of your choice.
How to Delete Unwanted Programs
Windows 10 & Windows 8.1
Right-click the Windows icon on the left corner of your taskbar.
Click Control Panel on the drop-down menu.
Click Uninstall a program under Programs.
Highlight and delete all the unwanted applications.
Windows Vista & Windows 7
Click the Start button and open Control Panel.
Go to Uninstall a program and remove unwanted applications.
Windows XP
Open the Start menu and go to Control Panel.
Select Add or remove programs and uninstall unwanted applications.
Remove Search.top-arama.com From Your Browser
Mozilla Firefox
Press Alt+H and click Troubleshooting information.
Click Refresh Firefox at the top right of a new tab.
Press Refresh Firefox again and click Finish.
Google Chrome
Press Alt+F and click Settings.
Go to the bottom and click Show advanced settings.
Click Reset Settings and press Reset.
Internet Explorer
Press Alt+T and click Internet options.
Open the Advanced tab and click Reset.
Select Delete personal settings and click Reset.
Press Close.
In non-techie terms:
Search.top-arama.com will be set as your default homepage if you get infected with a browser hijacker. Having a browser hijacker program on your computer also means that your system is most likely to be full of potentially unwanted and harmful applications. To protect your system and your personal information from malicious exploitation, you need to remove Search.top-arama.com and all the other threats immediately. Please rely on a licensed antispyware tool to terminate all the security issues.