How does Search.todaystopheadlines.co work?
If you think that a browser hijacker is a harmless piece of software, you have to think again. In this report, we analyze Search.todaystopheadlines.co, a browser hijacker that can silently expose you to unpredictable third-party content, as well as provide undisclosed third-parties with personal information that is recorded by tracking cookies. Our research team is not surprised by the capabilities of this threat because there are tons of other infections that are just as dangerous, including Search.searchyffff.com, Search.searchgstt.com, Search.superspeedtester.com, and others. All of these threats were developed by Polarity Technologies LTD, who is also the developer of the hijacker we are focusing on in this report. Although their interfaces are practically identical, there are some differences. If you want to learn about that, as well as the removal of Search.todaystopheadlines.co, keep reading.
Search.todaystopheadlines.co is most likely to be installed along with "Todays Top Headlines," which is an extension created by Polarity Technologies LTD to spread the hijacker. In many cases, the add-ons spreading Polarity hijackers have unique download pages, and they are available at the Chrome web store. This is not the case with this extension, and our research team could not find the original source. Although we do not recommend installing the extension or the hijacker, there is no doubt that it is much safer to use original sources. Has Search.todaystopheadlines.co hijacked your browser after you downloaded software using an unfamiliar installer? That is most likely to be the case, and, unfortunately, you are likely to discover malicious infections installed along with the hijacker. Do not just assume that malicious infections do not exist because you do not see them. Run a full system scan using a legit malware scanner to check if any silent or hidden threats are present. If they are, delete them immediately.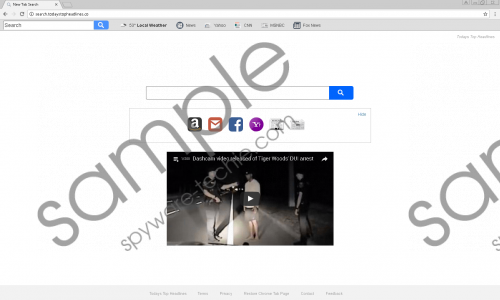 Search.todaystopheadlines.co screenshot
Scroll down for full removal instructions
Since Search.todaystopheadlines.co provides you with access to Yahoo, CNN, MSNBC, Fox News, Amazon, Google Mail, Facebook, and Yahoo News websites, you might consider it to be useful and harmless. Well, that is not the case, and more vigilant users should realize that as soon as they enter keywords into the provided search box. The hijacker redirects to Yahoo Search without authorization, and that might help you see the search tool from a different perspective. Of course, if Yahoo Search is set as your default search provider, you might not think much of it. Unfortunately, this popular search engine could be used to showcase sponsored links that the creator of Search.todaystopheadlines.co must be paid for. While these links could be harmless, they also could be extremely malicious, and so interacting with them can be dangerous. Interacting with the hijacker, in general, is dangerous because it can track your activity using cookies. According to the Privacy Policy, the information they collect can be shared with third parties, and, considering that private data could be recorded, these cookies can be harmful.
In the unlikely event of Search.todaystopheadlines.co slithering in on its own, you might have to modify the homepage URL to erase this hijacker. However, since it is most likely to travel bundled with the "Todays Top Headlines" add-on, we suggest removing it first. Hopefully, you will find that the suspicious Search.todaystopheadlines.co is deleted at the same time. If that does not happen, and you need our assistance eliminating the hijacker, please use the comments section to contact us. Of course, we believe that manual removal suits only those who are not dealing with other infections and those who do not care about their virtual security in the future. If that is not you, you should install anti-malware software that can delete malicious infections and strengthen your virtual security at the same time.
Remove Search.todaystopheadlines.co
Mozilla Firefox
Open the browser and tap keys Alt+T.
Select Add-ons to access the about:addons menu.
Move to the Extensions menu (select in the menu on the left).
Remove the Todays Top Headlines extension.
Internet Explorer
Open the Control Panel.
Move to Programs and Features and then to Uninstall a program. If you are still using Windows XP, double-click Add or Remove Programs.
Select the undesirable application and click Uninstall/Remove.
Google Chrome
Open the browser and enter chrome://extensions/ into the bar at the top.
In the Extensions menu identify the unwanted add-on.
Click the trash bin button on the right.
Choose Remove to get rid of it.
In non-techie terms:
You need to delete Search.todaystopheadlines.co from your browser right away because it is not reliable or even useful. Of course, it provides you with quick-access links to some popular websites; however, it cannot showcase reliable search results. Despite using Yahoo Search to show search results, it can include sponsored links, and so interacting with these results can be dangerous. On top of all that, the hijacker is known to employ tracking cookies that could record personally-identifiable information. The worst part is that the data recorded by these cookies could be shared with third parties, and since we are not introduced to them, we cannot know for sure if they are trustworthy. Obviously, we advise deleting Search.todaystopheadlines.co ASAP, and we believe that installing a reliable anti-malware tool is the way to go.