Do you know what Search.tappytop.com is?
As you can probably tell, Search.tappytop.com is a search engine, and it is also considered a browser hijacker. This piece of software enters your computer when you download and install the TappyTop browser. If you did not intend to have this potentially unwanted program on your computer, then you must have set it up accidentally. Either way, in this article, we will tell you more about the hijacker and how to remove it. Although Search.tappytop.com may seem like your genuine search tool, you should not indulge into it because the program might as well expose you to potential security threats.
Perhaps we should also tell you more about the TappyTop browser, too. This application is based on the Chromium engine. Does this sound familiar to you? Perhaps it reminds you of "Chrome?" That is no coincidence because any browser based on the Chromium engine will look like the very popular Google Chrome. Consequently, users who are not too familiar with the newest software may think that TappyTop is just another version of Chrome, an updated, or a supplementary feature. In other words, it might take time before they realize that something is not right.
The problem with TappyTop is that upon the installation it sets itself as your default browser. Consequently, Search.tappytop.com becomes your default search engine. With the browser hijacker in charge of your search queries, you can expect a lot of commercial content, especially later in the game. The longer you use this search engine, the more unreliable content you will encounter. Search.tappytop.com makes use of tracking cookies to collect information about your likes and preferences, and later on, it generates content you are more likely to click. For example, particular commercial offers might be tailored according to your latest search history. This might seem really convenient, but it is actually not because you can never know what kind of website you will land on when you click such a link.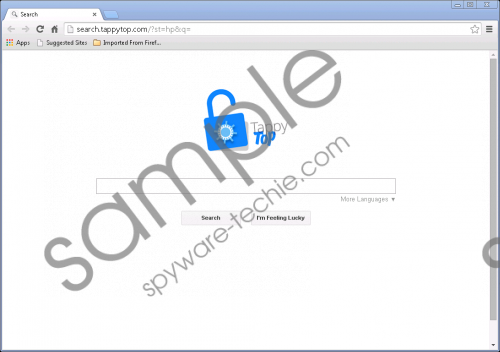 Search.tappytop.com screenshot
Scroll down for full removal instructions
As far as the origins of this browser hijacker are concerned, Search.tappytop.com is created by the same developers as search.safefinder.com, snap.do, and linkury. Snap.do is a notorious application in a sense that it is very elusive. Quite a few computer security experts maintain it is a browser hijacker, but at the same time, based on its official websites and distribution practice, sometimes it is hard to put it into that category. Thus, you can expect something similar from Search.tappytop.com, too. After all, a browser hijacker is seldom interested in infecting you with malware. Such programs are there to make money for their creators by redirecting you to affiliated websites.
It is obviously more annoying than dangerous, but you have to consider all the potential risks. Our main issue with this browser hijacker is that it has many security loops that can be exploited by cyber criminals. For instance, it does not check the reliability of the third-party content it promotes. In the worst-case scenario, you may end up clicking a corrupted link that redirects you to a malware-related website. And it would be hard to blame Search.tappytop.com for it because the search engine is not responsible for whatever a third party is offering you.
Search.tappytop.com usually affects users in the United States and the EU. It is possible to download the application from tappytop.com, but it is a lot more common that it comes bundled with freeware and adware applications. Consequently, it means that this browser hijacker may be not the only issue you need to deal with right now. We will show you how to remove it from your browser, but you should also consider investing in a reliable antispyware tool.
Scan your computer with the SpyHunter free scanner to find all the potential security threats. If you recognize some of them from your installed programs list, you can delete them via Control Panel. However, it is far more efficient to terminate unwanted and potentially harmful software with a powerful antispyware tool. Not to mention, by acquiring a security program of your choice, you will also be able to protect your system from harm in the future. Finally, be sure to employ safe web browsing habits because where you go and what you do online also heavily influences your computer's safety.
How to Delete Search.tappytop.com
Windows 10 & Windows 8.1
Press Win+R and enter Control Panel into the Open box.
Click OK and navigate to Uninstall a program.
Highlight the unwanted browser and click Uninstall.
Windows Vista & Windows 7
Open the Start menu and go to Control Panel.
Click Uninstall a program and remove the unwanted program.
Windows XP
Click the Start menu button and open Control Panel.
Select to Add or remove programs and uninstall the application.
Google Chrome
Press Alt+F and go to Settings.
Select Open a specific page or set of pages under On Startup.
Click Set pages and remove Search.tappytop.com.
Type in a new startup page and press OK.
Restart your browser.
In non-techie terms:
When your browser settings change all of a sudden, it is very likely that you have gotten infected by a browser hijacker like Search.tappytop.com. These programs are often just complimentary parts of potentially unwanted apps that travel around in software bundles. Your job right now is to remove all the unwanted applications from your computer that might cause severe security issues in the future. Also, if you need any assistance with that, do not hesitate to comment.