Do you know what Search.tagadin.com is?
Search.tagadin.com is an aggressive browser hijacker developed by guys responsible for the release of Snap.do, which users also often find set on their browsers without their permission. It looks like an ordinary search engine on the outside, but the truth is that it is one of these search tools that cannot be trusted at all. We agree that it has all the features of a decent search engine, but, unfortunately, it does not mean that it is a beneficial search tool that should be kept set on browsers. According to our team of experienced specialists, the biggest problem with Search.tagadin.com is that it provides users with untrustworthy search results. Because of the presence of these search results, malicious software can enter the system quite easily. No, these search results do not download malware on a user's computer themselves. Instead, users end up on unreliable websites after clicking on modified search results shown by this search tool and then might allow untrustworthy software to enter their PCs. Users' privacy might be violated on such websites too. As can be seen, Search.tagadin.com might be quite dangerous even if it does not download malware on users' computers itself. Therefore, specialists suggest deleting it as soon as possible and then going to set a new trustworthy search engine on browsers.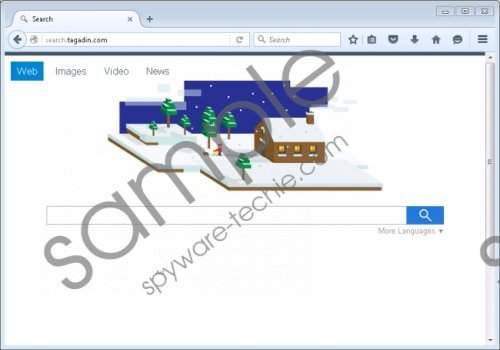 Search.tagadin.com screenshot
Scroll down for full removal instructions
As you already know after reading the first paragraph, Search.tagadin.com displays the modified search results that only appear on the search results page to promote third-party websites. Unfortunately, these sponsored search results are not the only ones you should ignore. It seems that advertisements will be shown on the main page of Search.tagadin.com too. If you click on any of these ads, you will be taken to a third-party website too. This website might be completely unreliable even though it has a decent-looking interface. On the basis of the previous experience of our researchers, some of these websites might try to convince you to purchase an item or pay for the service you do not even need. Others might just seek to get various details about users so that they could later sell this gathered data to disreputable companies or people. Not all these third-party websites can cause harm, of course – some of them only need visitors, but it does not mean that you can keep Search.tagadin.com set on your browsers.
Third-party websites Search.tagadin.com can take users to might record information about them, as has been mentioned, but, actually, it seems that Search.tagadin.com itself collects information about users' activities on the web, their habits, advertisements they open, and similar information as well. On top of that, it is clearly stated in the Privacy Policy document that this search tool might also record information that can identify users personally. Of course, this information will not be known for the developer of Search.tagadin.com if users do not provide this information themselves. In most cases, they submit personal details by trying to contact the customer support or entering a search query with personal details. This search tool will no longer act like this only if you delete it from all browsers. In the meantime, do not submit anything personal.
Many users feel that Search.tagadin.com has appeared on their browsers out of nowhere. Since people do not usually set this website on their browsers themselves, specialists believe that it is usually spread through bundled malicious installers. It is very likely that you have downloaded and installed a free application recently if you see Search.tagadin.com when you open any of your browsers. Being careful and reading the information available on the installation window is a must, but, unfortunately, it still does not always help to prevent malware from slithering onto the computer. Therefore, you need to have a reputable antimalware tool installed on the computer too. Our security specialists recommend using SpyHunter to ensure the system's maximum protection.
Search.tagadin.com affects all browsers it finds installed on the computer, so you will have to delete this dubious search engine from all your browsers separately in order not to encounter it ever again. It can be erased with the help of an automatic malware remover or you can do that yourself by following our manual removal guide. It is up to you how to erase it, but, please, make sure that this untrustworthy search tool is really gone.
Delete Search.tagadin.com
Internet Explorer
Open your browser and press Alt+T.
Click Internet Options.
Click on the Advanced tab.
Click Reset.
Check the Delete personal settings box.
Click Reset to reset your browser to its default settings.
Mozilla Firefox
Launch your Mozilla Firefox web browser.
Tap Alt+H to open the Help menu.
Select Troubleshooting information from the drop-down menu.
Click on the Refresh Firefox button.
Click the Refresh Firefox button one more time in the window that shows up.
Google Chrome
Open Google Chrome and then immediately go to open its menu (Alt+F).
Select Settings.
Scroll down.
Click Show advanced settings.
Click Reset settings.
Click Reset.
In non-techie terms:
If you have performed the manual Search.tagadin.com removal, it is highly advisable to check the operating system for other untrustworthy applications too. They could have entered your computer together with this browser hijacker. They have been deleted together with Search.tagadin.com if you have deleted it automatically; however, in case the manual removal has been performed, you will have to delete those other infections from your PC separately. You can, of course, let an automatic tool do this job for you.