Do you know what Search.surfcanyon.com is?
Search.surfcanyon.com may show up in your Mozilla Firefox browser as your default search engine without your permission. All you will realize is that when you search the web through the Firefox search box, the results will not come from your preferred or set search provider. A lot of users do not even realize this change because many search engines look similar. Our researchers have categorized this application as a browser hijacker because of its capabilities. We are here to warn you that using this hijacker for web search might be a risky thing; you might be exposed to potentially unreliable web content. We have found that this browser hijacker may also enter your computer along with potentially unwanted programs and malware infections. Therefore, you should remove Search.surfcanyon.com and all other related threats if you want to restore your system security.
According to our researchers, this browser hijacker mainly spreads with FVD Suite, which is a potentially unwanted program. If you have visited fvdsuite.com, the official website of this application, or installed this downloader suite recently, it is most likely that this hijacker entered your system with it. It is also possible that you do not even recall letting this search engine on board; although most of the time browser hijackers are offered as a default option in installation wizards. Most users overlook this and only realize later that their browsers have changed. Even though this hijacker only seems to affect Mozilla Firefox, you should not keep a questionable tool on your computer that came on board under suspicious circumstances. We advise you to delete Search.surfcanyon.com from your browser before it is too late.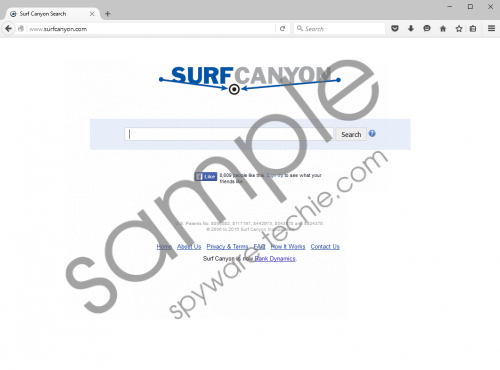 Search.surfcanyon.com screenshot
Scroll down for full removal instructions
If this was not suspicious enough for you, let us tell you that this browser hijacker might also travel the web in freeware bundles. You may already know that infected bundles can contain several infections, including potentially unwanted programs, adware applications, and browser hijackers. These bundles can be downloaded mostly by clicking on unsafe third-party content, such as banner and pop-up advertisements, on shady file-sharing websites. It is possible that you do not even realize that an infection or a whole bundle drops onto your computer. You need to be very cautious while surfing the web. Sometimes it is enough to load a malicious page and malware threats can be dropped in the background, without your knowledge. Try to stay away from unfamiliar and questionable websites to protect your computer from unnecessary security issues and threats. If you let such a bundle onto your system, the best thing for you to do is to delete Search.surfcanyon.com and use a reliable online malware scanner to identify all possible infections.
Our research shows that this browser hijacker is very similar to thesmartsearch.net. This search engine is hosted on 67.221.35.146 IP-address, which is located in California. We have found that other identical search engines are also hosted there, including chartreusetaco.com. This hijacker uses its own search engine to show you results. As a matter of fact, the developers claim that they have invented Dynamic Search ", a real-time contextual search technology that observes user behavior in order to disambiguate intent 'on the fly'." Unfortunately, this hijacker may gather information about your online activities, which may be shared with third parties. However, you cannot check the legal documents of this tool because you end up on an error page instead. Therefore, we cannot know what the developers have to say about third parties and potential advertising. But it is possible that this search engine modifies your search results not only to match your online behavior and preferences, but also to possibly inject third-party ads and sponsored links. Obviously, there is no guarantee that clicking on these will take you to legitimate and reliable websites. What if you end up on a malicious website? We do not think that you would like to let more infections on board or become the next victim of an online scam. That is why we recommend that you remove Search.surfcanyon.com as soon as possible.
Fortunately, you can get rid of this annoying browser hijacker by removing the extension. If you are unfamiliar with this process, please use our instructions below. We hope that it is clear now that you can avoid malware infections most of the time if you do not visit questionable websites and do not click on third-party advertisements. You should also keep all your drivers and applications regularly updated to ensure that cyber criminals cannot access your files and your operating system. Of course, the best solution is to install a professional anti-malware program.
Remove Search.surfcanyon.com from your browser
Mozilla Firefox
Press Ctrl+Shift+A simultaneously to open the Add-ons manager.
Select Extensions on the left if it is not the default page to appear.
Select the unwanted extension and click Remove.
In non-techie terms:
Search.surfcanyon.com is a questionable search engine that can appear in your Mozilla Firefox browser without your knowledge when you are installing a potentially unwanted program called FVD Suite. Our researchers have labeled this infection as a browser hijacker due to its capability to change certain browser settings even without your permission. We have found that this hijacker may manipulate the search results to include sponsored links to promote affiliates. Clicking on such promotional links is quite risky because you might be redirected to potentially unsafe websites. Therefore, we suggest that you remove Search.surfcanyon.com as soon as possible. If you want to make sure that your computer is safe for you to use, we recommend that you use a reliable malware remover to protect your PC.