Do you know what Search.superspeedtester.com is?
You are not mistaken if you feel suspicious about Search.superspeedtester.com because despite looking like a regular search tool, in reality, it is a browser hijacker that you are unlikely to know much about. Most users who encounter this hijacker do not know anything about it, and they do not pay much attention to it because it comes as an addition to some other piece of software. In most cases, this piece is an extension called "Super Speed Tester." If a different program or extension was used to introduce you to the hijacker, you need to delete it ASAP, but, in this report, we focus on the extension because it is most likely to be associated with the hijacker. Unsurprisingly, if you have installed it along with the hijacker, the chances are that you need to get rid of this extension to have Search.superspeedtester.com removed. To learn more about this, continue reading.
Polarity Technologies LTD is the force behind Search.superspeedtester.com, as well as the Super Speed Tester extension, and it is believed that it was created for the sole purpose of spreading the hijacker. This is why our research team believes that you will encounter both, the add-on and the hijacker. Just like most other extensions created by this company, Super Speed Tester has an official download page, superspeedtester.com/SpeedTest. Additionally, it can be downloaded from the Chrome web store at chrome.google.com/webstore/detail/super-speed-tester/aholniemeiehkneipiodpjeedikolddk. Of course, it is unlikely that users would find these sources on their own, and so third-party installers are highly likely to be involved. Unfortunately, all other hijackers that were created by the company (e.g., Search.searchgstt.com or Search.searchbrs.com) are also spread via software bundles that might include other unreliable software. Install a legitimate malware scanner to see if your operating system was infected with other threats that also deserve removal.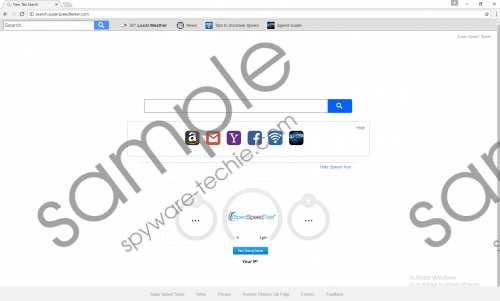 Search.superspeedtester.com screenshot
Scroll down for full removal instructions
The main feature of the suspicious Search.superspeedtester.com is the Speed Tester that allegedly can help you test your Internet speed. Does this tool work? Although it works, we cannot guarantee that the results shown will be accurate, and so we do not recommend using it. The same goes with the search tool that the hijacker represents. Although it redirects to Yahoo Search (search.yahoo.com), the results are not trustworthy. Unfortunately, the hijacker could inject sponsored content and advertisements to make money using the pay-per-click system. Since the parties representing this content and ads are unknown, you cannot just assume that it is okay to interact with it. On the contrary, you have to be more careful because third-party links could hide scams, malware installers, and useless content.
Changing the homepage might not be enough to delete Search.superspeedtester.com, especially if it is linked to an extension. If the hijacker has modified your browser after you installed Super Speed Tester, you need to remove it first. Hopefully, the hijacker will be eliminated simultaneously. If that does not work, you might have to modify the homepage URL manually. Both of these tasks are represented via the instructions below. Note that if you installed Super Speed Tester via Internet Explorer, you need to uninstall an application representing this tool. Though manual removal is really simple, installing software that can erase malware automatically is strongly recommended. If other infections are detected, they will be erased as well. Also, full-time protection will reinforce your virtual security.
Remove Search.superspeedtester.com
Google Chrome
Launch Chrome and tap keys Alt+F.
Move to More tools and then click Extensions.
Click the recycle bin and choose Remove.
Restart the browser and tap Alt+F again.
Go to On Startup and mark Open a specific page or set of pages.
Click Set pages and check if the hijacker is still active, if it is overwrite the URL.
Internet Explorer
Uninstall the unwanted application at Control Panel\Programs\Programs and Features.
Launch Internet Explorer and tap keys Alt+T.
Select Internet options and then click the General tab.
If your homepage is still hijacked, overwrite the unwanted URL, and click OK.
Mozilla Firefox
Launch Firefox and tap keys Ctrl+Shift+A.
Move to the Extensions menu and Remove the undesirable one.
Restart the browser, tap Alt+T, and choose Options.
In the hijacker prevails, move to the General menu and overwrite the unwanted URL.
In non-techie terms:
If a browser hijacker called Search.superspeedtester.com has invaded your operating system, you need to figure out whether that was done illegally or if you accepted the installation yourself. Another thing you must figure out is whether or not other infections entered your operating system along with this hijacker. If that is the case, you also need to remove these infections. When it comes to the suspicious hijacker, deleting it is very important because it cannot serve you in a beneficial manner and because it might put your virtual security at risk. It was found that the hijacker can use a popular search engine to show sponsored content, and, unfortunately, that could be dangerous. If you want to, you can delete Search.superspeedtester.com manually, but it is much better to install anti-malware software to ensure automatic removal of existing threats and the full-time protection of your operating system.