Do you know what Search.starttab.co is?
Search.starttab.co may look like a useful addition to your browser when it appears as your new home page with its featured quick links on its fake toolbar and the usual search fields, but we must warn you about the potential dangers. In fact, our researchers have labeled this threat as a browser hijacker because it can modify your home page settings. This change may or may not take place with your knowing. In fact, even if the installer notifies you, it may be done in a manner that you would probably and preferably overlook it. Since this browser hijacker may present to you questionable third-party contents that might cause system security issues for you when engaged with, we recommend that you remove Search.starttab.co as soon as possible.
Our researchers have found that this malware infection is practically identical to other hijackers coming from the same family, including Search.renewitnow.co, Search.sonicpdfconverter.com, and Search.searchiswt.com. This infection is not spread via official-looking websites like some other malware programs (e.g., potentially unwanted program, adware applications, and bad toolbars). The most likely way for you to let this risky search website onto your computer is to install a questionable freeware bundle that you download either from shady file-sharing pages (torrent and freeware) or by clicking on unsafe third-party ads. If you have installed free software lately that may have come from such sources, you should delete Search.starttab.co right away and scan your system with a decent malware scanner to find all other potentially harmful programs as well.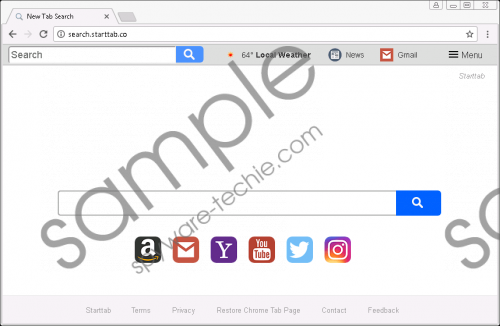 Search.starttab.co screenshot
Scroll down for full removal instructions
You may have noticed or heard that certain websites are more likely to promote questionable third-party content than others. These sites are usually associated with file sharing, gaming, porn, and dating. Clicking anywhere on these pages is quite risky because even if you think that you are clicking on empty space, a download link, or simply into an input field, you can trigger malicious codes and drop a bundle of malware threats onto your system. The only solution for you to save yourself from this is to steer clear of such suspicious sites and use only official pages to download programs and updates. Because if you install a malicious bundle, you will need more than just removing Search.starttab.co to make your virtual world safe again. In fact, this particular infection may also be possible because there is already an adware program or browser hijacker on board. As you may know these infections are capable of displaying potentially unreliable third-party ads and links. One click on these and you could directly install this hijacker. Therefore, it is also important that you be more cautious with your clicks or forget about third-party ads altogether unless you protect your system with an up-to-date security program.
This search engine page has a fake toolbar that features a couple of quick links to the most popular e-mail servers (Gmail and Yahoo) and websites (Facebook and YouTube) as well as the usual news and local weather pages. This browser hijacker also displays a few thumbnail links below the main search field leading to Amazon, Gmail, and Twitter among other major sites. The most problematic feature of this infection is its search engine. Unfortunately, you cannot trust the results it shows you because it redirects your keywords to its own web server (query.starttab.co) and then to a possibly altered Yahoo search results page. Well, at least this is what usually happens; however, it seems that currently this redirection may not be working as you will simply find yourself on a query.starttab.co page that says "An error occurred while processing your request." In any case, should this search engine function again, you should definitely stay away from the results because they may contain questionable third-party ads and links. Clicking on such content may result in further infections or online scams, which can lead to losing your money. If you do not want to see what may happen if this hijacker starts functioning, we suggest that you remove Search.starttab.co right away.
If you are not afraid of doing a bit of manual work, you can simply change the home page setting in all the infected browsers, including Google Chrome, Mozilla Firefox, and Internet Explorer. If you have never done this before, please use our guide below this article. Protecting your system should be your priority if you would like to feel safe in your virtual world every time you go surfing the web or just switch on your computer. Although you can do a lot to prevent certain threats from landing on your PC by avoiding shady websites and clicking on ads, or keeping all your programs and drivers updated, we also recommend that you consider employing an anti-malware program. A reliable security tool, such as SpyHunter, can automatically safeguard your PC against all known malware infections.
Remove Search.starttab.co from browsers
Google Chrome
Press Alt+F and choose Settings.
Under On Startup, mark Open a specific page or set of pages.
Click on the Set pages link.
Add a new homepage URL.
Remove the unwanted homepage URL.
Press OK.
Mozilla Firefox
Press Alt+T and select Options.
Select General on the left.
Press the Restore to Default button below the home page field.
Internet Explorer
Press Alt+T and open Internet options.
On the General tab, press Use default.
Press OK.
In non-techie terms:
Search.starttab.co is just another useless and potentially risky search website that may appear in your browsers under questionable circumstances. Since it is quite possible that this browser hijacker sneaks onto your system in a freeware bundle, it is also likely that it contains other malicious programs and potentially unwanted programs as well. Therefore, this could mean multiple security threats to your operating system, and risk to your virtual security. We suggest that you remove Search.starttab.co as soon as possible. If you do not think you can deal with this infection and potential future ones manually, we advise you to install a powerful malware removal program.