Do you know what search.startjoytabsearch.com is?
You might think that search.startjoytabsearch.com is a safe and reliable search engine, but in reality, it is nothing more than a browser hijacker that you should remove because it was created to replace your browser's homepage and display ad-supported search results that make its developers' much money. We take issue with the fact that this hijacker was set to promote anything and everything. Therefore, it is possible that it will promote malicious content.
Our cyber security experts obtained a sample of this browser hijacker and tested it. As it turns out, it comes with a browser extension called StartJoyTab. According to them, this extension is compatible with Mozilla Firefox and Google Chrome, but not with Microsoft Internet Explorer. If you install this browser extension, then it will replace your browser's homepage automatically and, in the case of Chrome, the new tab page. search.startjoytabsearch.com features many links to sports-related channels and as well as sites such as IMDB, YouTube, Facebook, CBS, and so on. In short, this browser hijacker is all about Television but, truth be told, this is nothing more than a charade because its real purpose is to show you promoted inks in the form of search results.
You can use search.startjoytabsearch.com as a regular search engine, but it redirects all of the entered search queries to Plusnetwork.com, a shady search engine that is known feature promoted links and ads in its search results. The problem is that you cannot tell the regular and promoted links apart as they are all shown as search results. Our researchers say that the links can redirect you to malicious websites and get your PC infected with dangerous malicious applications. So you should not use of this.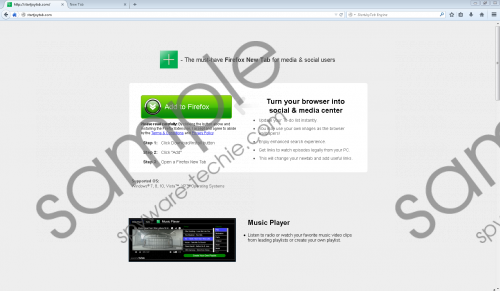 search.startjoytabsearch.com screenshot
Scroll down for full removal instructions
However, there is more to this browser hijacker. Researchers say that search.startjoytabsearch.com is more than capable of collecting information about you. They say that this browser hijacker was configured to gather anonymous information automatically. This information can include but is not limited to your approximate geographical location, browser type, browsing history, entered search queries, and IP address. All of this information is collected and used to customizing and improving the ad campaign that will show you tailored search results and, if you click them, make its developers money.
search.startjoytabsearch.com and StartJoyTab were created by Imali Media which is responsible for releasing dozens of browser hijackers that include Search.funsecuritytabsearch.com, Safebrowsesearch.com, and Search.wondrousmoviessearch.com. According to our researchers, search.startjoytabsearch.com is bundled with StartJoyTab and put up for download at sites such as Descargar.es — sites that feature freeware downloads. They say that the bundled installers deny users the opportunity to deselect this hijacker when they install the bundle. Hence, it is installed automatically and secretly.
As you can see search.startjoytabsearch.com is just another browser hijacker by a known malware developer that created it to force you to use it to search the web and view promoted links of unknown origin. It is possible that this hijacker will jeopardize your PC's security, so we recommend that you remove it as fast as possible. You can use the guide featured below.
How to get rid of this browser hijacker
Mozilla Firefox
Simultaneously Press Ctrl+Shift+A.
Click Extensions.
Remove StartJoyTab.
Then, press Alt+T keys.
Click Options and select General.
In the Home page line, type a new homepage address.
Exit the Options menu.
Google Chrome
Simultaneously press Alt+F.
Open More tools.
Select Extensions.
Click Remove

StartJoyTab

.
Then, press Alt+F again.
Click Settings.
In the On Startup section, click Set pages.
Erase search.startjoytabsearch.com.
Enter a new startup page address in the address line.
Click OK.
In non-techie terms:
search.startjoytabsearch.com only looks like a legitimate search engine while, in reality, it is nothing more than a browser hijacker dedicated to replacing your browser's homepage address and showing modified ad-supported search results of questionable safety. Please remove this hijacker to ensure your computer is safe and malware-free.