Do you know what Search.sonicpdfconverter.com is?
Search.sonicpdfconverter.com can slither onto your system and emerge in your browsers as your new home page without your noticing it. Our researchers say that you need to be careful with this search page because it may present to you unsafe third-party contents. This search page has "special" features that you might find useful: Quick links to a document converting webpage. When you find that this search website is in your browsers, you need to be more careful in your virtual world because it is quite likely that you will find other malware threats hiding, too, which could be either related to this hijacker or sneaked onto your system previously. In any case, we advise you to remove Search.sonicpdfconverter.com from your computer as soon as possible.
You may not know but it is very simple to infect your machine with a browser hijacker. But it happens mostly when you are not cautious or prudent enough. Although there are browser hijackers that can slither onto your system stealthily without your permission, most of them actually let you know about the coming browser setting changes but you may overlook this notification. There can be two main reasons for this. First, you may be rushing to install new free software you just downloaded from a questionable website and do not pay attention to the installation wizard at all as you only focus on the Next or Install buttons. Second, these installers are usually created in a way that you would not necessarily see these notifications and checkboxes. It is possible, for instance, that you can only see these at all if you select the custom installation option at the beginning of the wizard.
It is possible to download such third-party installers from suspicious freeware and torrent pages when you want to download a cracked program or a free file. The problem is that this installer can be a whole package of programs. In other words, on top of your targeted free software you could also get a number of useless potentially unwanted programs as well as malware infections, including browser hijackers, Trojans, fake warnings, adware programs, and more. Hopefully, you see now why it is so important that you are aware of the full content of such a bundle. Letting such infections on board could prove to be a big mistake with time passing. So when you delete Search.sonicpdfconverter.com, you should remember that there could be other threats lurking on your system, too.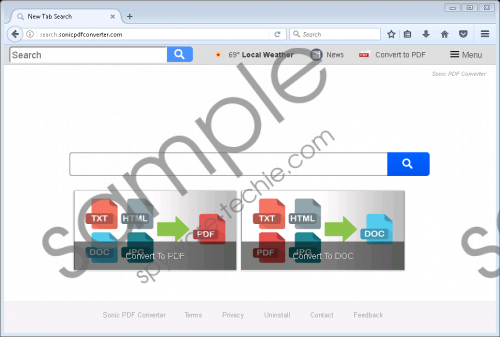 Search.sonicpdfconverter.com screenshot
Scroll down for full removal instructions
You can also download such a bundle if you click on unsafe third-party ads or links while you are surfing the net. If your PC was infected before and there is even one single adware program on board, practically all the time you spend online could be quite risky. But certain suspicious website can also offer you unreliable third-party ads. These sites are usually related to porn, file-sharing, gaming, and dating. If you have visited such pages recently, there is a good chance that you will find a number of malware threats on your system. We recommend that you remove Search.sonicpdfconverter.com and all other malware infections and potential threat sources you can find. It is advisable to use a trustworthy malware scanner if you want to make sure you do not leave anything risky on board.
This browser hijacker seems very familiar to us right at first sight. In fact, it is the exact clone of Search.yourinstantfileconverter.com and Search.searchctp.com, and also very similar to Search.searchuts.com. There is no question that these hijackers are the creation of the very same team and they come from the same family. This particular browser hijacker offers you the capability of easily reaching cloudconvert.com where you can convert your Word documents into PDF and vice versa. Let us tell you here that you can always bookmark a page that you find useful and ones that you would frequently use. These can be stored on the bookmarks bar and you could just as easily reach them with a single click. The only difference is that by using the built-in bookmarking function you would be totally safe.
The main issue with this hijacker is that it can surprise you with potentially unreliable content. This infection can only make money for its creators if it drives web traffic to affiliated websites. Therefore, it has to use the search results it shows to promote such third parties. It is also possible that this hijacker may inject ads into the other promoted webpages but the most critical part is definitely this search engine. It sends your queries to its own web server first and then to Yahoo. So you will see a Yahoo results page, which could be misleading because this browser hijacker may modify the results to include the affiliated ads and links. If any of these come from unreliable sources and you click on one, you could be redirected to malicious websites or download even more infections. This is why we believe that you should remove Search.sonicpdfconverter.com as soon as you can.
We have included the necessary instructions below this report so that you can manually eliminate this malware infection. As a matter of fact, all you need to do is change the home page settings in the affected browsers. This is really not that difficult. But we cannot say this about detecting all other threats and removing them. It is possible that you can do all that if you are an advanced computer user. But leaving any leftovers or harmful programs could lead to further security issues. Therefore, we recommend that you use a reliable malware removal application for the automatic protection of your PC.
Search.sonicpdfconverter.com removal from browsers
Mozilla Firefox
Tap Alt+T and select Options.
Select General on the left and click Restore to Default.
Internet Explorer
Tap Alt+T and open Internet options.
Click on the General tab and press Use default.
Press OK.
Google Chrome
Tap Alt+F and choose Settings.
Mark Open a specific page or set of pages under On Startup.
Click Set pages.
Add a new homepage URL address and remove the unwanted one.
Press OK.
In non-techie terms:
Search.sonicpdfconverter.com is a new browser hijacker that can show up as your home page in your major browsers (Mozilla Firefox, Google Chrome, and Internet Explorer). This hijacker may enter your system along with other malicious programs as well as potentially unwanted applications. These can seriously weaken your system security and make your computer more vulnerable to malicious attacks. Although we cannot call this hijacker directly dangerous, if you keep using it for web search, you may be introduced to unreliable third-party ads and links that can cause further security-related issues. We suggest that you remove Search.sonicpdfconverter.com right now. If you want to use a secure system, we recommend that you protect it by employing a professional anti-malware program.