Do you know what Search.softorama.com is?
Search.softorama.com is a search provider that is associated with an infamous Chrome extension, called "Search By Softorama." This extension is offered at chrome.google.com/webstore/detail/search-by-softorama/egjpneeldkigoemadblidfdjmmbohacd?hl=en-US, and it is stated that over 12 thousand Chrome users have installed this extension. Users are informed that this extension is introduced by softorama.com, a website that promotes various online utilities. Needless to say, Search.softorama.com is a product of the same company. According to our research team, this search provider is identical to Searchalgo.com, a search provider whose removal we have already discussed in a previous report. If you do not find that you need to remove Search.softorama.com, you might find Softorama.searchalgo.com. This is a more popular version of this strange search tool, and their appearance is unpredictable. While some users will have to delete one version, others might face another one.
The Chrome web store introduces Search By Softorama as a beneficial search provider that is capable of providing easy access to popular sites. If you decide to install this extension, you will be asked to confirm its permissions, which include reading and modifying the data on the sites you visit, as well as changing the search settings to Search.softorama.com (or Softorama.searchalgo.com). If you agree to these changes, you will find your default search provider modified, and you will not be able to remove it unless you delete Search By Softorama itself. Chrome web store is unlikely to be the only source promoting this strange browser extension and Search.softorama.com. According to our research team, this search tool could hide in malicious installers, in which case, you might find that you need to remove Search.softorama.com along with other, possibly more malicious infections. Are you worried that malware could have slithered into your PC along with this search tool and extension? If you are, run a malware scanner to examine your PC.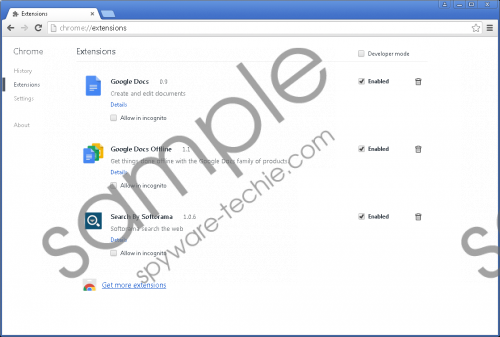 Search.softorama.com screenshot
Scroll down for full removal instructions
Once installed, Search.softorama.com sets HTTP cookies into action. iw_softorama_ds is one of the many cookies that are stored on your browser after the installation of this search tool. Although it is not surprising that Softorama installs many of its own cookies, further examination has revealed that cookies associated with eSpeedCheck, Zooms, MusixLib, and other programs are installed as well. It is likely that this software belongs to Softorama; however, it is still quite suspicious that cookies that should serve other programs are activated as well. All tracking cookies are set to collect data that can be used to check your browsing history, IP address, browser, internet service provider, etc. In some cases, tracking cookies are more intrusive and can collect sensitive information. Although we advise removing Search.softorama.com cookies, they are unlikely to collect sensitive data.
The files associated with Search By Softorama and Search.softorama.com can be found in a folder under C:\Users\\AppData\Local\Google\Chrome\User Data\Default\Extensions. The folder name is generated by Chrome, and it consists of random letters. If you are not sure which folder represents Search By Softorama, you can open the Chrome Extensions menu at chrome://extensions/, select Developer mode, and check the ID listed under the extension you are interested in. This ID matches the folder name. Although you can delete all files in this folder, there is an easier way to delete Search By Softorama.
If you use Search.softorama.com, you will be redirected to search.yahoo.com (Yahoo Search). Although you might be familiar with this legitimate search provider, we warn you that the search results could be modified by Search.softorama.com. Due to this, as well as the privileges it receives upon installation, you can identify this strange search provider as a browser hijacker. It is up to you to decide which software stays and which requires removal, but it is wise to treat hijackers as potentially dangerous software. Note that this potential hijacker could cross over to other browsers. If Search.softorama.com was installed onto IE, registry keys would be added, which might make manual removal a little more complicated.
Follow the instructions below to delete Search.softorama.com and Search By Softorama from all browsers. If this software was installed on Internet Explorer and if other suspicious programs was installed along with it, we advise utilizing antimalware software to remove registry keys, delete files, and eliminate all cookies that might be harmful. First, follow the guide below.
Remove Search.softorama.com and Search By Softorama
Remove from Google Chrome
Open Chrome and tap Alt+F.
Select More tools and click Extensions.
Click the trash button and select Remove.
In the menu on the left select Settings.
Go to Search and click Manage search engines.
Click X on the URL of the search tool you want to delete.
Click Done and restart the browser.
Remove from Mozilla Firefox
Open Firefox and tap Alt+T.
Select Add-ons and move to Extensions.
Click the Remove button.
Tap Alt+T again and select Options.
In the menu on the left click Search.
Remove the unwanted provider and restart the browser.
Remove from Internet Explorer
Open IE and tap Alt+T.
Select Manage Add-ons and click Toolbars and Extensions.
Disable the unwanted extension.
Move to Search Providers and set the desired provider.
Remove the unwanted provider.
Click Close and restart the browser.
N.B. You might have to uninstall this app via Control Panel as well.
Windows XP
Click Start and open the Control Panel.
Double-click Add or Remove Programs.
Select and Remove the unwanted program.
Windows Vista/Windows 7/Windows 8/Windows 10
Tap Win+R (launches RUN) and enter Control Panel.
Under Programs select Uninstall a program.
Right-click the program you want to remove and select Uninstall.
In non-techie terms:
Search.softorama.com is a strange search provider that does not offer beneficial services. Instead of providing reliable search services, it simply redirects you to Yahoo Search, which is the first reason not to trust this tool. This search provider uses HTTP cookies to collect information, and it is known that cookies associated with other programs could be employed to track information as well. Due to these reasons, we strongly recommend removing Search.softorama.com from your browsers along with the extension ASAP.