Do you know what Search-smart.work is?
Search-smart.work is not a popular extension yet, but as our computer security specialists say it is best to know about unreliable tools before encountering them. So far it is compatible only with Google Chrome and Mozilla Firefox. Our researchers did not notice anything malicious about its behavior, but during our tests, it appeared the add-on might act as a browser hijacker. Plus, we found suspicious statements in the software's Privacy Policy and End User License Agreement document. Under such circumstances, we do not recommend installing Search-smart.work as we do not think the features it provides are worth the possible risks. If you decide not to take any chances with this extension, we encourage you to use our removal guide available below or a reliable antimalware tool of your choice. However, if you need more details about the browser hijacker before deciding what to do, you should read this report first.
It seems Search-smart.work could be downloaded from Chrome Web Store page and its homepage. Besides these sources, it is possible the browser hijacker might be distributed via bundled software installers, pop-up ads and so on. Thus, if you would like to avoid such questionable applications, it would be advisable to stay away from suspicious file-sharing web pages as they might offer installers bundled with browser hijackers, adware, potentially unwanted programs, and so on. Additionally, to keep the system, safe users are advised to employ a reliable antimalware tool. Once it is installed, it could warn you about suspicious content and stop you from installing potentially dangerous programs.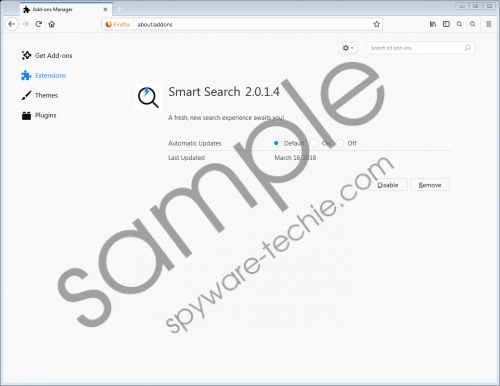 Search-smart.work screenshot
Scroll down for full removal instructions
After Search-smart.work gets installed, it may change user's default search engine or homepage with a custom version of Yahoo search engine. Many of our encountered browser hijackers would modify the results gathered by Yahoo or Google search engines to inject third-party advertising among them and gain revenue from users clicks. The problem is often no one can guarantee the advertisements' reliability, or in other words, some of them appear to be possibly malicious. We do not say Search-smart.work will do the same, but we fear there is a chance it might. Moreover, what seems to be strange is that the application's description says nothing about it. On the contrary, it explains "This extension configures your browser window so that you get an enhanced search experience." It also says with it you can "Say goodbye to boring, old new tab pages which just add clutter to your screen." Naturally, after such praises, one would expect to be able to use an advanced search engine, but as reliable search.yahoo.com is, it is definitely not a new tool.
Furthermore, while reading the extension's Privacy Policy paper, we found another strange detail. According to it "you also consent to the following privacy policy of Yahoo, whose product is offered to you as part of the Services (as explained in the EULA)" The problem is the mentioned End User License Agreement document does not say anything about using Yahoo tools either. Such details make the add-on look less trustworthy, and without being able to know all there is about a tool, including whether it is reliable or not, we do not think it would be smart to use it. If you agree, we urge you to pick a more trustworthy tool and erase Search-smart.work at once while following the removal guide available below or with a reputable antimalware tool of your preferences.
Erase Search-smart.work
Mozilla Firefox
Press CTRL+SHIFT+A.
Choose Extensions.
Select Search-smart.work and press Remove.
Google Chrome
Press ALT+F.
Click on More tools and pick Extensions.
Find the unwanted extension.
Press the Remove button.
Select Remove.
In non-techie terms:
Search-smart.work is a suspicious extension that may hijack user's browser and replace his default search engine. Our computer security specialists fear with time this application could start showing modified search results among which there could be potentially dangerous advertisements from various third parties. Given the add-ons presented search engine is available without installing it, and so we would recommend not to take any chances and eliminate the browser hijacker before anything goes wrong. To do so manually you could use the removal guide available a bit above this paragraph. The other way to get rid of the suspicious extension is to install a reliable antimalware tool, scan the system with it, and then press the given deletion button to erase all identified unreliable applications at the same time. Users who have more questions about this add-on can also leave us messages at the end of this page or via social media.