Do you know what Search.showmoreabout.com is?
Nowadays, browser hijackers try to convince users that they are legitimate search tools so that they could stay set on browsers. Search.showmoreabout.com is a website pretending to be a genuine search tool too, but, in reality, it is a browser hijacker which illegally enters systems and then immediately alters web browsers' settings. Specifically speaking, Internet Explorer, Google Chrome, and Mozilla Firefox get a new homepage Search.showmoreabout.com, which means that this website will be launched for users each time they open their browsers. Needless to say, the homepage set by users willingly on their browsers will be gone too, and they could only set it again after getting rid of Search.showmoreabout.com only. Our team of security specialists has a negative opinion about this search provider because of several disturbing findings they have made recently. Read what they have discovered in the following paragraphs. This information should be helpful if you cannot decide whether or not Search.showmoreabout.com should stay.
Let's start with a detailed description of Search.showmoreabout.com. It does not surprise specialists at all that so many users think that it is a completely legitimate search provider because it looks like an ordinary search tool and brings back search results for users after they enter any kind of search query. Sadly, the main drawback Search.showmoreabout.com has is exactly associated with these decent-looking search results. As you must have noticed, this search engine is powered by Yahoo! and should display its search results to users. Frankly, it is not exactly true. Yes, users will see search results shown by this legitimate search provider; however, the search results page opened by Search.showmoreabout.com will not only consist of these trustworthy search results. Research has revealed that users might be presented with the sponsored search results too. Sponsored search results might be based on users' search queries; however, their real mission is to increase the traffic rate of certain third-party websites. By clicking on these sponsored search results, users contribute to this activity without even realizing that and thus help developers of this browser hijacker earn money. Do not expect that they are going to share the revenue with you. Unfortunately, these ads cannot be avoided, and it is extremely hard to recognize them, so you could be sure that you will have no chance of clicking on any of them after the Search.showmoreabout.com removal. It is advisable to do that as soon as possible because it is known that these promotional links might be dangerous. According to our security specialists, users risk ending up on dubious third-party pages by clicking on them.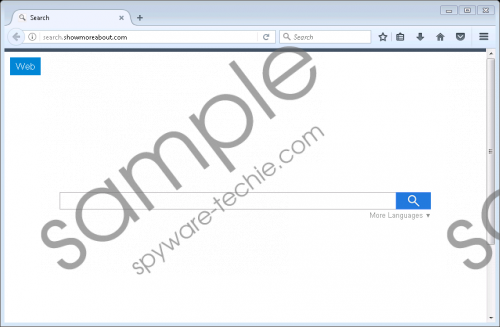 Search.showmoreabout.com screenshot
Scroll down for full removal instructions
Unlike similar browser hijackers, Search.showmoreabout.com should not collect personal details about users. At least, it is said so in its Privacy Policy document. Of course, it does not mean that it is not going to collect any other information about users. It is clearly stated there that this search tool will record IP address, date and time searches using this search tool are performed, pages visited through Search.showmoreabout.com, etc. Evidently, it is interested in the non-personally identifiable information. Even though the information it collects does not identify users personally, it might still tell much about their interests, activities, etc. As a consequence, you should not let it perform this activity on your computer. Put an end to it by deleting Search.showmoreabout.com fully.
Before we talk about the Search.showmoreabout.com deletion, some information about its distribution should be provided to explain to users how it could have sneaked on their systems successfully. According to our specialists, it must be disseminated through malicious installers, which also explains why users often do not know why Search.showmoreabout.com has applied changes on their all web browsers unnoticed. Of course, it is definitely not the only distribution method used to spread browser hijackers. They are sneaky infections which might find ways how to appear on PCs, so the installation of a reputable security tool is highly recommended.
Resetting browsers to their default settings is one of the ways to delete Search.showmoreabout.com, so if you are eager to get rid of the undesirable search provider yourself, you should look into our instructions (see below) and then perform the removal steps as indicated. Users who do not have much knowledge about computers and deletion of undesirable software should use an automatic scanner instead of trying to eliminate this undesirable search tool themselves manually.
Delete Search.showmoreabout.com by resetting browsers to their defaults settings
Internet Explorer
Start Internet Explore by double-clicking on its shortcut.
Open the Tools menu (press Alt+T).
Select Internet options from the menu.
Click on the Advanced tab.
Click Reset.
Enable Delete personal settings by putting a tick in the box next to it.
Click Reset one more time in the pop-up window.
Mozilla Firefox
Launch your browser.
Visit the Firefox troubleshooting page by typing about:support in the address bar and pressing Enter.
Click on the Refresh Firefox button under Give Firefox a tune up.
In the pop-up confirmation window, click again on Refresh Firefox.
Google Chrome
Open your browser and click the menu button in the top-right corner.
Select Settings.
Type reset settings in the search box at the top of the page.
Click on the Reset settings button.
Click Reset in the dialog box if you are sure you want to reset your browser.
In non-techie terms:
If you have already removed Search.showmoreabout.com but suspect that other untrustworthy applications might be silently working on the system too, you should perform the system scan with an automatic scanner after the full removal of this browser hijacker. It is not advisable to go to check the computer in a manual way because it will be a waste of time. Bad programs surely know how and where to hide to stay undetected.