Do you know what Search.seemoviesonline.stream is?
Search.seemoviesonline.stream is a devious piece of software, which should never be active on your computer. Our researchers have noticed that this devious application is only compatible with MacOS. It is also critical to note that our researchers have classified it as one more browser hijacker. It goes without saying, that you must delete it without any hesitation if it is ever found active on your operating system. We urge you to do so because this intrusive application can make unwanted changes to your browser's default settings without any notification. Due to such alterations, browsing the web will become a much more annoying and frustrating experience. If that was not enough, you must know that this hijacker could also subject your operating system to suspicious web content. In our report, you will find further information about the inner workings of Search.seemoviesonline.stream along with its detailed removal guide that will help you get rid of it quickly and easily.
As mentioned, Search.seemoviesonline.stream only affects MacOS users; however, this could change. There is a chance that developers of this hijacker might launch its updated version that could be compatible with other operating systems. Therefore, we highly advise you to be aware of this invasive application's existence as that could help you maintain a secure computer. When it comes to the functionality of this hijacker it is rather simple; like a lot of its counterparts, it makes invasive changes to your default homepage and search engine. Unfortunately, you are not notified or asked to authorize these modifications, which is frustrating to put it lightly. Once these alterations are in place, you will notice that browsing the web the way you like will no longer be possible. That is so because you will be forced to use a questionable third-party site as your default homepage for as long as the hijacker in question will be up and running on your computer. Virtually the same thing can be said about the newly appointed search engine; basically, your every single online query will go through the new search provider, whether you like that or not. What causes even more annoyance is the fact that by using the dubious search engine you could come across a large amount of sponsored results that might have nothing to do with your online query. The only way that you can regain your browser's default settings is by executing a complete removal of Search.seemoviesonline.stream. To do that without coming across any problems, make sure to follow the instructions below.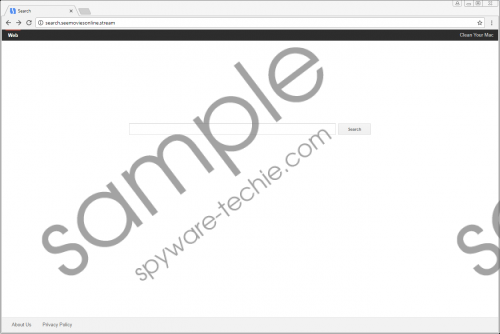 Search.seemoviesonline.stream screenshot
Scroll down for full removal instructions
As mentioned, there is more to Search.seemoviesonline.stream than its annoying alterations. As it turns out, due to those changes, your operating system might be subjected to questionable web content. Upon further analysis, malware experts at Spyware-Techie.com have discovered that using the newly appointed search engine could be quite dangerous. That is so because the search provider might present not only sponsored results but ones that could be embedded with redirect links. That is a dangerous instance because you could click on a result that might lead you to sites set up by cyber crooks. You could end up on fake online shops, which are crafted for a simple reason - to steal your credit card data or other sensitive information. In other situations, you might be redirected to sites crafted by malware developers. In some instances, such web pages could host harmful software. It should be self-evident that entering any of the mentioned sites could have devastating outcomes. Make no mistake and conduct a complete removal of Search.seemoviesonline.stream as soon as it is found active on your computer.
To delete Search.seemoviesonline.stream once and for all, make use of the detailed instructions below. Be sure to follow the removal guide below with care since a mistake could result in an incomplete removal, and that is not a situation that you want to find yourself in because traces of this hijacker could prove to be enough for it to continue working. In other cases, those leftovers could restore the hijacker without your knowledge. If you wish to be sure that Search.seemoviesonline.stream has been removed successful, be sure to double-check your computer for any traces of this hijacker once you are done with the instructions below.
How to remove Search.seemoviesonline.stream from your computer
Google Chrome
Start your web browser.
Click the Chrome Menu button and select Settings.
Scroll down and click Advanced.
Scroll down and select Reset.
Click the Reset option to confirm your choice.
Safari
Close all programs.
Click Go on the toolbar at the top of the screen.
Press and hold the Option key.
Select the Library once it shows up.
Find the Safari folder.
Move it to the Desktop.
Open the Library.
Select and remove the com.apple.Safari.savedState folder from Saved Application State.
Select and remove all com.apple.Safari in Caches folders.
In Cookies, select the com.apple.Safari.SafeBrowsing.binarycookies file and delete it.
Remove all com.apple.Safari files from Preferences.
Mozilla Firefox
Launch your web browser.
Select the Menu button and click the question mark icon at the bottom.
Select Troubleshooting Information.
Click Refresh Firefox.
Click Refresh Firefox to confirm your choice.
In non-techie terms:
It is crucial to delete Search.seemoviesonline.stream since it will interfere with you daily online activities. If you find manual removal a bit too complicated, do not worry. You can simply use a professional antimalware tool for termination purposes. Such a tool can identify and delete anything associated with Search.seemoviesonline.stream automatically.