Do you know what Search.searchyff.com is?
Search.searchyff.com is one of the newest browser hijackers. It has been released recently, and it is not very popular yet; however, users might still encounter it, especially if they download applications from third-party websites, install new software absently, and do not have security software. If you ever open your Internet Explorer, Google Chrome, or Mozilla Firefox and immediately notice that Search.searchyff.com has become your default search engine and homepage, it simply means that a browser hijacker has sneaked onto your computer. You need to remove Search.searchyff.com from browsers as soon as possible because it is really dangerous to use Search.searchyff.com as the main search tool. You will find more about it if you carefully read this article. Also, you will find out everything that you need to know about the Search.searchyff.com removal as well if you read our report.
Search.searchyff.com is not a unique search engine. In fact, it is a new member of the huge group of hijackers that lately infect thousands of computer users and are very popular. Our team of specialists has noticed that this search engine is very similar to search.yourpackagesnow.com, search.youremailnow.com, and search.yourclassifiedscenter.com, so researchers did not need much time to say how Search.searchyff.com is going to act as well. According to the recent research, it has been found that Search.searchyff.com might present users with untrustworthy search results instead of returning search results that are related to the word entered into the search box of the search engine. We say that these search results might be untrustworthy because it is known that they might promote unreliable websites. There is a possibility that such websites promote unreliable links leading to bad websites or even contain bad software themselves. Of course, many users do not know that and thus surf third-party websites without any fear. We cannot blame them because Search.searchyff.com looks like a good search engine that returns trustworthy search results only.
Of course, we suggest getting rid of Search.searchyff.com mainly because it might take you to bad websites; however, this is not the only suspicious fact about Search.searchyff.com. Researchers have managed to find out that this search engine is also going to track users and collect various details about their browsing activities. Even though this hijacker declares in its Privacy Policy that it records only non-personally identifiable details like search queries, links clicked on, and websites visited, there is still a slight possibility that your privacy will be violated because you might end up on the third-party website that seeks to extort personal information. If you provide this information, it might be sold without your consent.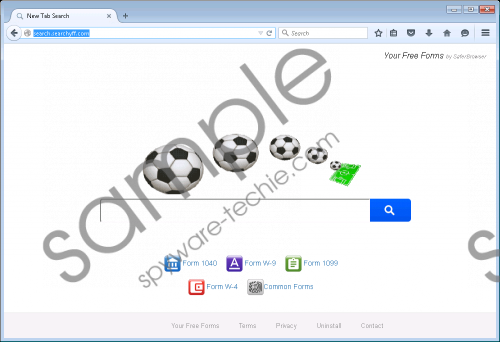 Search.searchyff.com screenshot
Scroll down for full removal instructions
You should never trust search engines that are set on your browsers without permission. In fact, you should not even allow threats promoting them to sneak onto your computer. According to specialists, browser hijackers tend to come bundled with free applications, which confirms that they usually enter computers without permission. If Search.searchyff.com a browser hijacker is inside your computer, you will not only see a new homepage and search engine set, but will also notice several modifications, for example, you will notice the Start Page value with the data http://Search.searchyff.com in HKCU\Software\Microsoft\Internet Explorer\Main, the prefs.js file that belongs to Mozilla Firefox will be modified and, finally, data inside files Preferences, Secure Preferences, and Web Data located in %LocalAppData%\Google\Chrome\User Data\Default will be changed. All you can do about that is to remove a browser hijacker from your computer. Do not forget to install security software as well to ensure the system's safety.
Even though Search.searchyff.com is known to be a browser hijacker, it does not make many changes, so it is quite easy to remove it. Below you will find instructions that should help you to get rid of this hijacker. You need to erase it ASAP to be able to set another search engine. If it happens that our manual removal guide does not help you at all, scan your system with SpyHunter. This automatic tool will clean your system within seconds.
Remove Search.searchyff.com
Internet Explorer
Open your browser and tap Alt+T.
Click Internet Options.
Open the Advanced tab.
Click Reset.
Mark Delete personal settings.
Click the Reset button.
Mozilla Firefox
Open your browser and tap Alt+H.
Open Troubleshooting information.
Click Refresh Firefox.
Click on the Refresh Firefox button again.
Google Chrome
Open your browser and tap Alt+F to open the main menu (button with three lines).
Select Settings.
Scroll down.
Click Show advanced settings and click Reset settings.
Click on the Reset button.
In non-techie terms:
Our manual removal instructions will not help you to delete other infections that might be hiding on your computer. Yes, there is a possibility that they hide on your system because browser hijackers might enter systems together with other untrustworthy programs. To detect and delete them all, use an automatic malware remover right AFTER you erase Search.searchyff.com using our instructions, i.e. in a manual way.