Do you know what Search.searchyea.com is?
Search.searchyea.com is another hijacker that belongs to Polarity Technologies Ltd, the creator of Search.searcheasyra.com, Search.searchcounn.com, and many other infamous hijackers. The creator of this infection has done a great job at making it look authentic and trustworthy. Although the interface of this hijacker reminds of a regular search engine, you should not consider it a beneficial search tool. On the contrary, it is completely useless because it exploits Yahoo Search. Of course, if you set search.yahoo.com as your homepage instead of the hijacker, you would be much safer. This is because the infection actually can modify the results taken from Yahoo Search to expose you to advertisements and random third-party links. Can you trust them? Maybe you can trust some of them, but we have to warn you that links routing to malicious websites could be included as well. This is not the only reason to delete Search.searchyea.com from your browsers.
Did you acquire Search.searchyea.com when downloading the "Your Email Access" extension? Although the hijacker could come bundled with all kinds of programs – including malware – this extension is most likely to be responsible for introducing you to the threat. Have you acquired the extension from its official source? An official download site was not found at the time of research, but it could have been active when you downloaded it. Of course, it is most likely that you were introduced to it as you were installing a software bundle. Which other programs were you introduced to? Unfortunately, it is possible that malware was promoted along with the add-on/hijacker, and so you HAVE to install a malware scanner to inspect your operating system. What should you do if other threats are found? Our research team advises implementing an anti-malware tool to have them removed automatically. If you are interested in manual removal, you must research these threats to figure out whether or not you can actually eliminate them all by yourself.
Our biggest concern regarding Search.searchyea.com is its ability to spy on you and record information that might identify you personally. Private information could be collected and shared with unknown third parties, and this is a big thing. What if the partners of Polarity Technologies Ltd are malicious and are ready to use private data just to scam you? Unfortunately, this is possible. Can you remove the cookies associated with the hijacker? You can do that via the menu that launches after you type Ctrl+Shift+Delete keys on the keyboard (you have to have your browser opened). But are you sure that you can identify all unreliable cookies, including the ones that third parties might have employed? Considering that Search.searchyea.com does not offer exclusive or even beneficial services, we do not think that it is worth the trouble. Instead of trying to eliminate unwanted components, delete the hijacker altogether, and many security problems will disappear.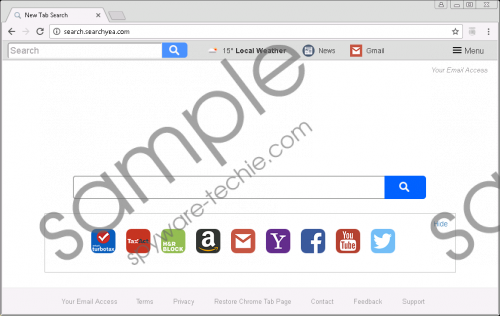 Search.searchyea.com screenshot
Scroll down for full removal instructions
How should you remove Search.searchyea.com from your web browsers? This is up to you, but you are choosing between automatic and manual removal. The latter is represented via the guide below, and it suits those users whose operating systems are not infected with other threats or those who have experience eliminating malware. If you are not experienced, and if a malware scanner has found multiple infections, it is wise to employ anti-malware software for automatic malware elimination. Of course, everyone should install this software to ensure full-time protection against malware in the future. If you are convinced that malicious threats do not exist, just perform a full system scan once to be 100% sure because you do not want to ignore hidden, silent infections.
Delete Search.searchyea.com
Mozilla Firefox
Launch the browser and then open the Tools menu by tapping Alt+T keys.
Select Add-ons to open a new menu and then navigate to Extensions.
Click the Remove button next to the add-on you want to eliminate.
Restart your browser to check if the homepage was restored; if it was not, tap Alt+T again.
Select Options, move to the General menu, and overwrite the URL under Home Page.
Google Chrome
Launch the browser and then open the Chrome menu by tapping Alt+F keys.
Select More tools and then choose Extensions to find all installed add-ons.
Click the trash bin button next to the unwanted add-on and then click Remove.
Restart the browser to check if the homepage was restored; if it was not, tap Alt+F again.
Select Settings, move to On Startup, and mark Open a specific page or set of pages.
Click Set pages and overwrite the hijacker's URL. Click OK.
Internet Explorer
Uninstall the undesirable application called Your Email Access via Control Panel.
Launch the browser to see if the homepage was restored; if it was not, tap Alt+T.
In the Tools menu select Internet options and then move to the General tab.
Overwrite the URL in the Home Page section and then click OK.
In non-techie terms:
Whether you use Firefox, Chrome, or Internet Explorer, Search.searchyea.com can be a threat to you. This browser hijacker does not look malicious at first sight, but it was found that it can modify search results that are shown to you using Yahoo Search. Also, it was found that private information can be collected and shared with the help of tracking cookies. To top it off, this hijacker does not offer beneficial services – and we do not consider access to popular services a beneficial service – and so there really is not point in postponing the removal of Search.searchyea.com. Use the comments section to start a discussion if you want to discuss something else.