Do you know what Search.searchwytsn.com is?
If you think that Search.searchwytsn.com is a reliable search engine, you might get yourself in trouble. The moment you enter keywords into the search box, you are redirected to search.yahoo.com, a search engine that represents Yahoo Search. The act of redirecting is always a red flag, especially when it is done without your permission. And it does not matter that you are redirected to a seemingly well-known and reliable search engine. Unfortunately, not all users realize this. Some choose to interact with the results shown to them regardless of the fact that they were redirected to the results page illegally. This is enough reason to delete Search.searchwytsn.com from your web browsers, and we discuss this in depth in this report. We also discuss several different removal options that users might employ to eliminate this suspicious browser hijacker.
We classify Search.searchwytsn.com as a browser hijacker because most users are introduced to it in a very suspicious manner. Most users who encounter this search tool are actually trying to install an add-on that supposedly can provide them with access to TV shows and live sports streaming. This extension is called "Watch Your TV Shows Now" (also known as "WatchYourTVShowsNow"), and it is officially represented at watchyourtvshowsnow.com. The extension is bogus, and if you download it, you will acquire the hijacker. In fact, the extension was created only to introduce users to the hijacker, and it does not offer any additional services. Once you download it, your New Tab page will be taken over, and the hijacker will be introduced instead. Depending on the browser you use, you might also find Search.searchwytsn.com set as the default search provider (on Firefox) or the homepage (on Internet Explorer). Although it is most likely that you will be introduced to the hijacker when installing the "extension," you might download it by accident.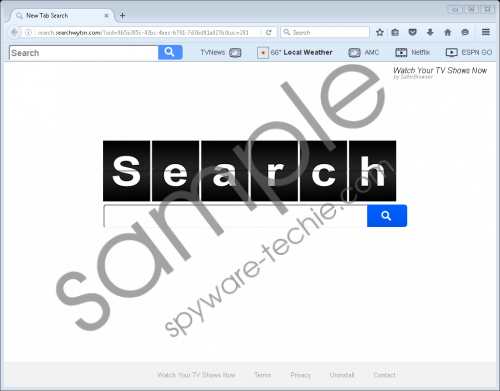 Search.searchwytsn.com screenshot
Scroll down for full removal instructions
There are two different sections in the interface of Search.searchwytsn.com. The first one is a bar at the top that sort of looks like a toolbar. This bar showcases a search dialog box, as well as links to sites representing AMC, Netflix, ESPN GO, and Hulu. Additionally, a link to search.searchwytsn.com/Widgets/TV is added as well. These links do not route to malicious websites. Instead, they give you access to the sites that offer users to watch TV shows for a certain fee. Was that what you expected when downloading the suspicious extension? It is most likely that it was not, and the victims of Search.searchlen.com, Search.searchlttrn.com, and other similar hijackers can probably say the same. The good news is that eliminating these hijackers is usually pretty simple. Unless, of course, other threats are active and they have created some obstacles. These other threats could slither in via misleading sponsored links that might be attached to the search results (the hijacker modifies Yahoo Search results), or they could have been bundled along with the extension. Whatever the case, eliminating them is important as well.
The first thing we advise doing is scanning your operating system with a legitimate malware scanner. Once you know what kind of software you are dealing with, you can decide how to eliminate it. Obviously, the best and fastest way to clean your operating system is using automated malware detection and removal software that can also keep your PC protected in the future. When it comes to Search.searchwytsn.com, removing it manually is not complicated. Internet Explorer users need to uninstall an app representing this hijacker, and Firefox and Chrome users need to eliminate an add-on. You can use the instructions below if you have no idea how to uninstall apps and delete add-ons. If you are having any problems with the elimination process, start a conversation below in the comments section.
Delete Search.searchwytsn.com
Windows 10/Windows 8
Launch RUN (tap keys Win+R) and enter Control Panel into the dialog box.
In the Control Panel menu move to Uninstall a program.
Right-click the undesirable program and click Uninstall.
Windows 7/Windows Vista
Move to the left of the Taskbar and click the Windows menu button.
Open the Control Panel menu and then move to Uninstall a program.
Right-click the application you wish to eliminate and click Uninstall.
Windows XP
Move to the left of the Taskbar and click the Start menu icon.
Open Control Panel and then double-click Add or Remove Programs.
In the Change or Remove Programs menu Remove the undesirable app.
Google Chrome
Open the browser and enter chrome://extensions/ into the address bar.
In the Extensions menu identify the undesirable add-on.
Click the recycle bin on the right and choose Remove.
Mozilla Firefox
Open the browser and tap Ctrl+Shift+A to launch Add-ons Manager.
In the menu on the left select Extensions.
Find the undesirable add-on and click the Remove button next to it.
In non-techie terms:
We are sure that you want to eliminate Search.searchwytsn.com from your operating system. The good news is that it very easy to do that. All you need to do is uninstall one app or remove one extension. If you do not get rid of this hijacker, be prepared to face potentially misleading search results. On top of that, the hijacker might employ cookies to spy on you and leak information about you to unknown parties. Of course, we are hopeful that you understand the risk and choose to follow our advice. The manual removal guide above is easy to follow but it does not show how to clean your PC from other potentially active threats or protect it in the future. For that, we suggest employing reliable anti-malware software.