Do you know what Search.searchwtii.com is?
Search.searchwtii.com might be introduced to you as a search engine, via which you can stream TV, but that is not how it works. This is a browser hijacker that is set by an extension called "Watch TV Instantly," and it can represent the suspicious search tool via homepage, default search provider, and/or New Tab page on Chrome, Firefox, and Internet Explorer web browsers. The extension is the main attraction, but users might not know that the extension itself is the hijacker. To trick users into thinking that it is reliable, the extension represents easy-access links to Netflix, HULU, and ESPN Go using buttons at the top of the hijacker's home page. Although these links are legitimate, the hijacker is not trustworthy or beneficial, and that is why deleting it is strongly advised. If you do not know how to remove Search.searchwtii.com, you should read this report, and if you continue having questions after that, post a comment below.
Polarity Technologies Ltd. is the creator of Search.searchwtii.com and the extension that was built to represent the hijacker. The creator set up the official download page, watchtvinstantly.com, and Chrome web store (chrome.google.com/webstore/detail/watch-tv-instantly/bfhlnhpjgdlgpodllbdnljhopchgoggf) to introduce users to this suspicious software. Despite this, users are most likely to encounter it when interacting with software bundles promoted via unreliable file-sharing sites. This is how our research team has seen Search.hmyutilitybox.co, Search.hdigitalcointracker.net, Search.hgetsports.net, and other hijackers from the same family spreading as well. The funny thing about these hijackers is that they all have the same interface. The links at the top of their home pages might be adjusted to fit the "purpose" of the extension, but, other than that, they are identical. Most important, they all function is the same way when it comes to the search tool. If you type in any keyword and hit the "search" icon, you are routed to Yahoo Search, where modified results can be included.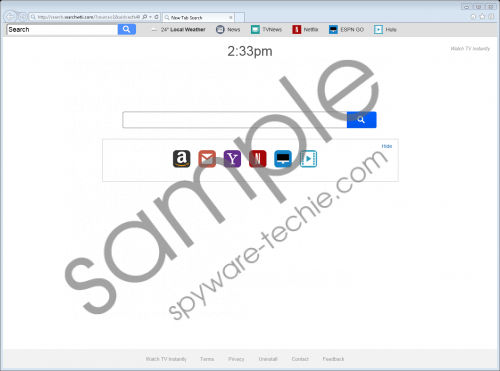 Search.searchwtii.com screenshot
Scroll down for full removal instructions
Do you understand why interacting with modified Yahoo Search results is considered to be dangerous? That is because any link could be injected, and no one can guarantee that it will not be malicious. The thing is that Search.searchwtii.com does not really offer anything beneficial, and it is likely that the alleged benefits of Watch TV Instantly are used only to trick you into letting in a hijacker that is used to promote third-party links. Do trustworthy parties and reputable companies use these kinds of advertising services? That is highly doubtful, which is why you need to be prepared to face misleading and malicious links. The issue is that the hijacker shows these suspicious sponsored links via Yahoo Search, and most are familiar with and trust this search engine. Hopefully, you are not tricked into interacting with these potentially unreliable links, but if you have done that, scan your operating system immediately.
Inspecting your operating system using a legitimate malware scanner is the right move when you face hijackers and potentially unwanted programs (or malware). In many cases, they come bundled with malware that requires removal, and, by interacting with them, users often attract even more unwanted pieces (e.g., web cookies). Once the system is scanned, you can have a better picture of what needs to be done. If you need to delete Search.searchwtii.com only, get rid of the unwanted extension by following the instructions below. If other threats are found, consider utilizing an anti-malware program because it will catch and delete all threats automatically.
Remove Search.searchwtii.com
Google Chrome
Open the browser and then tap keys Alt+F.
Choose More tools, select Extensions, and find Watch TV Instantly.
Click the trash bin next to it and select Remove.
Mozilla Firefox
Open the browser and tap keys Ctrl+Shift+A.
In the Add-ons Manager menu move to Extensions and find Watch TV Instantly.
Click the Remove button next to the extension.
Internet Explorer
Open the Control Panel via the Start/Windows menu on the Taskbar.
Navigate to the Uninstall a program menu.
Right-click the application representing Watch TV Instantly and select Uninstall.
In non-techie terms:
Whether you think that Search.searchwtii.com is a harmless search tool or a malicious browser hijacker, we strongly suggest removing it from your web browser. The search tool does work, but the results it shows can be modified to ensure that sponsored content is shown along with regular Yahoo Search results. By the way, redirecting to this well-known search engine is initiated illegally, which is an offense as well. You can delete Search.searchwtii.com using the instructions above. As you can see, they show how to delete Watch TV Instantly, but that is what you need to do to you eliminate the hijacker. If other threats exist, consider eliminating them using an anti-malware program. If you install it, keep it up-to-date at all times to ensure that you are protected against malicious or unwanted programs in the future.