Do you know what Search.searchwatchytsn.com is?
According to the latest research, Search.searchwatchytsn.com is a browser hijacker that can modify the homepage on Internet Explorer, Firefox, and Chrome browsers. Although it could be introduced to you on its own, it is much more likely that it was introduced to you via "Watch Your TV Shows Now." This is an extension that can be downloaded from watchyourtvshowsnow.com. Notably, the installer is presented via the Chrome web store. If you have acquired the extension from either two of these sources, it is unlikely that you have downloaded any other files along with it. Unfortunately, most users acquire this add-on via unfamiliar installers where it is packaged with other suspicious programs. If you have downloaded other programs, make sure you research them to check if you need to remove them as well. Of course, in this report, we focus on deleting Search.searchwatchytsn.com.
Polarity Technologies Ltd. is the developer of many browser hijackers, including Search.searchbuscar.com, Search.searcheazel.com, Search.searcheasysa.com, and, of course, Search.searchwatchytsn.com. All of them share the same interface; however, they can promote different services and sites. The easy-access links displayed via Search.searchwatchytsn.com route to news.mynewswire.co, search.searchotva.com, netflix.com, espn.com, and hulu.com. They sort of play into the theme that "Watch Your TV Shows Now" dictates. Obviously, this add-on promises to provide users with access to their favorite TV shows, but all it can do is add a few links that route to websites where you have to pay to watch movies and series. This alone makes the toolbar completely useless, but the thing is that it was not created to serve users. Instead, it was created to introduce them to an unreliable search tool, as well as to record information. Did you know that the hijacker can record and leak personal information? Needless to say, that is not good.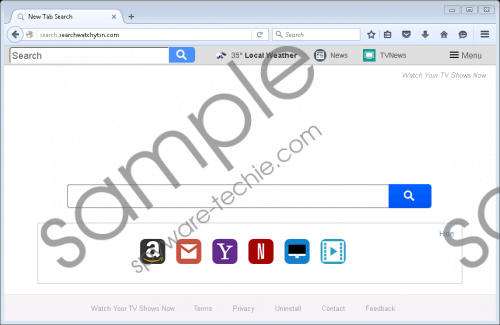 Search.searchwatchytsn.com screenshot
Scroll down for full removal instructions
Search.searchwatchytsn.com exploits Yahoo Search. It is a well-known, popular search tool that many users choose to use for web browsing. So what is wrong with a hijacker using it? First of all, the hijacker redirects you to this search engine, and that is not a good thing. Second, it can modify the results shown via it to slip in sponsored content without you realizing it, and that, of course, is very sneaky and mischievous. Do you want to interact with advertisements when you are looking for certain content? We are sure that you do not. Also, the ads shown by the hijacker could be malicious, and so interacting with it could be dangerous. If you are still not convinced that you should remove Search.searchwatchytsn.com from your browser, you should post your questions below. Our research team will try to answer them as soon as possible.
You should reset your browser to have Search.searchwatchytsn.com removed fully and completely. Of course, if the hijacker is linked to an extension, you can delete it separately, but we advise resetting the browser anyway to get rid of suspicious cookies and clear cache. If you have installed it onto Internet Explorer, you will need to uninstall an application. If you do not know how to do that, use the comments section to contact us. One more thing you should consider is the activity of other infections. As mentioned previously, the hijacker could slither in bundled with other infections. If that happens, you need to make sure that they are eliminated as well. Have you considered using an anti-malware tool? It could clean out all threats, as well keep your operating system protected in the future, which is why we recommend it.
Delete Search.searchwatchytsn.com
Internet Explorer
Launch IE and tap keys Alt+T.
Select Internet options.
Click the Advanced tab.
Click the Reset button.
Mark Delete personal settings and click Reset.
Mozilla Firefox
Launch Firefox and tap keys Alt+H.
Select Troubleshooting Information.
Click the Refresh Firefox button.
Click Refresh Firefox again.
Google Chrome
Launch Chrome and tap keys Alt+F.
Select Settings and click Shows advanced settings.
Click the Reset settings button (at the bottom).
Click the Reset button.
In non-techie terms:
The suspicious Search.searchwatchytsn.com does not offer one beneficial service, and so there is no reason to keep it running. Of course, that is not the main reason to delete it. We advise removing this hijacker because it can redirect you to a third-party search engine without authorization, spy on you using cookies that can record personal information, as well as introduce you to advertisements via the reputable Yahoo Search engine. If you wish to get rid of malware manually, firstly scan your operating system to see which threats you are dealing with. For example, the hijacker can be eliminated using the guides below. However, you might need to use different steps to get rid of other active infections. If you cannot get rid of them, as well as to keep your operating system malware-free yourself, employ anti-malware software.