Do you know what Search.searchwatchos.com is?
Do not get fooled by Search.searchwatchos.com - it is not what it claims to be. More specifically, it is definitely not a reputable search tool. Specialists have no doubts that it has not been released to improve the web searching experience of users. Instead, it has, most probably, been released with the intention of receiving money from distributing commercials promoting certain third-party websites. In this sense, it does not differ from similar search providers which Polarity Technologies Ltd developed some time ago. Because all this company's search engines present users with commercial advertisements and usually show up on all web browsers without permission, they tend to be called browser hijackers. Search.searchwatchos.com is no exception. We do not recommend keeping browser hijackers and, on top of that, using them as default search providers because all they can do is to cause a ton of problems. In most cases, these are problems associated with the privacy of users and their PCs security. Believe us; all kinds of problems might arise quickly, but it is not that easy to fix those issues, so our specialists suggest getting rid of Search.searchwatchos.com from all web browsers today. Information about this undesirable search provider and its removal can be found in the paragraphs that follow, so all you need to do is to read the article till the end.
Of course, Search.searchwatchos.com is not completely useless, so we cannot blame those users who make a decision to keep it after finding it set up on all their web browsers. The first useful feature they find is a bar with quick-access buttons at the top of the page. These buttons allow users to access Netflix.com, ESPN.com, AMC.com, and other websites with a single mouse click, but it does not mean that users cannot access those web pages quickly without Search.searchwatchos.com, so think twice before letting this browser hijacker stay. After its deletion, you could still open particular websites quickly by bookmarking them. Furthermore, there is also a second reason users believe that this search tool is trustworthy. Just like decent search providers, e.g. Google and Yahoo!, it works quite well and opens search results for users. Yes, it is powered by Yahoo!, i.e. it shows search results from search.yahoo.com, but it still does not mean that its search results can be trusted fully. According to researchers, users should not trust these search results provided for them blindly because they are, most probably, full of advertisements. As you probably remember, we have already mentioned that Search.searchwatchos.com might be used to generate the advertising revenue for its author. Since this revenue is the most important thing for its developer, it does not really care about users and their online security, so there are high chances of ending up bad third-party websites one day too. Avoiding them might be possible, but it might be extremely hard to do that for ordinary users. According to specialists, the Search.searchwatchos.com removal would be the best decision also because Search.searchwatchos.com not only displays sponsored search results, but might also collect information about users. This will happen even if they do not use Search.searchwatchos.com but still keep it set on their browsers. On the basis of the information that can be found in the Privacy Policy document, this search tool focuses on the collection of the non-personally identifiable information, but, sadly, it might also record personal information which has been entered by a user into the search box. Users, who make a decision to keep Search.searchwatchos.com, let it act like this on their PCs, so it would be very naïve to expect that it will change the way it works one day.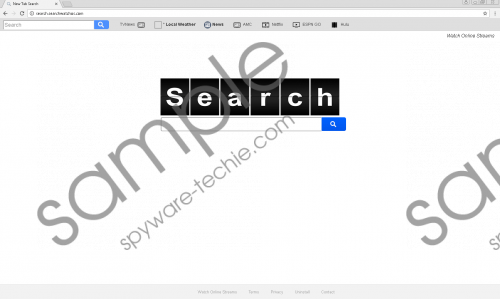 Search.searchwatchos.com screenshot
Scroll down for full removal instructions
Instructions which will help you to delete Search.searchwatchos.com from all web browsers manually are placed below this article, but if it happens that you find the manual method too complicated, go to perform the scan of your computer with an automatic malware remover, such as SpyHunter. Keeping this tool enabled after the deletion of this undesirable search tool will also help you to prevent bad programs from entering your PC again. This scanner will even block those applications which, just like Search.searchwatchos.com, travel in software bundles with free applications (e.g. torrent clients) and try to sneak onto computers unnoticed.
How do I delete Search.searchwatchos.com?
Internet Explorer
Open the Registry Editor (press Win+R, type regedit in the box, and then click OK).
Go to HKCU\Software\Microsoft\Internet Explorer\Main.
Right-click on Start Page.
Select Modify.
Delete its Value data and then click OK.
Mozilla Firefox
Press Win+E on your keyboard simultaneously.
Enter %AppData%\Mozilla\Firefox\Profiles at the top of the window.
Look for a folder containing the prefs.js file (its name should consist of random symbols).
Right-click on this file when you find it, select Open with, and then choose the Notepad application.
Find a string user_pref("browser.startup.homepage", "http://search.searchwatchos.com inside this file and delete it.
Save the changes.
Google Chrome
Launch the Windows Explorer (Win+E).
Open %LocalAppData%\Google\Chrome\User Data\Default.
Locate Secure Preferences, Web Data, and Preferences there.
Delete those three files without mercy.
In non-techie terms:
If you have already manually deleted Search.searchwatchos.com, you should still go to scan your computer with a diagnostic scanner to check whether there are really no traces of this browser hijacker left. On top of that, you will find out whether or not there are other undesirable programs working on the computer behind your back. A reputable diagnostic scanner can be downloaded from our page too.