Do you know what Search.searchvzcm.com is?
A new search tool Search.searchvzcm.com developed by Polarity Technologies Ltd has been recently discovered by our analysts specializing in the detection and analysis of malware. Like similar search tools released before it, for example, Search.searchutorm.com, Search.directionsandmap.com, and Search.searchsterjosoft.com, it is better known as a browser hijacker rather than a legitimate search tool. Browser hijackers are such infections that are capable of applying unauthorized changes on users' web browsers. In the case of Search.searchvzcm.com, it can set itself as a homepage and default search tool on users' browsers. Remove a browser hijacker right away from your system because it might bring a bunch of problems by displaying shady promotional links, and, without a doubt, it will not make finding certain pieces of information on the web quicker. We see no point in letting this suspicious search tool stay on web browsers when it is surely not a reputable search provider and cannot be compared with legitimate search tools (e.g. Google or Yahoo!) in any way. All you need to know about the removal of this browser hijacker is provided in the last paragraph. Before you start the removal procedure, find out why it is so important to erase it by reading the second and third paragraphs of this article.
If the Search.searchvzcm.com browser hijacker ever gets onto your computer, you will find your homepage and, most probably, default search tool changed on all web browsers. It works on the most popular web browsers, including Internet Explorer, Google Chrome, and Mozilla Firefox. Needless to say, your will no longer see your old homepage/search provider. Not all the users immediately understand that the search tool they see is untrustworthy. At first glance, it looks quite reliable, so it does not surprise our experienced specialists at all that some users start performing web searches using the search tool they see immediately when they open their browsers – Search.searchvzcm.com. Keep in mind that using it to perform web searches is not recommended because it might present you with shady promotional links opening third-party pages. Of course, you will not find what you are looking for on these pages. Since Search.searchvzcm.com generates those sponsored links, it is very likely that the company behind this search tool is interested in generating advertising revenue. Needless to say, it will not share its money with you.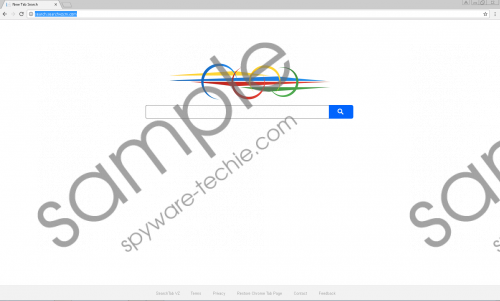 Search.searchvzcm.com screenshot
Scroll down for full removal instructions
Before we start talking about the distribution and removal of this browser hijacker, we want you to know that it will continue collecting information about you if you let it stay. There are two types of information it gathers: non-personally identifiable information, which consists of such details as the type of the default browser, IP address, geographic location, and operating system type, and personal information (!). Reputable search tools never record personal details about users, so this recent finding is quite disturbing – it is surely one of the main reasons this Polarity product cannot be referred to as trustworthy. Luckily, as it has become clear after checking its Privacy Policy document, it only records personal details entered in the search box as search queries. In other words, it cannot access all personal details about users, e.g. online banking credentials.
What else makes Search.searchvzcm.com a browser hijacker is the distribution method used to promote it. Research has clearly shown that this suspicious search tool is usually spread bundled. That is, it is spread in software bundles, usually, with free applications. Users download these bundles from P2P pages and install their contents without even realizing that. In most cases, users can find information about additional software in small letters, so if you are not going to stop downloading applications from file-sharing pages, at least be more careful the next time.
Undesirable changes applied to your Internet Explorer, Google Chrome, and Mozilla Firefox browsers can be undone by resetting them one after the other. You should consult our removal guide which can be found below this article if you have never tried resetting your web browser before. It does not mean that all the users must delete this search tool manually – this can be done automatically as well.
Search.searchvzcm.com Removal Guide
Internet Explorer
Start Internet Explorer.
Open the Tools menu.
Click Internet Options.
Open the Advanced tab.
Click Reset and select Delete personal settings.
Click on the Reset button.
Mozilla Firefox
Open Mozilla Firefox and tap Alt+H.
Click Troubleshooting information and then click on the Refresh Firefox button.
Click Refresh Firefox again on the pop-up window.
Google Chrome
Start your browser and access its menu by tapping Alt+F.
Click Settings.
At the bottom, select Show advanced settings.
Click on the Reset settings button once.
In the pop-up confirmation window, click Reset.
In non-techie terms:
Search.searchvzcm.com is a typical browser hijacker even though, judging from the interface, it is an ordinary search tool. There are two major reasons it has fallen into the category of untrustworthy search tools: first, it changes web browsers' settings without the users' knowledge and, second, users see a bunch of promotional links on its search results page. Generally speaking, its presence might result in a number of serious problems, so the sooner you replace it with a legitimate search provider, the better.