Do you know what Search.searchvidpop.com is?
Have you opened your browser and instead of seeing your regular homepage, you encountered the suspicious Search.searchvidpop.com? This browser hijacker looks like a search engine, and that might make you think that it is harmless and trustworthy. That, unfortunately, is not the case, and you could put your virtual security at risk by interacting with this hijacker. Our research team has analyzed it, and it was immediately found that it was created by Polarity Technologies Ltd, the company that stands behind Search.htextfrompc.co, Search.hinstantnewsnow.co, Search.searchytds.com, and many other well-known threats that we have discussed in previous reports. In this report, we want to focus on the removal of Search.searchvidpop.com because although it does not look harmful, trusting it is dangerous.
It was found that Search.searchvidpop.com is associated with an extension called "Your Video Converter Now." The name of this extension is represented at the top-right corner of the hijacker's home page. The funny thing is that this extension created by Polarity Technologies Ltd is currently linked to a different browser hijacker, Search.yourvidconverter.com. Without a doubt, we recommend deleting it as well. It is most likely that the same extension is used for the representation of several hijackers. In the past, it could have been used for the promotion of Search.searchvidpop.com. Of course, if you have not downloaded it along with the add-on represented via chrome.google.com/webstore/detail/your-video-converter-now/hgljkkecekpieacdjkneloajjhgaicej or yourvidconverter.com/VidConverter, you might have acquired it from a third-party source. Did other infections slither into your operating system along with the hijacker? Employ a legitimate malware scanner to check if you need to delete any hidden threats.
Regardless of how Search.searchvidpop.com got into your operating system, you have to be aware of the security risks you might face when interacting with it. Sure, it promotes links to Amazon, Youtube, and sites that allow converting files for free, but that does not make it useful or trustworthy. Besides promoting links to legitimate and harmless sites, Search.searchvidpop.com also offers an unreliable search service. The problem is that it does not look unreliable. When you enter keywords, you are routed to Yahoo Search, and if this search tool was set as your default search provider or even the homepage prior to the invasion of the hijacker, you might not think about the results shown to you at all. The problem is that the hijacker can redirect you to modified pages where sponsored links are added along with regular search results. These additional links could be unreliable and maybe even malicious.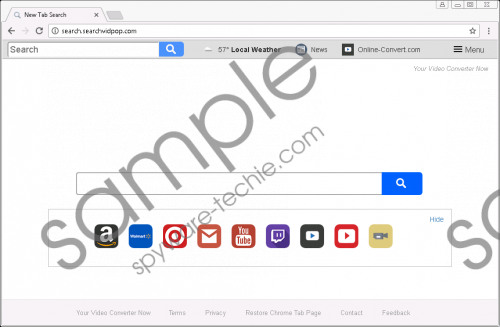 Search.searchvidpop.com screenshot
Scroll down for full removal instructions
You have to make a decision regarding Search.searchvidpop.com as soon as possible. This browser hijacker is not harmless, and it could expose you to advertisements, sponsored links, and, possibly, malicious links via the search results page. This is by far the most important reason to remove it from your browser. The guide below explains how to change homepage and search provider settings on all browsers that the hijacker is compatible with. If the hijacker runs along with an extension, you will not be able to make the changes until the extension is deleted. If any other threats are active along with the hijacker and the unwanted extension, they must be deleted as well. If you fail to eliminate them manually, trust a legitimate anti-malware tool to do the job for you.
Remove Search.searchvidpop.com
Google Chrome
Open the browser and tap Alt+F.
Select More tools and then Extensions.
Remove the unwanted extension.
Internet Explorer
Go to Control Panel\Programs\Programs and Features.
Uninstall an undesirable application.
Open the browser and tap Alt+T.
Select Settings and then navigate to On Startup.
Click Manage on startup pages.
Edit/Remove the undesirable entry.
Mozilla Firefox
Open the browser and tap Ctrl+Shift+A.
In the Extensions menu Remove the unwanted add-on.
Tap Alt+T and then select Options.
In the menu on the left click General.
In the Home Page section overwrite the URL.
In non-techie terms:
If your browser was taken over by Search.searchvidpop.com, the first thing you need to do is check if unreliable extensions and applications are installed. You should also check your operating system for any other unwanted threats that might have slithered in along with the hijacker. If you cannot do that yourself, you should install a trusted malware scanner to analyze the situation automatically. Speaking of automated tools, you can install an anti-malware program to have all threats eliminated. This program should delete Search.searchvidpop.com as well. If you can handle the removal manually, you might find the guide above useful. If you need to ask us questions regarding the process, or you encounter obstacles, use the comments section below for further communication.