Do you know what Search.searchutilities.co is?
Search.searchutilities.co might look like a reliable and safe search engine, but the reality is that it was created by a malware developer for hijacking your browser. For this reason, we have classified it as a browser hijacker. Since this search engine is malicious in nature, we do not recommend that you use it. Moreover, we suggest that you remove it from your browser as soon as you can. If you use it for searching the web, then it will open up your PC to potentially malicious content such as adware, spyware, and so on. To find out more about this seemingly harmless search engine, read this whole article.
Search.searchutilities.co is similar to Search.searchvzc.com, Search.packageintransit.com, Search.searchtcn.com, and many others. All of them have been created by a developer that calls itself Polarity Technologies. This developer is known to release browser hijackers exclusively as it seems that they are used to present their users with ad-supported search results. This company distributes its hijackers via malicious software installers. The installers are said to be configured to inject this particular browser hijacker automatically and, above all, secretly. As a result, the forceful replacement of the search engine constitutes as hijacking. Furthermore, you might not be able to deselect the installation of the malicious content. Unfortunately, we do not know the specific names of the websites that host these bundles but rest assured that they are of the low-grade variety as well-known freeware hosting sites do not toy with malware as they make significant revenue from legitimate ads featured on the sites and promoted legitimate downloads.
If a malicious installer happens to inject Search.searchutilities.co into your browser, then you should be aware that it will replace your default homepage address for Google Chrome, Mozilla Firefox and Microsoft Internet Explorer. It should also change the new tab page of Chrome as well. This hijacker redirects all entered search queries to Yahoo, a legitimate search engine. However, Yahoo's search results can be altered as the queries come from Search.searchutilities.co and include additional promotional links. The developers at Polarity technologies make money off online advertising, so they are interested in the hijacker doing well.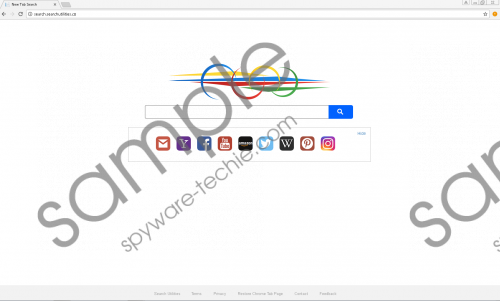 Search.searchutilities.co screenshot
Scroll down for full removal instructions
For this reason, this and other Polarity Technologies browser hijackers have been configured to gather information about their users. Our research has shown that Search.searchutilities.co and other hijackers in this family are set to collect non-personal information such as your browsing history, search queries, IP address, ISP, browser type, OS type, and so on. The hijacker uses browser cookies and other information collection technologies to obtain this information. Polarity Technologies uses this information to customize the advertisements and promotional links you see to generate more advertising revenue. While this hijacker features links to legitimate websites such as Facebook, YouTube, Wikipedia, and several others on its main page. However, you should be concerned with the promoted websites in the search results as they can contain questionable content or redirect you to unsafe websites.
As you can see, Search.searchutilities.co is far from a legitimate search engine. It was created by a known malware developer, and its sole purpose is to hijack your browser and show ads in its search results if you decide to keep and use it. Our malware analysts believe that this hijacker can pose a threat to your personal privacy and your computer's security, so you should consider removing it altogether.
How to get rid of Search.searchutilities.co
Microsoft Internet Explorer
Lunch the browser.
Press Alt+T and click Internet Options.
Erase Search.searchutilities.co Enter a new URL.
Click OK.
Google Chrome
Lunch the browser.
Press Alt+F keys.
Select Settings.
Click Set pages.
Erase Search.searchutilities.co
Enter a new URL
Click OK.
Mozilla Firefox
Lunch the browser.
Press Alt+T.
Click Options and select General.
Erase Search.searchutilities.co and enter a new address.
In non-techie terms:
Search.searchutilities.co is nothing more but a browser hijacker designed to hijack your browser. Its search results can feature links to potentially unreliable websites and it can collect information about you to show customized and personalized ads. Search.searchutilities.co is distributed using malicious ends. Therefore, you ought to remove it before it can compromise your computer's security.