Do you know what Search.searchtzc.com is?
You are most likely to let in Search.searchtzc.com when downloading an extension called "Time Zone Converter." Both were created by Polarity Technologies Ltd., and both work alongside one another. In fact, the extension serves no other purpose than introducing users to the suspicious search tool. Although it displays a few links to websites that can be used to check time zones, it appears that the search tool itself was developed simply to provide users with an unreliable search option. Needless to say, we advise removing Search.searchtzc.com from your operating system, and it does not matter whether it has taken over your New Tab, homepage, or default search provider. If you are confused, you should continue reading to learn more about this suspicious software, and if you want to delete it as soon as possible, scroll down to the instructions right below.
Search.searchtzc.com is not a mysterious search tool, and that is because it has many clones, including Search.searchlcll.com, Search.hplayfreemusic.co, and Search.hdailysocialweb.com. While they do showcase different links – for the most part – they all look the same because they were built using the same engine. All of them are distributed with the help of unique extensions too. At the time of research, an installer for "Time Zone Converter" did not exist, which either means that this installer has not been set up yet or that it no longer exists. In most cases, the extensions of Polarity Technologies Ltd. are represented via the Chrome web store (for Chrome users) and official download websites (for Firefox and Internet Explorer users). Of course, these add-ons could also be spread using software bundles, or they could be introduced to you using misleading advertisements and pop-ups. Since there is a possibility that you have downloaded the add-on and the hijacker along with other threats that require removal, it is advised that you perform a full system scan ASAP.
Some users might be convinced that Search.searchtzc.com is a beneficial tool because it displays easy-access links to thetimezoneconverter.com, worldtimebuddy.com, and timeanddate.com/worldclock/. Besides this, the hijacker presents links to Amazon, Google, Yahoo, and Facebook, which, of course, are few of the most popular websites worldwide. All in all, that is not what you should focus on. What you need to be most cautious about is the search tool. Search.searchtzc.com reroutes your searches to Yahoo Search, where, unfortunately, the results are modified to showcase unreliable links. If you interact with these results, you might end up visiting unreliable websites, and that is something you want to avoid at all cost. You also want to delete this hijacker to stop it from collecting information about you and your virtual activity.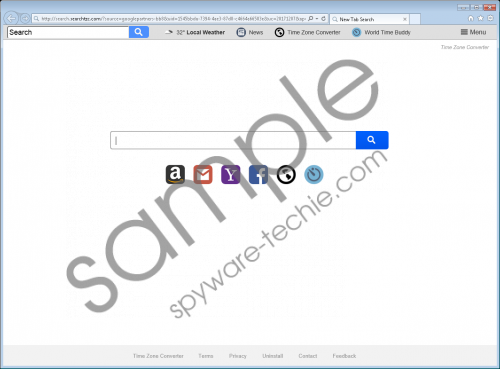 Search.searchtzc.com screenshot
Scroll down for full removal instructions
Since Search.searchtzc.com is introduced to you by the "Time Zone Converter" extension, you need to remove it to have the hijacker eliminated as well. You should have no problems eliminating the undesirable add-on using the instructions below. Note that it is installed as an application on Internet Explorer, and so the removal process is a little different. If you face problems when deleting Search.searchtzc.com manually, you can turn to anti-malware software. In fact, it is recommended that you install this software, and not only because it can detect and erase threats automatically but also because it can successfully protect your operating system in the future.
Remove Search.searchtzc.com
Google Chrome
Open the browser and tap Alt+F keys.
Choose More tools to get more options and then click Extensions.
Find the undesirable extension, click the recycle bin, and select Remove.
Mozilla Firefox
Open the browser and tap keys Alt+T.
In the Tools menu click Add-ons and then move to the Extensions menu.
Find the undesirable extension and click the Remove button next to it.
Internet Explorer
Tap keys Win+R to launch RUN and enter control panel (to access this menu on Windows XP, click Start and then select Control Panel).
Navigate to Uninstall a program (or to Add or Remove Programs on Windows XP).
Uninstall the undesirable application published by Cloud Installer.
In non-techie terms:
If you have permitted Search.searchtzc.com to take over your web browser, the chances are that an extension called "Time Zone Converter" is installed on the browser as well. You need to get rid of it to have the suspicious Search.searchtzc.com deleted from your operating system. Why should you do that? Unfortunately, this hijacker can redirect searches and showcase unreliable search results. On top of that, it can spy on you using tracking technologies. In some cases, this hijacker can be installed along with third-party malware, and, in this case, installing anti-malware software is recommended. Install it, and all unreliable pieces of software will be erased automatically. If you choose the manual removal option, note that you are provided with a guide above.