Do you know what Search.searchtpg.com is?
You may notice Search.searchtpg.com after it becomes your homepage in your major browsers and you may wonder how it has showed up there. Unfortunately, the presence of this search page in your browsers may also indicate that other malware infections and potentially unwanted applications may have sneaked onto your system as well. There is practically no official way for you to install this search page. Although you may consider it a useful tool since it provides you with easy access to some of the most popular websites as well as a package tracking utility, we must warn you that using and leaving this malware infection in your browsers would be a big mistake that could easily lead to further system security issues. Our researchers have labeled this threat as a browser hijacker, which actually belongs to the growing Polarity family of hijackers. We believe that it is best for you to remove Search.searchtpg.com from your computer as soon as you can.
It is possible that some of the victims do not even realize that this browser hijacker has appeared in their browsers unless, of course, they have preferred homepages and the change is so obvious. Usually you are actually informed about such browser setting changes although there are also cases when such an infection makes those changes without your permission or knowledge. It is possible that you are installing a potentially unwanted program or any other free software and while doing so, you are offered to set this search page as your homepage. The problem is that this offer or notification may be done in a concealed manner and most users may not even notice it. This can also happen when you are installing a software bundle and you do not choose the custom option. In this case, you will not necessarily be notified about such changes or what else you are about to install. Since such a bundle could be filled with potentially unwanted applications and malicious software installers, chances are it will not be enough for you to delete Search.searchtpg.com alone.
You can infect your system with a malicious bundle if you download software or other files from shady shareware and torrent sites (e.g., filewon.com, filewin.com, and descargar.es). You should understand that these pages are packed with malicious scripts and unsafe third-party advertisements as well. One single click at the wrong time and over the wrong content could open malicious pages on new tabs or drop infections directly behind your back. You should also be very careful with landing on other suspicious websites generally related to online betting, gaming, dating, file-sharing, and porn. These pages also tend to host an annoying number of questionable third-party ads. We, therefore, suggest that you use a reliable malware scanner to detect all possible threats after you delete Search.searchtpg.com.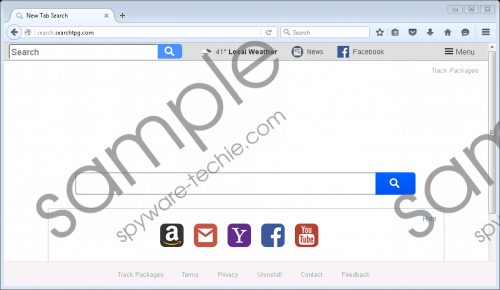 Search.searchtpg.com screenshot
Scroll down for full removal instructions
This new product from Polarity Technologies Ltd. is not that new at all. We have seen identical ones in the past months. It simply offers you easy access links to some of the most popular pages, such as Facebook, Amazon, Yahoo, and Gmail. Of course, you also have the so characteristic search tool, Local Weather, and News links on the fake toolbar at the top. You can also see a row of thumbnail links below the search box that you can hide or show by clicking on the designated link. Below this row, there is yet another tool that can help you track your package. Although some of these tools may work just fine, we do not advise you to use this site at all; you could be introduced to questionable third-party ads injected by this browser hijacker. As a matter of fact, we do not advise you to run web searches using this tool either because you may land on potentially unreliable altered Yahoo search results pages. If you engage with questionable ads or links, you could cause further damage to your system or expose yourself to malicious content. No wonder why we recommend that you remove Search.searchtpg.com ASAP.
The good news is that it is quite easy to get rid of this browser hijacker. If you follow our instructions below, you can get it done in a few minutes tops. But do not forget that this may not be the end of the road towards a secure computer; in fact, this may well be just the beginning. If you do not want to detect and eliminate all other possible threats manually, we advise you to employ a trustworthy malware removal application, such as SpyHunter.
Remove Search.searchtpg.com from your browsers
Mozilla Firefox
Press Alt+T and select Options.
Pick General on the left.
Press Restore to Default.
Restart your browser.
Google Chrome
Press Alt+F and choose Settings.
Pick Manage on startup pages under On Startup.
Select Open a specific page or set of pages.
Open the menu next to the homepage and select Edit.
Modify the URL address.
Click Save.
Restart your browser.
Internet Explorer
Press Alt+T and go to Internet options.
Choose the General tab and press Use default.
Press OK.
Restart your browser.
In non-techie terms:
Search.searchtpg.com is a new attempt from Polarity Technologies Ltd. to make some easy money by promoting potentially questionable affiliates. Our researchers say that this is just another browser hijacker like the dozens we have seen from this team. In fact, this new one is not even so new since it does not offer you anything special really apart from easy access to popular websites (Facebook, Amazon, YouTube, and Yahoo), a search engine, and a package tracking utility. Please note that you can always bookmark any page you would like to easily access; you do not need to use such a worthless and unreliable tool. You should not use this search engine at all because it may show you questionable results that could include unreliable third-party ads and links as well. If you do not want to put your virtual security at risk even more, we suggest that you remove Search.searchtpg.com from your browsers right away. If you want to make your virtual world a secure place to be, you should think about installing an anti-malware program.