Do you know what Search.searchtmpn.com is?
Why is Search.searchtmpn.com set as your default search provider or homepage or is represented via the New Tab? Is it because you specifically wanted this tool as your main search provider? Or is it because you were forced to accept it when installing a seemingly beneficial extension? According to our malware research team, Chrome, Firefox, and Internet Explorer users are likely to find the "Track Package" add-on attractive because it is meant to help with package tracking. Do you really have that many packages you need to track that you require an extension to help you? Even if that is the case, you should find a better and more reliable tool because "Track Package" is primarily a hijacker, and trusting it is not what you need to be doing. Since you are reading this report, the chances are that you already have made up your mind about deleting Search.searchtmpn.com, but if you are still unsure about whether or not you should remove it, please keep reading.
Polarity Technologies Ltd. is the creator of Search.searchtmpn.com and "Track Package," but it does not look like an official installer for this software was set up. You can download clone extensions from trackpackage.co and trackpackagenow.com, but they represent Search.searchtmpn2.com and Search.searchtpn.com browser hijackers. As you can tell by their names, they are very similar to the suspicious Search.searchtmpn.com. Our analysis of these hijackers has shown that they all have the same interface too. This is not surprising, considering that all Polarity Technologies Ltd. hijackers (e.g., Search.weatherradarforecast.co or Search.searchtzc.com) look the same. That being said, they often represent unique links, and these three are completely identical. They even show the same search field via which you supposedly can track your packages. This is not the search field we need to focus on. We recommend deleting the hijacker because of the actual search field.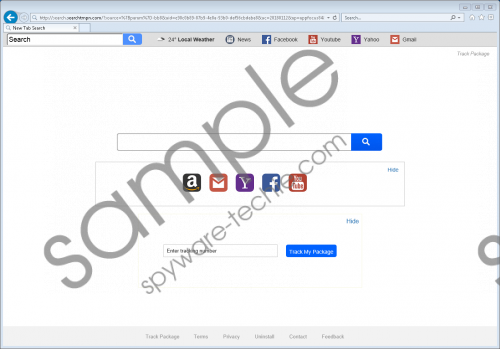 Search.searchtmpn.com screenshot
Scroll down for full removal instructions
If you have interacted with Search.searchtmpn.com already, you know that Yahoo Search is the search tool that you will be redirected to. Redirecting in itself is unauthorized, and that is why you should become very suspicious. Of course, the developer of the hijacker has purposefully chosen to use Yahoo Search to make you trust the results, and that would be a mistake because these results might include sponsored links, and we cannot guarantee that they would be safe to interact with. Yahoo Search is exploited for its good name, but the modifications are made by the hijacker. You certainly can use this well-known and respected search tool, but only if you get rid of the hijacker first. Are you ready to remove Search.searchtmpn.com? Before you start the process, perform a complete system scan to check if this hijacker is the only threat you need to handle.
What should you do if multiple infections are discovered on your operating system? In this situation, it is advised to install anti-malware software because of its ability to erase all infections automatically. If you do not want to invest in software that will also take care of your virtual protection in the future, you will need to remove Search.searchtmpn.com along with all other infections manually. The good news is that erasing the hijacker is not a problematic task, and if you are not sure how to erase it, you will find the removal instructions below very helpful. If you want to discuss these instructions, or you need help erasing the infection, communicate with our research team via the comments section.
Delete Search.searchtmpn.com and Track Package
Google Chrome
Launch Chrome and tap keys Alt+F.
Click More tools and then go for Extensions.
Find the unwanted add-on linked to the hijacker and click the trash bin button.
Select Remove and then restart the browser.
Mozilla Firefox
Launch Firefox and then tap keys Alt+T.
In the Tools menu select Extensions.
Identify the unwanted add-on linked to the browser hijacker.
Select Remove and then restart the browser.
Internet Explorer
Click the Start/Windows menu icon on the Taskbar.
Open the Control Panel menu.
Move to Uninstall a program or Add or Remove Programs (on Windows XP).
Uninstall or Remove the undesirable application linked to the hijacker.
In non-techie terms:
Although Search.searchtmpn.com does not look like a threat, it is classified as one because it tracks information about the users and because it can expose them to modified Yahoo Search results. Clicking on links injected by the hijacker can be very dangerous, and so it is not recommended. The only useful thing about the hijacker is that it allows tracking packages, and we are sure that you can find much more useful and reliable tools for that. Before you do that, you need to delete Search.searchtmpn.com, and we recommend installing anti-malware software for that because it can automatically eliminate every malicious piece there is and because it can also ensure protection hereafter. If you wish to clear your system manually, start by eliminating the hijacker using the guide above.