Do you know what Search.searchtmp.com is?
Oftentimes search engines are not only search engines although they appear to be as such. Search.searchtmp.com is a search engine that we have classified as a browser hijacker and recommend that you remove it because it can pose a threat to your computer's security. In truth, this browser hijacker's main objective is to show commercial ads in its search results, and our researchers say that in some cases this hijacker can promote illegitimate and malicious content. Also, this hijacker is distributed via malicious software installers that can inject it into your browser without your consent. Therefore, we regard Search.searchtmp.com as an infection that you have to deal with as soon as possible.
These days the browser hijacker "market" so to speak is dominated by a small group of companies and developer groups. Search.searchtmp.com comes from a developer known as SaferBrowser, which is also responsible for releasing similar infections, such as Search.yourpackagesnow.com, and Search.yourmapscenter.com. This developer has been very active recently as it has released dozens of new browser hijackers and shady search engines. The deference between a browser hijacker and a shady search engine lies in their distribution methods. While search engines require the user to set them browser hijackers do not. Our malware analysts have found that this hijacker is distributed via bundled software installers that inject it into your browser without your knowledge or approval. Take note that these malicious installers might be featured on websites that distribute freeware.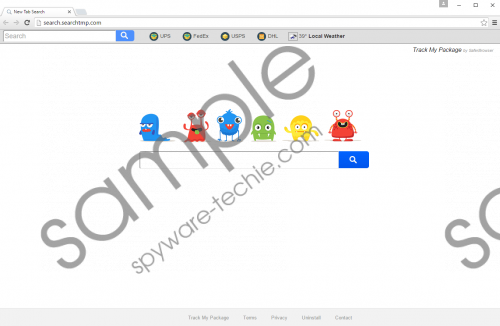 Search.searchtmp.com screenshot
Scroll down for full removal instructions
Many users seem to neglect their online security and use this hijacker for searching the web. Our research has revealed that Search.searchtmp.com is very popular in the USA because this country makes up approximately 95 % of all visits. This hijacker may look like a legitimate search engine, but it is not because apart from entering your computer without your consent it will also display unreliable commercial content and collect information about you. So let us discuss its functions in greater detail.
We want you to know that Search.searchtmp.com makes use of other search providers namely Yahoo.com because it does not have its own search platform. It is entirely dependent on third-party services, so this begs the question; why not opt for another search engine? All legitimate search engines present commercial advertisements, but they are filtered and in most cases are safe. Ads presented by browser hijacker, however, are not. Our researchers say that Search.searchtmp.com might get your computer infected if you accidentally click on one of its advertisements. Your computer may get adware, rogue anti-virus programs, and so on. But, you are much more likely to get scam programs such as Book Source, Clean PC Master, and so on. In short, the content you may be subjected to by searching via this hijacker can be of unreliable nature.
We have an issue with this hijacker's information collection practices. Even though it cannot automatically collect sensitive personal information it can, however, collect non-personally identifiable information, such as browser type, PC information, installed software, Internet Protocol address, Internet Service Provider, and, of course, browsing and search history. This and other information is used for marketing purposes, such as customizing the advertisements to coincide with the search results. Nevertheless, this is of no use to you since the promotions can be unreliable.
Therefore, for reasons stated above, we highly recommend that you remove Search.searchtmp.com before it gets your computer infected with malicious software, or you fall victim to clever online scams. We have composed a removal guide for getting rid of this hijacker in its entirety. It involves resetting Internet Explorer to its default settings and deleting a browser extension for Firefox and Chrome. We also suggest that you get an anti-malware program to protect your system against browser hijackers such as this one.
Change the homepage address via browser settings
Microsoft Internet Explorer
Press Alt+T and click Internet Options.
Select the Advanced tab and click the Reset button.
Mark the checkbox.
Click Reset.
Then, click Close.
Google Chrome
Press Alt+F.
Select More tools and click Extensions.
Find the plug-in and click Remove.
Mozilla Firefox
Press Ctrl+Shift+A.
Choose Extensions.
Click Remove.
In non-techie terms:
Search.searchtmp.com is a search engine that our malware analysts have classified as a browser hijacker due to its dishonest distribution methods. It is distributed using bundled installers that inject it to computers in secret. Then, if used, it will subject users to promotional links and ads in its search results. However, the ads may come from unknown sources to make sure to remove this hijacker from your PC.