Do you know what Search.searchsmart.bid is?
Search.searchsmart.bid seems to be a browser hijacker that comes with a potentially unwanted program called SearchsmartDS Search. According to our computer security specialists it can hijack only Google Chrome since the extension it comes with does not work on any other browsers. The application might do so by replacing your homepage, new tab page, or default search engine. The bad news is this search engine might use a modified bing.com search engine to both collect and display results. As a consequence, there is a possibility Search.searchsmart.bid could inject the results before they are being displayed with advertisements from the third party. Sadly, such content may not be reliable, and there is a possibility it could originate from potentially dangerous web pages. Therefore, we recommend being extra cautious or better yet not to click such ads. On the other hand, it might be safest to get rid of this browser hijacker, and if you think this way too, we advise you to delete it with the removal guide available below or a reputable antimalware tool.
Search.searchsmart.bid should come with a potentially unwanted program called SearchsmartDS Search. Our computer security specialists say it is a browser extension targeted at Google Chrome users. Currently, it can be found on Chrome Web Store Page. Besides, the application could be distributed with bundled software installers. Knowing some users skip custom installation settings or do not pay any attention to the information on the configuration wizard, we would not be surprised if some would install the mentioned potentially unwanted program unknowingly. Naturally, to protect the system from future threats we recommend being more attentive during installation. Also, you may want to find out more information about software before installing it and one you pick an application you wish to have you should download it from legitimate web pages instead of torrent and other file-sharing sites. A reputable antimalware tool could help you separate potentially dangerous content as well, so installing it might be a good idea too.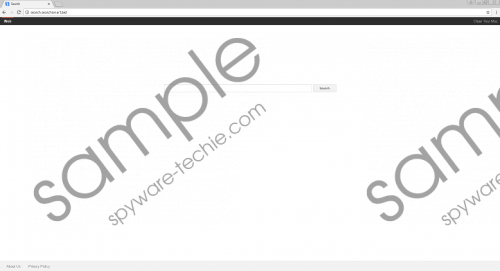 Search.searchsmart.bid screenshot
Scroll down for full removal instructions
Just as we explained at the begging of this text, the threat might hijack the browser by replacing particular browser preferences. For instance, instead of your usual homepage, it could place Search.searchsmart.bid. No doubt by doing so it tries to encourage the user to surf the Internet with this search engine. If you wonder what can the software's creator's gain out of this, we would say most likely advertising revenue. To be more accurate, our computer security specialists say the browser hijacker may show modified search results. It means the results could be infected with additional advertisements from the third-party and the application's developers may receive money from clicks. The problem is such content might originate from potentially dangerous web pages as there are no guarantees about its reliability. In other words, the ads could redirect to scam web pages, sites promoting similar threats or containing malware, and so on.
Given Search.searchsmart.bid could display unreliable advertisements that may cause you trouble we would not leaving it unattended. Users who are prepared to deal with this browser hijacker manually we could offer our removal guide available a bit below. The other way is to pick a reputable antimalware tool and let it take care of this suspicious search engine for you.
Eliminate Search.searchsmart.bid
Launch the browser.
Click ALT+F simultaneously.
Navigate to Settings and choose More tools.
Go to Extensions and locate SearchsmartDS.
Click the recycle bin button available next to it.
Tap Remove to finish.
Exit the browser.
Press Windows Key+E.
Find this location: %USERPROFILE%\Local Settings\Application Data\Google\Chrome\User Data\Default
Search for listed files:
Preferences
Secure Preferences
Right-click these files separately and click Delete.
Leave File Explorer.
Empty Recycle bin.
In non-techie terms:
Search.searchsmart.bid is an unreliable search engine and a browser hijacker that you may encounter after installing a suspicious browser extension known as SearchsmartDS Search. Our computer security specialists recommend not to waste any time with this application as it can be easily replaced with more reputable search engines, such as google.com, search.yahoo.com, and so on. Mainly, we advise this because there might be a possibility the browser hijacker's provided results could contain potentially dangerous advertisements that may advertise similar threats or even malware. Should you choose to follow our advice, we can offer our removal guide available a bit above to get rid of this application manually. There is also another way to eliminate it; if you would like to use an antimalware tool, you could pick a reputable tool, install it on the system and perform a system scan with it. Afterward, it should allow deleting any identified threats with a single mouse click.